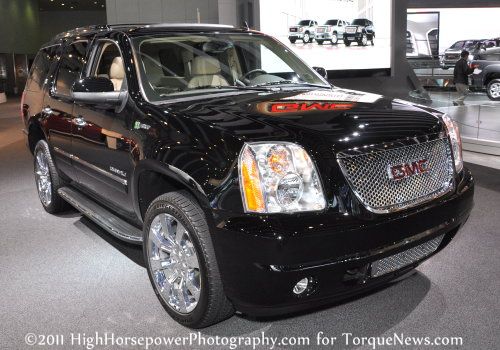 General Motors to provide Texas-built SUVs for Super Bowl XLV
General Motors' Arlington Texas Assembly Plant builds a wide variety of large trucks and sport utility vehicles including the GMC Yukon and Cadillac Escalade and the plant has provided 450 of these luxury SUVs to the organizers of Super Bowl XLV. In addition to the Yukon and Escalade, Arlington Assembly builds the Chevrolet Suburban and Tahoe across two shifts – producing over 1,000 new sport utes a day. In GM's announcement of their support for Super Bowl XLV, Arlington Assembly Plant manager Paul Graham offered the following comment:
"The Arlington Community has worked very hard to be a good host to visitors from around the world attending the game. We are delighted to play a small part in that effort through our plant open house next week and by making the high-quality vehicles used as courtesy transportation for the NFL."
In addition to providing vehicles for the league officials along with team players, coaches, and representatives, Arlington Assembly is hosting an open house this week for attendees of Super Bowl XLV to experience the workings of an American assembly plant first hand. This plant open house is a part of a series of factory walkthroughs being offered at over General Motors 50 production facilities around the country, with the majority of them taking place in the spring and summer as weather becomes friendlier.
Needless to say, we can expect a healthy dose of GM and GMC branding during Super Bowl XLV, which is set to kickoff at 6:29pm eastern standard time this coming Sunday at Cowboys Stadium in Dallas.
Other GM News:
Production begins for the 2011 Camaro Convertible
Volt increasing traffic onto Chevy dealer showroom floors
The Buick lineup of the 2011 Detroit Auto Show
Please
SHARE
with friends and include TorqueNews in
Google Alerts
for tomorrow's interesting stories.