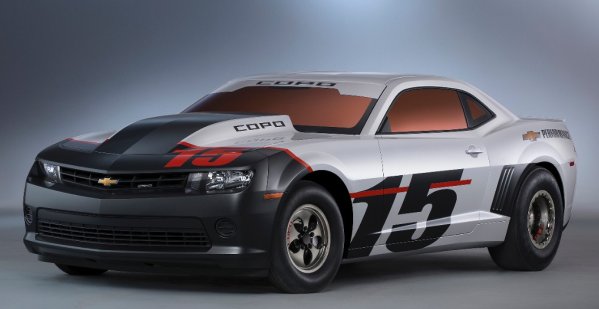 2015 COPO Camaro #1 Raises $400k for Charity
One of the star attractions at last weekend's Barrett Jackson Palm Beach auction was the first 2015 Chevrolet Camaro COPO drag racing package. Limited to just 69 units for each model year, the modern COPO Camaro is the most limited of the factory packages, making it one of the most collectable. However, with this car ready to race out of the box, the vast majority of COPO Camaro buyers are acquiring them to go racing and not to pack away as show cars. Because of this, most of these cars are being snatched up by racers, leaving collectors in the cold – but the Barrett Jackson auction last weekend gave one lucky collector a chance to put a 2015 COPO Camaro in their garage.
"This sale gave the highest bidder the opportunity to buy the first of only 69 factory-assembled 2015 COPO Camaro race cars, the final year of the fifth-generation Camaro," said Jim Campbell, U.S. vice president of Performance Vehicles and Motorsports. "Chevrolet was excited to offer this milestone Camaro to help a very worthy organization."
2015 COPO Camaro #1
The 2015 Chevrolet COPO Camaro that was on hand at this weekend's Barrett Jackson Palm Beach auction looked just like the one in the image above, with the unique 2015 design scheme and package-specific wheels. This COPO Camaro also featured the 350 cubic inch engine option that is topped by a 2.9L Whipple supercharger is rated by the NHRA as having 555 horsepower. This power is sent to the rear wheels via a purpose-built 3-speed automatic transmission, a heavy duty solid rear axle and some sticky race-only tires. On the inside, the 2015 COPO Camaro comes only with what is required to conform to the NHRA Stock and Super Stock classes, so you wont find many luxuries, but you will find a roll cage and the other safety items needed to be permitted to run down the quarter mile in the 8 second range.
If you were to walk into your local Chevrolet dealership and order this 2015 COPO Camaro, you could expect to pay between $90,000 and $100,000. However, with this being the first unit of the final year of the 5th gen COPO Camaro – and with proceeds going to charity – we knew that it would likely sell for far more than MSRP. The bidding was hot and heavy early on, and when the gavel sounded, the first 2015 COPO Camaro sold for a whopping $300,000. I haven't seen an official statement as to who made the winning $300k bid, but some reports explain that philanthropists and car collecting duo Jeanette and John Staluppi contributed an additional $100,000, allowing the first 2015 COPO Camaro to raise $400k for the Achilles Freedom Team. It is unclear whether Jeanette and John Staluppi were the winning bidders, but we know that they donated $100,000 to a great charity group.
For a closer look at what the Achilles Freedom Team does, click here to check out their website.
Please
SHARE
with friends and include TorqueNews in
Google Alerts
for tomorrow's interesting stories.