This Rally 2010 Chevrolet Camaro 2SS/RS is a special muscle car for me because it was my first new car purchase. I had worked hard for a couple of years to afford one. I was only 19 at the time. This is also the longest I have owned a car for without selling it.
I have done a lot of modifications on this Camaro. In fact, there is too much work on this car to list, but it is wrapped in Tron livery, and has a custom engine with twin turbos, making over 950whp. These days, it doesn't see much time on street, but spends most of its time on the road course. It has been known to drive Vipers and GTRs off the track multiple times.
I bought my car on December 1st, 2010 brand new off the lot.
When I purchased it, the car only had seven miles on it. This car has been through a lot in the past 3 years. The first 2 years that I owned the car, it was in the shop almost weekly getting more work done on it. It started off with a supercharger and long tubes, but after a couple months, I wanted to do something different unique and crazy to the car. I did a lot of research and decided my car needed twin turbos. I did a complete overhaul on the car, even getting a bigger 6.8L forged LS3 engine. Every part of the car got upgraded to handle the power I wanted. After 9 months of work on the turbo system, it rolled out of the shop a completely different car, making over 950whp. It was a complete monster. Shortly after I finished the build, I read about a road rally, called goldRush Rally, which is the 'ultimate luxury lifestyle.' Commonly, quite a few exotics sign up for this rally, even Bugattis and McLarens. I wanted to enter the rally with a boom, so I decided to do a complete custom wrap on the car, and for the last year, it has been wrapped in a TRON livery.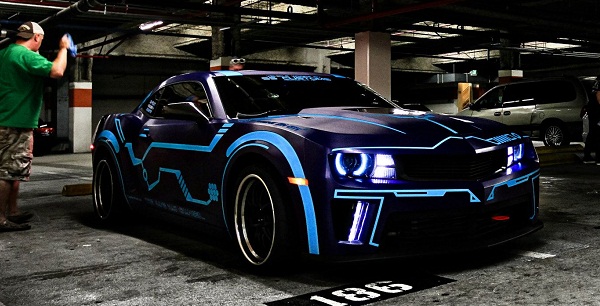 I was at the Detroit Auto Show when they released the Chevy Camaro Concept, and was entranced with the look of it. From that moment forward, I wanted that car....and I didn't even have a driver's license at the time. A month before I bought the car, I was determined to buy one. I ended up buying a 2.3L supercharger, and long tube headers before the car even arrived. I had no clue how to drive a manual transmission, and stalled it driving it off the lot, but I do not regret getting a manual, even years later.
I live in San Mateo, CA, about 15 minutes south of San Francisco. Here is my TRON Camaro in the desert.
Here is another video of my Camaro. Gold Rush Rally 4 TRON Camaro.
Camaro owners in our area used to get together a lot for wrench days, and BBQs. Back in 2011, one of our owners hosted a detail day at his house. The most beautiful Camaro rolled up, an Aqua Blue Metallic, the color I originally wanted, but they weren't producing anymore. It was even a 6-speed manual, which is even rarer. A girl hopped out of the car, and I started talking to her about her car, needless to say, we have been together for over 2 years now. My car definitely played a part in meeting my girlfriend.
By Josh Mac from San Mateo, CA.
Also from our Camaro readers