UPDATE!  This Dongle works better than the one highlighted in this story.
Android Auto and Apple CarPlay are very important aspects of today's modern infotainment systems. Many vehicles include these great systems but still require that you plug in your phone to use them. We found a product that is easy to use and allows you to ditch the cord.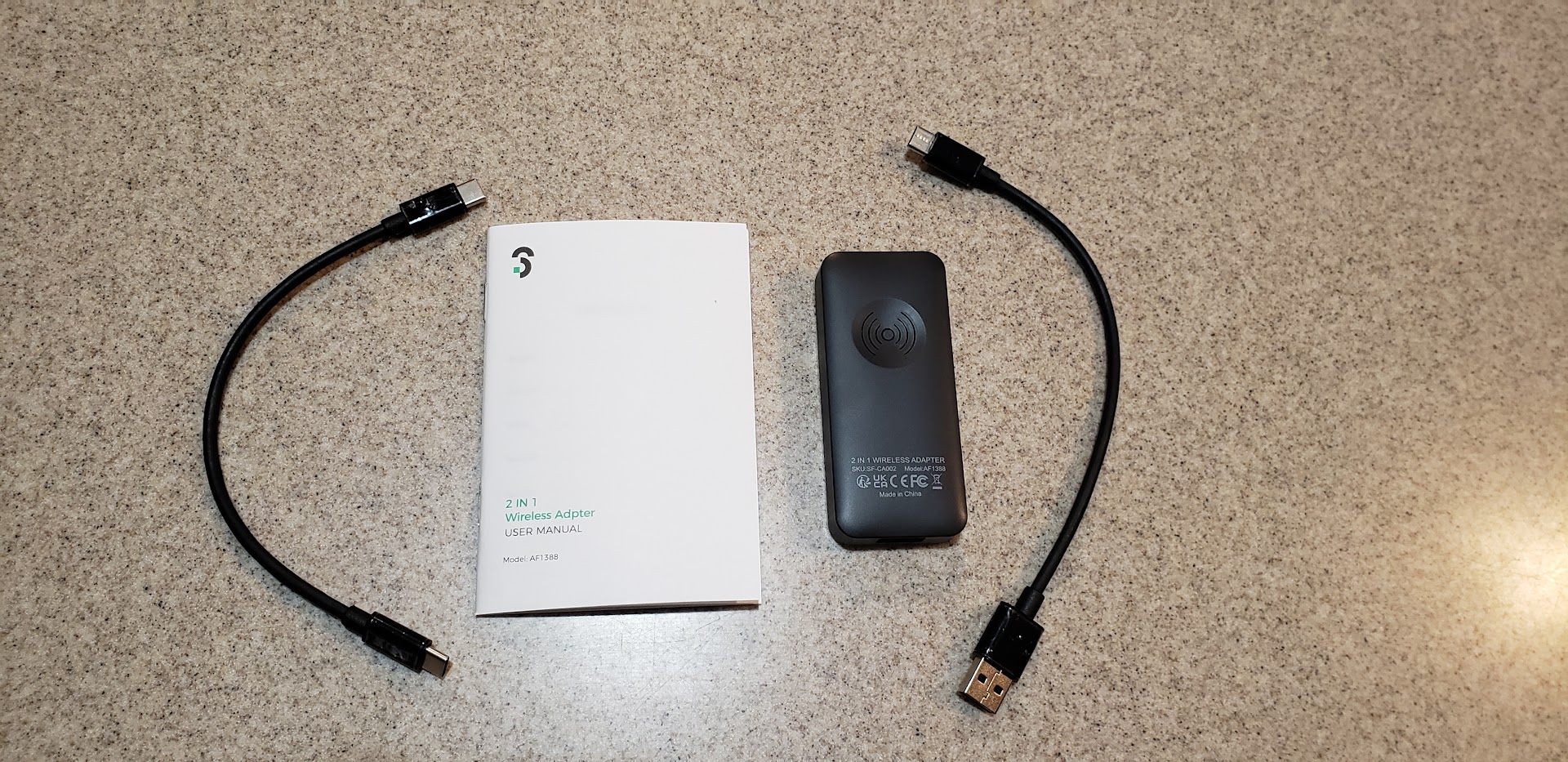 How Wired to Wireless Android Auto and Apple CarPlay Works
If your vehicle presently has Android Auto and Apple CarPlay, you may be able to convert it to wireless using an aftermarket device you plug into a USB port in your vehicle. The device allows you to then use your phone wirelessly to enable Android Auto and Apple CarPlay. You simply purchase the product, plug it in, follow the simple instructions and the Android Auto and Apple CarPlay will work without requiring that you plug in.
What We Opted For
While there are many devices on the market today, we selected a dongle from SOOMFON AF1388 and purchased it from Amazon. This is a dongle that we had heard good things about from the Ford Bronco Sport club on Facebook. 
What Is the Cost To Convert Android Auto and Apple CarPlay from Wired To Wireless?
We paid $74, but Amazon has since reduced the cost for Prime members to just $53. Other than your phone, this is all you need to enable the wireless function.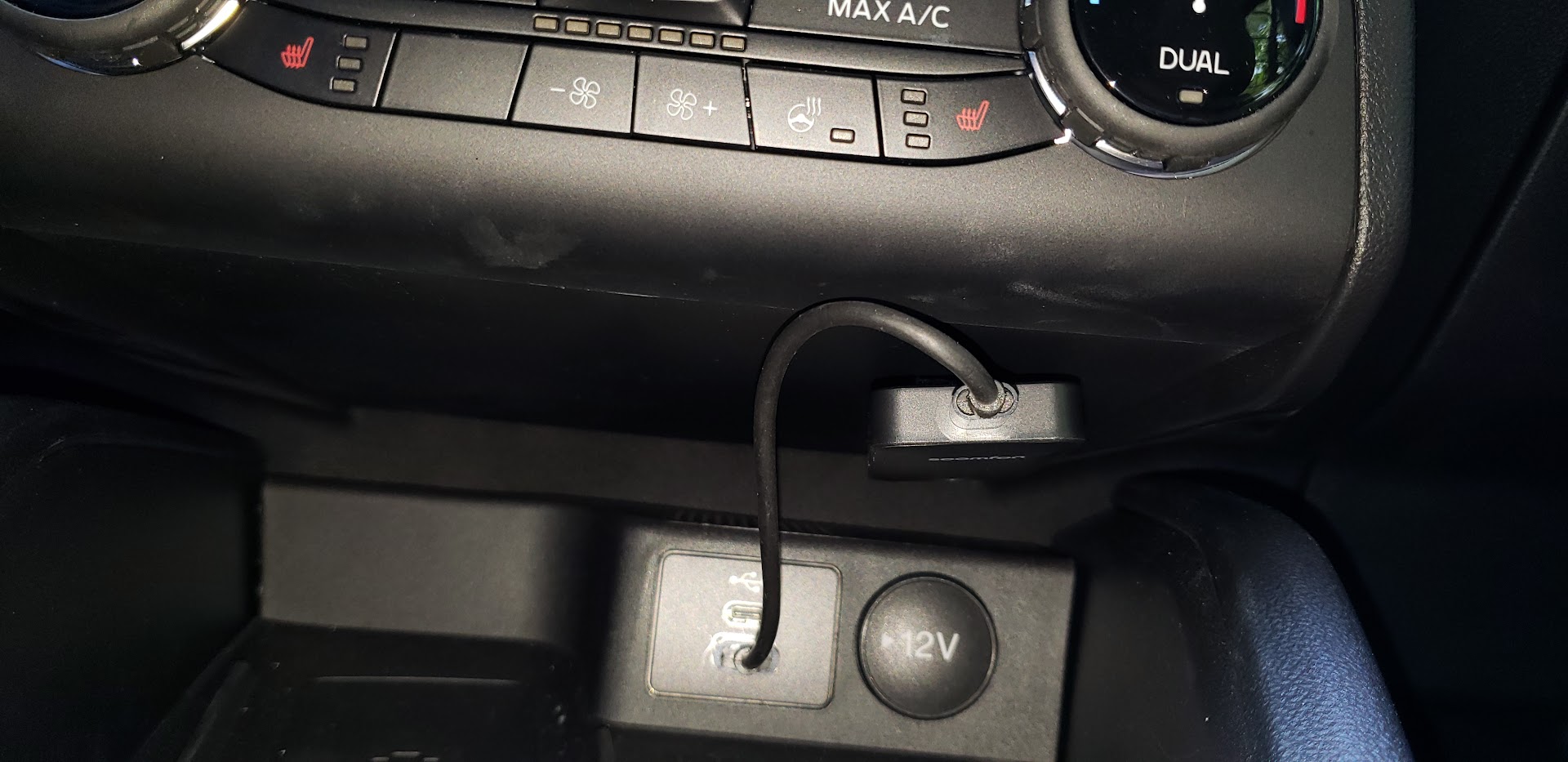 Installation
The Dongle comes with a short cord that plugs into a USB communication port in your car (not just a power port, but one that communicates). We plugged the device in, followed a simple series of short instructions, and the device worked. Sort of. It seemed a bit finicky at first. We had to "forget" the BlueTooth pairing of the phone once and re-pair it. We also had to find and pair the dongle with BlueTooth. In all, we spent less than 15 minutes fussing with the device to make it work.
How Well Does It Work?
When it is operating, the device does a great job. All of the functions are identical to what the Bronco Sport offers with Android Auto when used with a cord. We have found that the device auto-starts about 70% of the time immediately, about 20% of the time after a few moments of driving, and about 10% of the time, we have to pull the plug on the dongle and then plug it back in. A few times, we have had to re-pair it with BlueTooth (while parked safely). 
The device also seems to have a hard time hearing verbal instructions compared to using it when wired. We often have to repeat the spoken navigation destination, just as an example. It sometimes works, but sometimes, it cannot seem to hear our spoken words. 
Would We Recommend This Device?
While we would definitely recommend a device that converts your phone from wired to wireless Android Auto and Apple CarPlay capability, we cannot in good conscience recommend this particular device. The glitches and the delays whenen starting are simply too numerous. We are keeping the device and using the device, hoping that heading into month two of ownership, we will eventually discover how to make it auto-start every time. 
Our Conclusion and Suggestion
Our suggestion if you own a vehicle that offers wired Android Auto and Apple CarPlay is to start in a club online for your vehicle model. Use the search bar to find discussions on this topic, or ask other members in a post what they use to ditch the cord. Look for the device that most owners say works the best. Our suggestion to Ford Bronco Sport owners is to try a device other than the SOOMFON dongle. 
About this review: The author paid full price for both the vehicle and the device reviewed in this story. No samples were provided, and this is not an advertisement, as you may have figured out from our conclusion. 
Images by John Goreham
John Goreham is an experienced New England Motor Press Association member and expert vehicle tester. John completed an engineering program with a focus on electric vehicles, followed by two decades of work in high-tech, biopharma, and the automotive supply chain before becoming a news contributor. In addition to his eleven years of work at Torque News, John has published thousands of articles and reviews at American news outlets. He is known for offering unfiltered opinions on vehicle topics. You can follow John on Twitter, and connect with him at Linkedin.