Chevrolet blew us away on July 18th when the C8 Corvette was finally revealed on stage and then did it again when we heard that 0-60 time would be under 3 seconds, and then once again when the price of the car was confirmed to start at less than 60k. These were all fantastic and mind blowing things to hear on the night of the reveal but until we got some actual reviews from a 3rd party, there wasn't any guarantee this was going to be replicable performance. The 3 major automotive magazines have finally had the embargo lifted that GM placed on their test results and now we have those 3rd party reviews.
The embargo was placed on the reviewers with a date of October 16th. This basically means they had the car for a month or more but weren't able to discuss the results until the 16th of October. We actually got wind of the review late October 15th but we won't complain.
Road and track starts out their review of this car with the following quote "Let's get one thing out of the way: the 2020 Chevrolet Corvette is good. It's not, however, great."
After reading over the articles from these 3 automotive reviews, Road and Track seems to take the most negative approach but still comes back to the fact that the 2020 C8 Corvette is a step in the right direction for Chevrolet. As with anything in life, this car isn't perfect. All 3 articles touch on this in one way or another with all of them agreeing on a few positive points like: 0-60 time being phenomenal, the interior feeling of high quality, and the overall ride being as luxury as you'd like or as performance oriented as you'd like.
Before we get into the negatives that all 3 articles talked about I want to really dig in on these positive qualities. The 0-60 time that GM gave us on the night of the reveal was "less than 3 seconds" and then shortly after that a leaked document from GM showed that the 0-60 time was actually 2.9 seconds. Well, the car was tested and the 2020 C8 Corvette was repeatedly able to hit 2.8 seconds 0-60. This is astoundingly good for a base model car but the fact that it's actually a hair faster than the manufacturer claims? That's even better. The car was also tested multiple times at the drag strip to record 1/4 mile times. It was able to consistently hit an 11.1 second quarter mile at 123.2 mph. This is also quite impressive due to the 2019 Corvette ZR1's 1/4 mile time being only 0.3 seconds faster at 10.8 seconds.
Typically automotive companies overrate their 0-60 numbers, or at the very least, you have to have a perfect day with a fully prepped track to actually achieve said numbers but not in this case. The 2.8 seconds that it takes to get to 60 mph with the new C8 Stingray is actually a hair better than the 2019 Corvette ZR1, which is another monumental leap for GM. A base model car that outperforms the previous generations "top dog" isn't something that Chevrolet has done before with the Corvette lineup.
The 2020 Chevrolet Corvette C8 is Faster to 60 MPH Than These Much More Expensive Cars
2017 Porsche 911 Turbo Cabriolet - 2.9 Seconds
2019 McLaren Senna - 2.9 Seconds
2015 Nissan GT-R NISMO - 2.9 Seconds
2019 McLaren 600LT - 2.9 Seconds
2012 Lamborghini Aventador - 2.9 Seconds
2019 Porsche 911 GT3 RS - 3.0 Seconds
2010 Ferrari 458 Italia - 3.0 Seconds
2017 Ford GT - 3.0 Seconds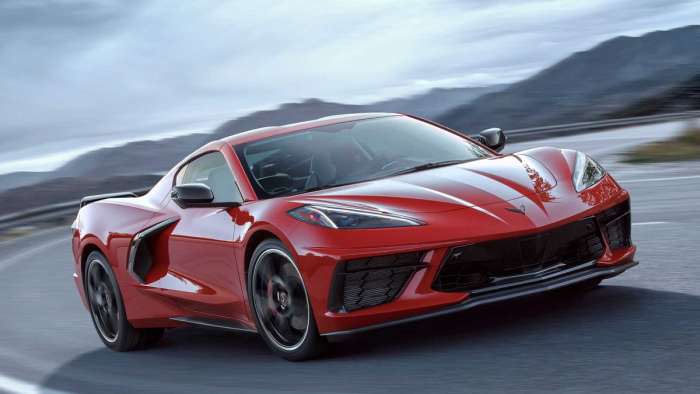 Now as I stated earlier, no car out there is perfect so let's talk about the negatives coming out of these articles. All 3 talk about a braking system that doesn't live up as a successor to the C7 Corvette and Motor Trend actually stated "Brakes are the one area where the C8 does not have a decided advantage over the C7. At 97 feet, the C8 Z51's best stopping distance from 60 mph falls on the longer end of the C7 Stingray and Z51's scale."
The next thing that all these articles were in agreeance on was the overall weight of the new Corvette. Weighing in at a quite heavy 3,622 pounds, it's a good bit heavier than most of the enthusiasts (such as myself) were hoping to see. GM originally gave us the dry weight of the car as a number to go off of and that number looked a little more attractive. With the new C8 Corvette pushing 3,700 pounds in the base configuration, one can only assume, the higher end models will gain even more.
The average lateral G on the skidpad for the C8 Corvette was 1.04 which was again slightly lower than the C7 Corvette Stingray, which achieved an average lateral G of 1.11. Understeer seems to also be an issue with the new C8 Corvette under hard driving (something most of the buyers of this new Corvette won't see often) with Motor Trend saying "Put simply, the C8 is no drift car. Try to correct the understeer with a nudge of throttle, and you get more understeer."
The C8 Corvette is probably the most significant car of the year and maybe even decade. It retains the Corvettes main selling points with: big V8 performance, a bargain price, composite body panels, amazing looks, and an incredibly stiff aluminum frame. For the first time ever, the engine moves to the middle and ditches the manual transmission to close the gap between this American sports cars and the European supercars. It's definitely a huge step in the right direction for Chevrolet and it can really only improve from here.
Also watch: Motor Trend's 2020 C8 Corvette review is live! Better performance than we ever thought, as well as Click To Subscribe Torque News Youtube Channel for Daily News on Automotive Industry.
About The Author
Justin Nohe - My name is Justin and I am a car fanatic. Everything automotive is my passion. Ever since I was a little kid owning a Corvette was my dream and I recently achieved that dream with a 2015 Corvette Z06. I have such passion for the automotive world and enjoy sharing it with anyone who will listen! You can contact me, send me tips and follow me on Twitter, Instagram, Facebook and Youtube.