2021 Shapes Up to Be a Big Year for GM Electric and the Chevy Bolt EV
In the midst of the first strike at a U.S. automaker since 2007 and additional worker furloughs in Canada, it might seem odd to talk about a bright future for General Motors.
However, if the many recent signs of progress come to fruition, things should look a lot more positive over the next 18-24 months.
Indeed, 2021 is shaping up to be a milestone year on GM's all-electric roadmap, with several key projects set to launch or be unveiled that year. Let's take a look at those initiatives and what they say about the General's ambitions for its electric vehicles heading into the next decade.
2021 Chevy Bolt EV is Getting a Refresh
Earlier this week, we looked at the importance of small yet subtle improvements to the 2020 Bolt EV. While the minor upgrades showed that GM is committed to keeping the model relevant in the face of increased competition, the company's plans for the 2021 Chevy Bolt EV show us the car will continue to be a key vehicle in its EV lineup.
We'd heard the rumors that GM was planning interior enhancements for the Bolt EV, such as rethinking the seats and adding some more recent creature comforts. Now, according to new spy shots from GM Authority, we can tell that the exterior of the car is also in line for a facelift. The Bolt EV's styling has been another sticking point for some prospective buyers, so it will be intriguing to see how GM rethinks the look.
It's always hard to tell from brief glimpses of heavily-camouflaged test vehicles what the final version will look like. The cladding does reveal that the front and rear light assemblies will be reimagined, however, and the interior is likely to see redesigned seats, as well as some changes to the infotainment area and new driver-assist technology.
If the Bolt EV designers choose to steal a few styling cues from the new Chevy Blazer, which my Torque News colleague John Goreham tested over the summer, we wouldn't complain.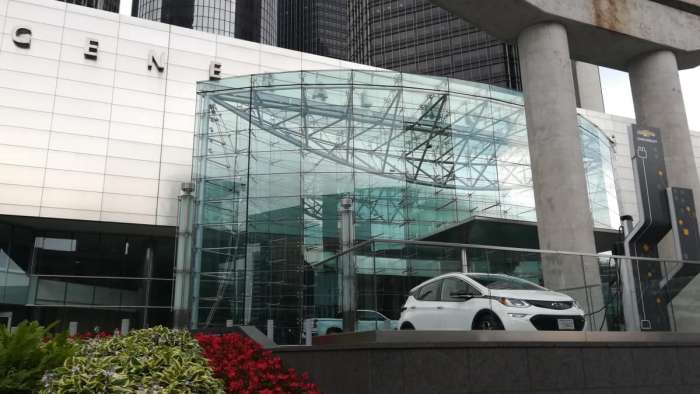 The Upcoming BEV3 Platform
While the current Bolt EV – and the rumored electric utility vehicle, the Bolt EUV – will continue to be built on the existing BEV2 design, GM has long hinted at the arrival of its new battery platform, BEV3. It is the basis for the much-larger Cadillac Escalade EV that we looked at last month, and presumably underpins a good number of the 20 new all-electric models GM plans to deliver by 2023.
The many rumors around BEV3 place it firmly in the realm of forward-thinking EV manufacturer. From a source close to GM's engineering team, we've heard that the minimum range for vehicles on the BEV3 platform is expected to be 300 miles. That's where the industry is aiming as a whole, but it's just one piece of the puzzle. Perhaps more importantly, that same source claims that "the BEV3 engineering goal is to recharge 200 miles or range in 15 minutes."
Adherence to that particular metric will be vital. Merely stating a maximum kW rate doesn't tell the whole story, as battery capacity also influences charge times. 150kW would be an incredible rate on a Chevy Bolt EV with its 60 or 66kWh packs, for example, but a vehicle with a pack two or three times that capacity would see much longer charge times at that specific kW rate.
To convince mainstream buyers that these new electric models are no less convenient than ICE models, we need to stick to miles and minutes. 200 miles in 15 minutes is a great place to start.
Clearly, any upgrade boasting these kinds of capabilities is a signal of intent from GM. If all goes to plan and even large vehicles like the Escalade can achieve those numbers, the company will have an excellent base from which to build more and more compelling electric vehicles.
In that scenario, BEV3 will deliver more than enough to help GM take its EVs to the mainstream and sure up its position in the all-electric market for years to come.
GM EV Pickup Truck in Development
If we take the Cadillac Escalade as an example of GM's ambition to bring the largest vehicle categories into the EV realm, we quickly arrive at perhaps the most important segment in North America: pickup trucks.
Despite my high hopes for Rivian, I've already covered why the R1T will not convince existing truck drivers to go electric.
In short, it's simply not designed for the kind of work that many truck owners say they need. Nor has Rivian positioned it as such, as the brand is focused on outdoor activities and adventure. Nonetheless, what we know about the R1T means we need to look to the likes of Tesla, Ford, and GM as the other automakers closest to market with pickup trucks that might do the heavy lifting.
My Torque News colleague Eric Way has already written an excellent piece on what a full-size GM electric truck could look like. As his article explains, a heavy-duty truck is not on the cards during the company's first foray into BEV trucks.
An all-electric version of the Chevy Silverado is his pick for that honor, which would at least move the company into the segment and give GM a product comparable to Rivian and Tesla by late 2021/early 2022. It would be a valuable addition to the company's electric lineup and further proof that GM intends to keep pace with the gradual transition to EVs.
Contrary to popular belief, General Motors clearly has a strategic plan for electric vehicles that not only unveil many new models in key categories over the next couple of years, but which will reshape the automaker at its core.
Those changes may seem unpalatable in this difficult time of transition, but the end result is infinitely preferable to the slow descent into obsolescence that some legacy automakers will inevitably face over the next decade.
Do you think GM's impending moves in the EV market will be enough to keep pace with Tesla and stay ahead of the competition from legacy automakers? Let us know in the comments.
Steve Birkett is an electric vehicle advocate at Plug & Play EV. You can follow him on Twitter at @plugandplayev, Instagram and YouTube at Plug & Play EV channel to send him EV news tips.