Green Car Journal has selected the 2023 Ram 1500 EcoDiesel as its 2023 Green Truck of the Year. The move is somewhat surprising as there are a few all-electric trucks already on the market. The Ram EcoDiesel received points for its torque, towing and ability to travel over 1,000 miles between fill-ups.
2023 Ram 1500 EcoDiesel
Ram has already announced that it is phasing out the 2023 Ram 1500 with 3.0-liter V-6 EcoDiesel engine as it starts to focus on electrification. The price for diesel fuel has skyrocketed in the last year. The Ram EcoDiesel leads the half-ton pickup truck segment in torque with 480 lb.-ft. and diesel towing capability of 12,560 pounds.
"The Ram 1500 continues to be an undeniable force in the pickup field," said Ron Cogan, editor and publisher of Green Car Journal and GreenCarJournal.com. "It's stylish, comfortable, and connected in ways appreciated by those who drive their Ram pickups for everyday personal use. Yet it's also a workhorse with considerable hauling and towing capabilities. Importantly, the Ram 1500 offers power choices that include efficient eTorque hybrid technology for higher mpg and lower carbon emissions."
Aside from the EcoDiesel, the Ram 1500 offers several different engine options. The Ram 1500 is available with a 3.6-liter eTorque Pentastar V-6, the powerful 5.7-liter eTorque HEMI V-8 and the supercharged 6.2-liter HEMI V-8 engines. The 2023 Ram 1500 EcoDiesel is available in all models and configurations, including a first-time offering in the Ram Rebel. Ram will introduce a Ram 1500 battery-electric vehicle in 2024.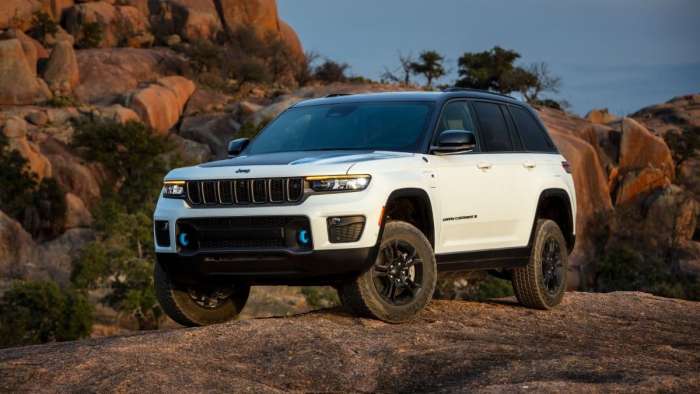 Jeep Grand Cherokee 4xe Named 2023 Green 4x4 of the Year
The Green Car Journal also gave top honors to the 2023 Jeep Grand Cherokee 4xe. Jeep's newest plug-in hybrid has 375 horsepower and delivers 56 MPGe. The Grand Cherokee 4xe delivers 25 miles of all-electric operation and like its other 4xe models allows the driver the choice of when to use the all-electric mode.
The Grand Cherokee 4xe signals the growth of the Jeep brand's march toward electrification. The Grand Cherokee 4xe's PHEV technology enhances the sense of performance and adventure that the Jeep brand is known for, while providing a major step toward going electric. The Grand Cherokee 4xe features a 2.0-liter four-cylinder turbocharged engine with two electric motors, a high-voltage battery pack and a TorqueFlite eight-speed automatic transmission. Total combined system output of 375 hp and 470 lb.-ft. of torque delivers 0-60 mph in six seconds and max towing of 6,000 lbs.
"The Jeep Grand Cherokee 4xe does an exceptional job of meeting the needs of a wide range of buyers today," said Ron Cogan, editor and publisher of Green Car Journal and GreenCarJournal.com. "Its 2023 Green 4x4 of the Year title is well earned, not only due to its considerable trail capabilities and ability to drive 25 miles on battery power alone, but also because of the sophisticated and satisfying driving experience it brings to the mission of navigating everyday life."
Green Car Journal Awards
Green Car Journal editors consider all potential models in the U.S. market, weighing environmental attributes alongside traditional criteria that define what makes a great vehicle, such as capability, versatility, safety, value and style. The winners are selected from finalists by a Green Truck of the Year jury, comprised of automotive experts and Green Car Journal staff.
The awards were presented at this month's annual San Antonio Auto & Truck Show in San Antonio, Texas.
Stellantis Photos
Mary Conway is a professional automotive journalist and has decades of experience specializing in automotive news analysis. She covered the Detroit Three for more than twenty years for the ABC affiliate, in Detroit. Her affection for the Motor City comes naturally. Her father ran a gas station while Mary was growing up, in Wisconsin.
Follow Mary Conway at @maryconwaymedia and send her car news tips for future stories.