Ride On Board A Tri-Motor Lucid Air Prototype For A Blistering Lap Of Laguna Seca
This on board video comes to us from one of Lucid's days out at Laguna Seca where the Air was put through its paces with a focus on chassis and powertrain testing. It demonstrates the rocket ship-like effects of strapping three power-dense electric motors to a prototype Air very nicely. I'm not saying it definitely does, but this car could theoretically be packing in excess of two thousand electrified horsepower.
The Air In Question
First, what we know about the prototype for sure. There are three motors, a ducktail spoiler out back, and canards on the front bumper to push the tires into the road. From there, things get speculative.
It's unclear what kind of wheel and rubber combination this Air is running. Lucid have been known to test on high-end street tires, so there could be some room for improvement there. Next, braking. It goes without saying that even in its sportiest guise, the Air still has quite a bit of mass to keep under control, and a set of bespoke race brakes would provide a huge advantage over their street counterparts.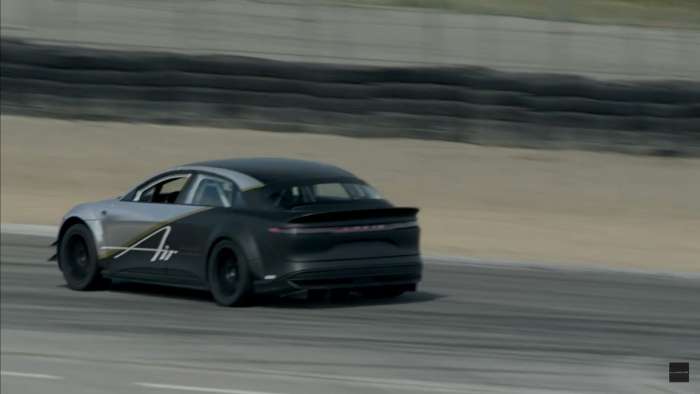 There's also the suspension, which commenters notice caused quite a bit of floatiness and oversteer as the tri-motor air blasts its way round the track. That's the last thing you want in a 5200 lb. car travelling at 145 mph along Laguna Seca's start/finish straight. Again, a racing setup would calm things down and produce a markedly faster lap time.
This prototype looks to be a different car from the Alpha Speed version that went 235 mph in testing, as it has more of a dashboard than the high-speed version.
1/4 Mile Demolisher
As an aside, unrelated to this video but still extremely notable, this is the same tri-motor prototype that set a mind blowing 1/4 mile time of 9.245 seconds at 157.3 mph. For comparison, the Dodge Demon covers the same ground in 9.7 seconds. Normally I'd include a horsepower figure there, but it's not really relevant anymore.
A Hardcore Air?
All this staggering performance makes me wonder what a hardcore, performance-oriented Air would look like. Positioned as a serene luxury car, albeit one with incredible figures, I wonder where the extra performance could come from. I think we'd see a drop in the Air's record-breaking range as a result of a smaller, lighter battery pack as the best way to "add lightness" as Colin Chapman would say, while still keeping the cabin suitably luxurious. Sticky tires wouldn't help efficiency either.
Presumably most parts are already as light as possible thanks to Lucid's obsession with efficiency, so a lighter battery pack with less range may be the answer. Paired with even lighter 3D-printed components a "Super-Air" could keep its horsepower while jettisoning some performance-robbing weight. Combined with the racy parts mentioned above we could end up with an Air that wipes the floor with the laws of physics.
The Lap Time
Anyway, back to reality and the tri-motor Lucid Air's Laguna lap time, which is 1:31:3.
That puts it between the Gunther Werks 993-generation 911 and the Mark V Dodge Viper ACR, just half a second slower than the much lighter McLaren P1.
But what of the only one that truly matters, you ask? What of the Tesla?
Well, the Model S Plaid, on Michelin Sport Cup 2 tires and with its driver ensconced in a racing bucket seat did the lap a second faster, with a time of 1:30:3. Somehow I don't think that this is the last we'll see of lap time rivalries between these two.
Images and video by Lucid Motors licensed by CC BY 2.0.
James Walker is an automotive journalist at Torque News focusing on Lucid Motors electric vehicles. If it's got wheels he's interested in it, and he's very excited to see what kind of driver's/performance cars the EV revolution brings us. Whether it's fast, slow, new, or old, James wants to have a look around it and share it in print and on video, ideally with some twisty roads or a track involved. You can connect with James on Twitter, Instagram, and LinkedIn.