This is the new Mercedes-AMG C 63 S E Performance, a car with a very long name and more horsepower than ever before. Its list of go-faster tech is as long as your arm, and Mercedes are keen to point out that much of it comes from Formula 1 know-how.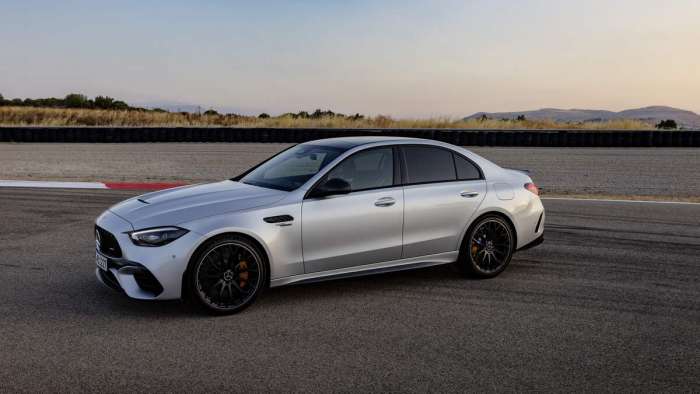 Big Power Four-Banger
Mercedes says that the turbocharged 2.0-liter engine in the new C 63 S E Performance is the world's most powerful four-cylinder, putting out 238 horsepower per liter (476 total) with next to no lag thanks to an electrically spooled turbo just like the one on Lewis Hamilton's F1 car. Combined with a two-speed electric motor on the rear axle and all-wheel drive the C 63 will get off the line like a rocket and hit 60 mph in 3.4 seconds.
The engine, turbo and motors combine to produce 680 horsepower and over 750 lb.-ft. of torque making this the most powerful C 63 yet.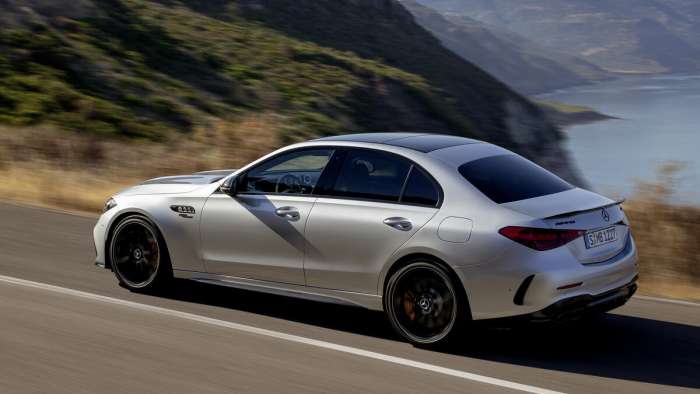 Motor and Battery
The E Performance's electric motor is located on its rear axle and puts out 204 horsepower with an electronic limited slip diff and a two-speed gearbox for launch and efficiency. The AMG-developed 6.1 kWh battery is positioned above the axle with each of its 560 cells are individually cooled to keep the battery at an efficient average temperature. The motor and battery give the C 63 S E Performance an all-electric range of just over 8 miles and thanks to the AWD system's mechanical links to the front axle can send electric torque to the front wheels as needed.
Related Story: This Is How Brabus Tunes A Mercedes EV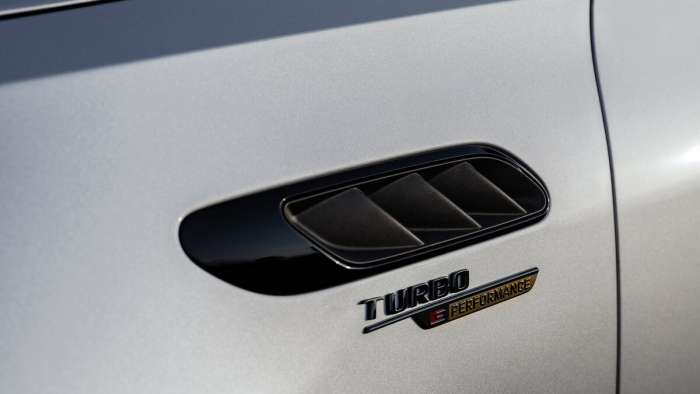 Styling
Both the sedan and wagon versions of the C 63 are 83 mm longer than the normal C-Class with a 76 mm greater front track width. The wheelbase had grown by 10 mm too, while active air panels behind the front fascia allow air to be directed as needed. There's a new grille, front bumper, side skirts and rear bumper/diffuser plus red-backed E Performance badging down the sides. 19-inch wheels are standard with forged 20-inchers optional.
Inside there's a new AMG steering wheel and sport seats while the MUBX multimedia system has been given some new hybrid-specific displays.
Drive Modes
There are eight drive modes in total, including Electric, Comfort, Battery Hold, Sport, Sport+, RACE, Slippery and Individual. Their functions are pretty self-explanatory with each adding or withholding electrical boost as needed but Battery Hold is particularly interesting as it limits the use of the electric motor to keep the battery's charge at a constant level with the regenerative braking. You can have your 680 horsepower super sedan and be eco-friendly at the same time.
Braking regen has four levels, with 0 being almost zero e-motor assistance and 3 providing one-pedal driving like in a full EV. The Adaptive dampers have three modes, Comfort, Sport and Sport+ and of course there's a drift mode.
The C 63 S E Performance is being launched with sedan and wagon body styles available, though the long-roof version won't make its way to the US. With half the cylinders and much more power the C 63 S E Performance is packed to the gills with F1-inspired tech and will likely come at an F1-inspired price. We can't wait to try it out.
Related Story: Renault 5 Turbo 3E Drift Car Brings The Wing
Images by Mercedes-Benz licensed by CC BY 2.0.
James Walker is an Automotive Journalist at Torque News focusing on Lucid Motors. If it's got wheels he's interested, and he's looking forward to seeing what kind of cars the EV revolution brings us. Whether it's fast, slow, new, or old, James wants to have a look around it and share it in print and on video, ideally with some twisty roads involved. You can connect with James on Twitter, Instagram, and LinkedIn.