This shrinking violet is Renault's new show car, the R5 Turbo 3E. Along with the 5 Diamante show car and the Renault 5 Prototype EV, the Turbo 3E has been built to celebrate the original car's 50th anniversary while demonstrating that Renault's electric future includes plenty of French funkiness. The "3E" name comes as the successor to the Turbo and Turbo 2 plus E for electric.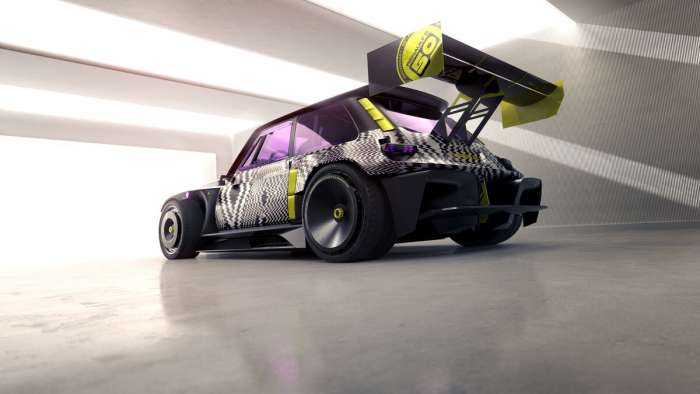 The Renault bigwigs wanted something extravagantly inspired by videogames for the 3E, and the stylists have risen to the challenge with vigor. There are nods to the originals everywhere, while the interior features screens decorated with pixel and glitch art.
"R5 TURBO 3E combines ultra-tech design and willful exuberance with numerous references to the world of car racing and video games. This combination propels the show car into modernity and technology, and it is at the frontier between the real and virtual realms. This pure electric "drifter" demonstrates that electric cars can also be fun with incredible performance! - Renault Design Director, Gilles Vidal.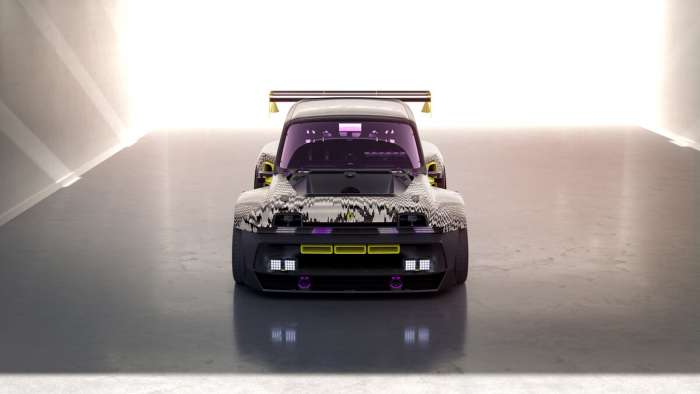 Power
Like its rear-mid-engined ancestors, the 3E is purely a two-seater. In place of the old combustion engine sit a pair of electric motors good for 380 horsepower and 516 lb.-ft. or torque delivered straight to the rear wheels. The 42kWh battery is located under the floor in the center of the car and everything mounts to a purpose-built tube frame with FIA-approved roll cage. To ready it for sideways service the Turbo 3E has been given a drifter's steering rack capable of more than 50 degrees of steering angle.
Related Story: Tiny 1000-HP Fan Car EV Breaks Goodwood Hill Climb Record
Styling
The car is wider and longer than its predecessor though retains its height, hood, doors, and cabin profile albeit all made from carbon fiber. Out back there's that enormous spoiler and up front the 5's rectangular fog lights and air inlets have been reworked while remaining functional. New additions include colorful strip lighting front and back to light up all that tire smoke and many mounting points inside and out for Go Pros.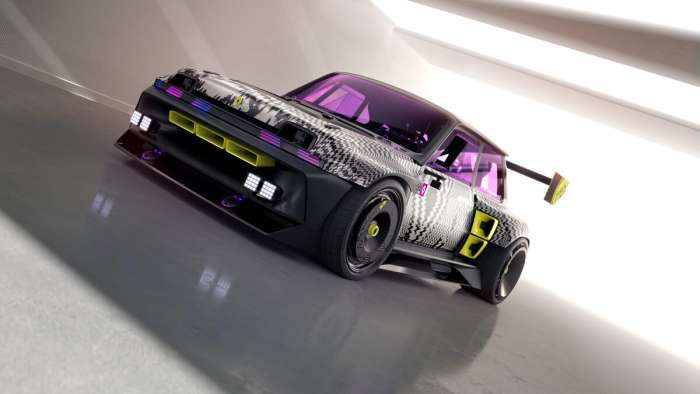 Interior
Inside there are racing bucket seats with harnesses, a big drift hand brake and gray/black tartan upholstery featuring the Renault logo. The Turbo 2's ten-gauge dash is recreated with screens and video game references abound. A "Free Play" button serves as the starter, and the 3E's drive modes are named Turbo, Track Invader and Donut for drifting, fast driving and hooning respectively.
Related Story: Audi RS Q E-Tron E2 Revealed Ahead Of Dakar 2023
The Renault 5 Turbo 3E will debut at the Chantilly Arts & Elegance 2022 contest tomorrow before going on display at the Paris Motor Show from October 17th. Hopefully it's not long before we see this thing leave the static display stand and start shredding some tires.
Related Story: Alpine A110 GT4 Evo Will Take On Pikes Peak
Images by Renault licensed by CC BY 2.0.
James Walker is an Automotive Journalist at Torque News focusing on Lucid Motors. If it's got wheels he's interested, and he's looking forward to seeing what kind of cars the EV revolution brings us. Whether it's fast, slow, new, or old, James wants to have a look around it and share it in print and on video, ideally with some twisty roads involved. You can connect with James on Twitter, Instagram, and LinkedIn.