This tiny 1000-hp fan car EV has set a new record at the annual Goodwood Festival of Speed hill climb event. It's called the McMurtry Automotive Speirling (Irish for thunderstorm) and it's the brainchild of a team of engineers headed by inventor and businessman Sir David McMurtry who also worked on the supersonic Concorde's Rolls-Royce Olympus engines.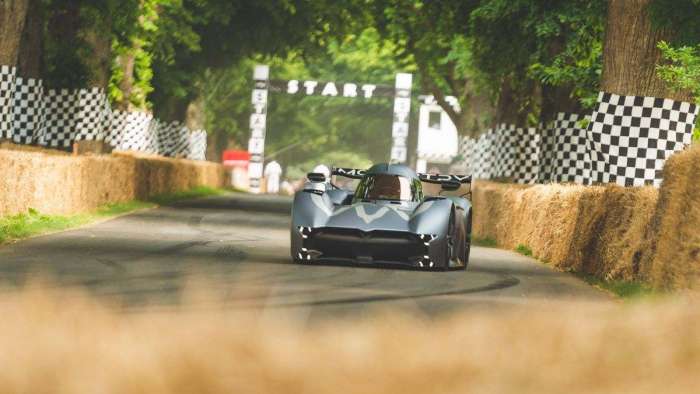 New Record
The Speirling took to the Goodwood hill during Sunday's Shootout event with former F1 driver Max Chilton at the wheel and set a record-breaking time of 39.08 seconds besting the VW ID.R's time by almost a second.
The keys to its stunning performance are its huge power, small size and use of downforce-producing fans to provide, according to McMurtry, 4400 lbs. of aero grip at 0 mph. An F1 car travelling at 150 mph makes around 3500 lbs. Forget driving upside down, this thing can park upside down.
Small is Light is Fast
At the center of the Speirling's design philosophy is the desire to keep the car as small as possible thus reducing front-end drag and providing better range than other electric race cars. With an motor powering each of the rear wheels and a structural U-shaped 60 kWh battery the Sperling is designed for 30-60 minutes of racing depending on track and conditions though it would apparently score 300 miles of range if tested against the WLTP cycle.
Related Story: ELegend Promises More EVs Inspired By Rally Icons
McMurtry has plans for a one-make racing series for these tiny single-seaters and we're certainly on board with that. Let's just hope drivers can handle the G-forces generated by the Speirling's twin electric fans which suck air from under the car and blast it out a central rear duct. Check out the video of Chilton and the Speirling tackling the Goodwood climb here.
Related Story: Red Bull RB17: Is It All Just A Bit Much?
Images by McMurtry Automotive licensed by CC BY 2.0.
James Walker is an Automotive Journalist at Torque News focusing on Lucid Motors. If it's got wheels he's interested, and he's looking forward to seeing what kind of cars the EV revolution brings us. Whether it's fast, slow, new, or old, James wants to have a look around it and share it in print and on video, ideally with some twisty roads involved. You can connect with James on Twitter, Instagram, and LinkedIn.