This is the Brabus-tuned Mercedes EQS and it's conspicuously missing one of Brabus's trademark calling cards: a massive boost in power.
Obviously we're not saying that all Brabus does to internally combusted Mercs is crank up the fury and call it a day, but a sky-high horsepower number is usually the main headline when the German tuning house gets its hands on a new Mercedes.
Not so this time, as the electric powertrain in the EQS remains untouched. Instead, Brabus has turned its attention to the handling and efficiency characteristics of the big e-Benz.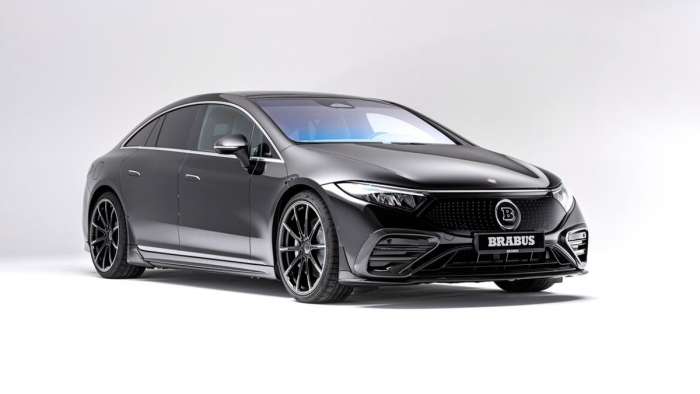 Suspension and Aero
Brabus has installed its own adjustable suspension in the EQS known as SportXtra. The system allows for a 15mm lower ride height up front and a 25 mm drop in the rear. By sacrificing a little ride quality the Brabus EQS is rewarded with a lower center of gravity and all the handling benefits that come along with that.
There's a new front spoiler which Brabus says reduces the already slippery EQS's coefficient of drag while minimizing front axle lift under acceleration and providing high-speed stability with the shape of its outer edges. The front bumper's air intakes are given the carbon treatment too, optimizing flow to the radiators and front brakes while ensuring "the 1-Second-Wow Brabus signature looks," whatever that means.
Air deflectors in front of the wheel arches, a new diffuser and carbon fiber lip spoiler round out the aero add-ons for a claimed 40% reduction in aerodynamic lift.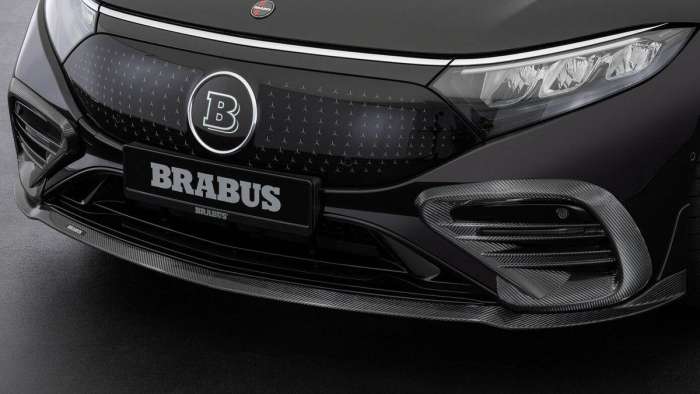 Monoblocks Galore
Brabus offers a total of 13 designs and finishes for its fettled version of the EQS and they call come milled from solid lumps of aluminum for weight savings and strength. Our favourite design by far is the Monoblock M available in "Ceramic Polished" and "Platinum Edition" finishes. They're the ones that say "Look at me" the loudest, as all Brabus products should.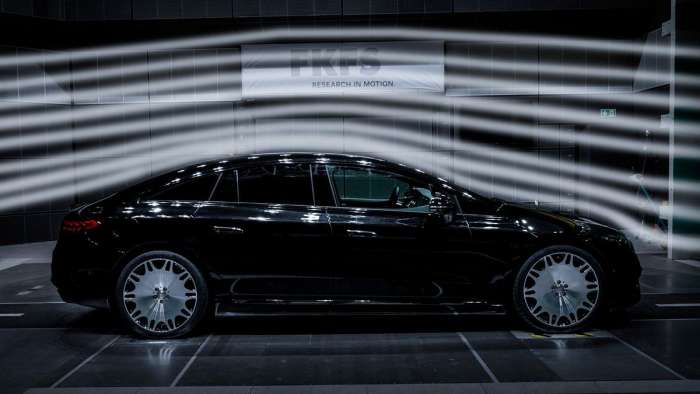 Interior
Brabus offers a few interior upgrades to go with the rest of its mods. Starting when you open the door you can have light-up kickplates on the door sills programmed to match the customizable interior lighting's current shade. Pedal covers made from milled aluminum or carbon fiber are also optional, while a set of Brabus floor mats in velour or quilted leather complete the upgrades.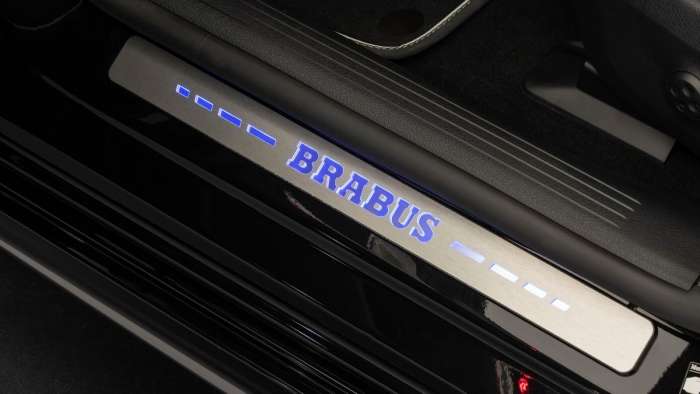 While it's strange to see a Brabus-badged Mercedes come without a big boost in power, we think that it's down to the relative infancy of the electric car rather than the tuning house taming itself down. Once the technology advances past the point of needing to squeeze every mile of range from the motors and battery we reckon it'll be back to obscene outputs from Brabus, taking things that little bit further than AMG would dare.
Related Story: The Mercedes-AMG C 63 S E Performance Is A Huge-Power Hybrid
Images by Brabus licensed by CC BY 2.0.
James Walker is an Automotive Journalist at Torque News focusing on Lucid Motors. If it's got wheels he's interested, and he's looking forward to seeing what kind of cars the EV revolution brings us. Whether it's fast, slow, new, or old, James wants to have a look around it and share it in print and on video, ideally with some twisty roads involved. You can connect with James on Twitter, Instagram, and LinkedIn.