Lucid is once again looking to add personnel to its Arizona production facility and is staging another hiring event close to its AMP-1 factory in Casa Grande.
ATTENTION: Lucid Hiring Event!!Entry-level positions, we provide all the training you need to start a career building luxury electric vehicles. AMAZING benefits from day one. 15406 N Maricopa Rd, Maricopa, AZ 85139 Sunday, March 6th from 9am - 2pm pic.twitter.com/RpDrmyzHdE— Lucid motors 2028 millionares (@2028Lucid) February 24, 2022
Full Steam Ahead
According to the Eventbrite page for the event, "Lucid Air manufacturing is running at full speed" and the EV brand is once again looking to bring new employees onboard to keep up with demand. The event takes place on Sunday, March 6th between 9.00 am and 2.00 pm Mountain Time.
In the past Lucid has held these events at its hiring center in Casa Grande, though this time the venue is the much larger Harrah's Ak-Chin Casino Events Center in Maricopa, about 30 minutes' drive from AMP-1. Bringing more employees onboard to keep up with production demands spells good news for LCID investors, who could do with some positive news in the face of the stock's slide throughout 2022. Expect this to come up at Lucid's Q4 2021 earnings call on February 28th.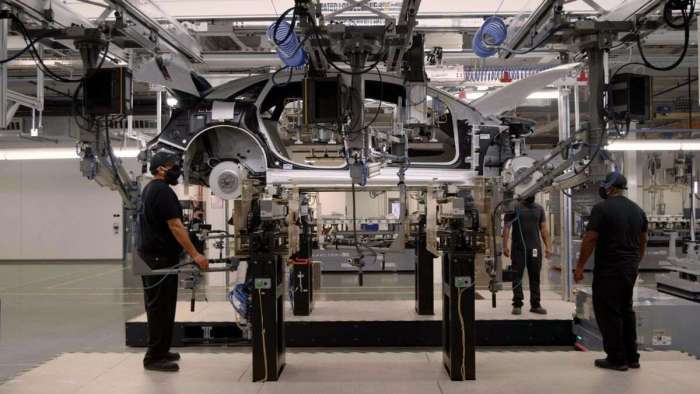 The Terms
The terms of employment spelled out in the posting for this round of hiring are much the same as Lucid's last acquisition drive, promising competitive pay, stock options, a quality benefits package, and on-site training. Once again the event aims to bolster staff on Lucid's "second shift" which runs overnight from 5.30 pm to 4.00 am. Attendees are asked to register ahead of the event in Maricopa, though walk-ins are also welcome. You can find the full advertisement here.
Images by Lucid Motors licensed by CC BY 2.0.
James Walker is an automotive journalist at Torque News focusing on Lucid Motors. If it's got wheels he's interested, and he's looking forward to seeing what kind of cars the EV revolution brings us. Whether it's fast, slow, new, or old, James wants to have a look around it and share it in print and on video, ideally with some twisty roads involved. You can connect with James on Twitter, Instagram, and LinkedIn.