Fisker Ocean Has a Surprisingly Low Price and Multiple Battery Setups
Henrik Fisker is back, unveiling his company's new Ocean SUV during the Los Angeles Auto Show's media day on Wednesday.
As Fisker Inc.'s press release puts it

"The Fisker Ocean was designed to be a true SUV, Henrik Fisker said, rather than yet another aerodynamic all electric hatchback. Fisker and his team developed an emotionally invigorating, sleek and stylish exterior with ultra-slim lighting and gave the Fisker Ocean a wide stance that enhances handling and emphasizes its road presence."
Gone are the organic shapes of some of Fisker's previous designs, such as the undulating curves of the Karma or the muscular lines of the Galpin Rocket Mustang, replaced instead by futuristic streamlining and the slimline lighting mentioned above. The version displayed at the LA Auto Show is carefully labelled as a "production-intent" vehicle, but this should be the final shape.
It's a design penned with a firm focus on sustainability, and to that end the Ocean uses recycled materials wherever possible, from carbon fiber and vegan leather seating down to ocean-captured fishing nets and plastic bottles which are used to make the vehicle's carpets.
Related Story: Fisker Project Ronin Is A 600-Mile Four-Seat EV GT
Four Oceans
The Ocean comes in four variants, with the entry to the range known as the Ocean Sport. The is the version with the $37,499 base price mentioned above, and comes equipped with a single motor producing 275 horsepower and driving the front wheels. The battery, which provides 250 miles of range, is the key to the Sport's low price. It's a less expensive lithium-ion phosphate power bank, whereas the higher-up versions of the Ocean get nickel manganese cobalt batteries for better range and performance.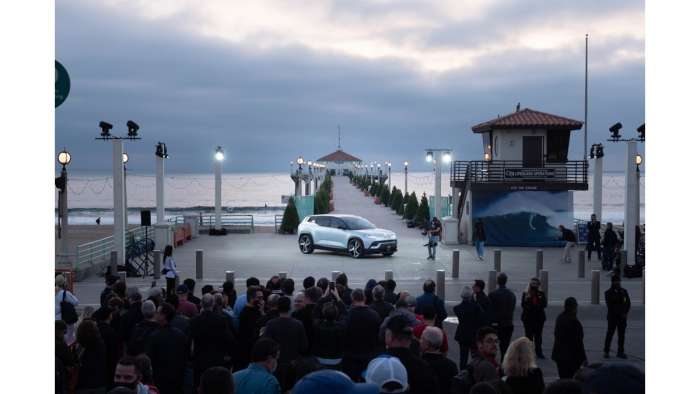 The Ultra, Extreme, and One versions of the Ocean get dual motors, torque-vectoring all-wheel drive, and the aforementioned bigger better batteries. The Ultra costs $50,000 before credits, makes 540 horsepower, and has a range of 340 miles, while the Extreme and launch-edition One get 550 horsepower and a 350-mile range. They each cost $69,000, which is quite a jump for ten extra horsepower and miles of range, but they come with more of Fisker's optional goodies as standard equipment. Over-the-air updates will be available for the entire range.
The Toys
Standard on all Ocean models is the 17.1-inch touchscreen which serves as the SUVs control center but can also rotate by 90 degrees (Fisker calls this Hollywood Mode) for entertainment purposes when the vehicle is parked. "California Mode" is available on all models save for the Sport, and lowers the windows and rear liftgate glass as well as opening the sunroof to create what Fisker refers to as "a near-convertible SUV experience."
The first 5000 examples built will be Ocean Ones, and as with the Extreme, will have the option of Fisker's "SolarSky" solar panel roof, which promises anywhere from 1500-2000 miles' worth of free charge each year. The One also gets unique wheels to set it apart from the later Ocean variants.
Fisker Future
Fisker Inc. has plans for a four-vehicle portfolio in the future, with the Ocean SUV being joined by a sports sedan, crossover, and Rivian-style adventure lifestyle pickup truck. The Ocean itself is set to start production on November 17th 2022 at Magna-Steyr's carbon-neutral factory in the city of Graz in Austria.
Images from Fisker Inc. licensed under CC BY 2.0.
James Walker is an automotive journalist at Torque News focusing on Lucid Motors electric vehicles. If it's got wheels he's interested in it, and he's very excited to see what kind of driver's/performance cars the EV revolution brings us. Whether it's fast, slow, new, or old, James wants to have a look around it and share it in print and on video, ideally with some twisty roads or a track involved. You can connect with James on Twitter, Instagram, and LinkedIn.