Fisker Inc. has released these images of a new electric super-GT they're calling Project Ronin. It'll reportedly be very very fast, be able to travel huge distances between charges, and will invent a new segment with its four-door convertible layout.
Power goes to all four wheels from a trio of e-motors and yes, it's named for that Ronin, John Frankenheimer's 1998 car chase bonanza. Development is underway with the goal of producing a high-performance grand tourer capable of carrying four adults and their luggage wherever they need to go.
This post was followed up by one that clarifies the targeted range is actually 600 miles and it's a four-door convertible.
Engineering Brief
Range and performance are the twin focuses for Project Ronin with the aforementioned 600-mile range matched with a 0-60 time of around 2 seconds.
"The aim is to achieve the world's longest range for a production EV, combined with extremely high levels of performance. Project Ronin will be a showcase for our internal engineering, powertrain, and software capabilities." - CEO Henrik Fisker
We see a major problem with this statement: the longest range target. While 600 miles is enough to claim the title today, the Lucid Air recently managed 505 real-world miles in Edmunds testing and Mercedes' EQXX prototype just did 621 miles. Although that's not a production car the rate of advancements in EV technology makes us wonder if the Ronin's targeted 600-mile range will cut the mustard when production begins in 2024.
Features & Other Fiskers
The Ronin will reportedly feature a battery pack which is integrated into the its structure for "more efficiency and lower weight" as well as active aerodynamics and a luxurious, sustainable vegan interior.
The Ronin will join the Fisker range as its third vehicle after the Fisker Ocean SUV and the PEAR (Personal Electric Automotive Revolution), a smaller five-passenger crossover to slot in below the Ocean with a target price just under $30,000. The PEAR will be built in Lordstown, Ohio with deliveries starting in 2024.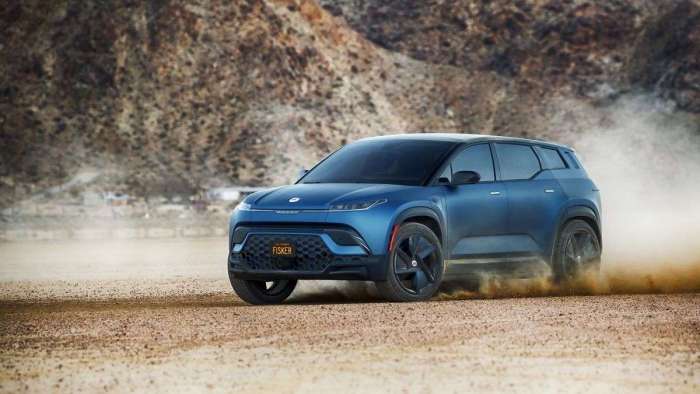 At the other end of the scale, the Ronin is expected to start at just under $200,000 before options. A full reveal is scheduled for August 2023.
Images by Henrik Fisker and Fisker Inc. licensed by CC BY 2.0.
James Walker is an Automotive Journalist at Torque News focusing on Lucid Motors. If it's got wheels he's interested, and he's looking forward to seeing what kind of cars the EV revolution brings us. Whether it's fast, slow, new, or old, James wants to have a look around it and share it in print and on video, ideally with some twisty roads involved. You can connect with James on Twitter, Instagram, and LinkedIn.