Consumer Electronics Show 2022 Showcases The Future Of Mobility
The annual Consumer Electronics Show in Las Vegas has become an extremely important event for the world's car companies to debut new technology and show off the direction their products will take in the future. With the line between auto manufacturer and tech company becoming increasingly blurred thanks to the proprietary technologies being included in modern EVs, CES is a greater stage than ever for the future of mobility.
Mercedes-Benz Vision EQXX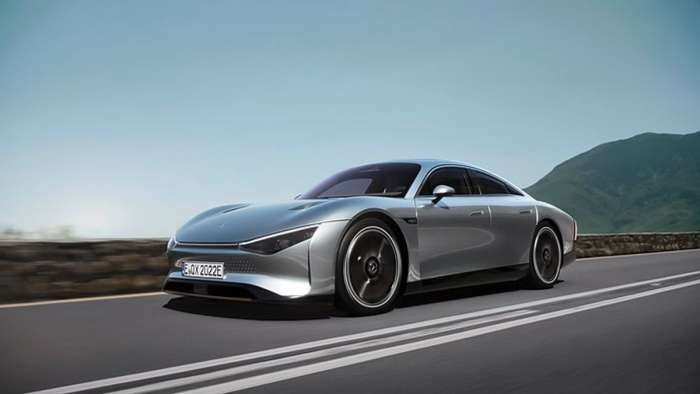 Mercedes' new concept EV comes dressed in ultra-slippery bodywork with a focus on lightweight efficiency. Promising a 620+ mile range with a sub-100 kWh battery pack made up of cells that are both smaller and lighter than the ones found in today's EVs, the EQXX is roughly the size of a C-Class. It's just a concept car for the moment, but Mercedes says that many of its elements will make it into production cars over the next few years.
Related Story: Mercedes Vision EQXX Reviews: So Much More Than A Concept Car
BMW iX Flow
BMW's iX Flow has a special party trick that allows it to change its paint color at the touch of a button. The system uses E Ink, the same kind of thing found in e-reader tablets, to alter its color scheme between white and dark grey. The white pigments are negatively charged, the grey are positively charged, and the shade that shows on the surface is controlled by the application of an electrical field. The paint is just a design study at this point, and BMW says it won't be coming to production cars any time soon.
Cadillac InnerSpace
This one's been covered here at Torque News but I had to include it anyway because its pure concept car gold. Focusing on being beautifully luxurious and autonomous, the InnerSpace features a roof which opens forwards, hinging on arms attached at the base of the windshield.
Sony Vision-S 02
This is the SUV variant of Sony's Vision-S concept, with the first being a sedan. The Vision-S 02 can seat four or seven people depending on spec and power comes from a pair of 268 hp electric motors. There are no concrete plans to bring either vehicle to market just yet, but overall the package is a lot more production car than concept.
BMW iX M60
This one will certainly be going on sale, and it'll be the first all-electric vehicle to wear BMW M badging when it arrives in June. With 610 horsepower and 811 ft-lb torque on tap, the M60 will sprint from 0-60 mph in 3.6 seconds making it marginally faster than the top-level internally-combusted X5M. It'll supposedly be able to charge up to 80% in just 35 minutes at a DC fast charger too. Rapid all around!
VinFast VF5, VF6, VF7
Vietnamese manufacturer VinFast may be relatively young, but it's certainly not lacking in ambition. The manufacturer showed off a trio of smaller SUVs and crossovers at CES 2022. No information on pricing or range was given, but the larger VF8 and VF9 which debuted at the Los Angeles Auto Show claim ranges of 300 and 420 miles respectively. VinFast intends to open a US dealership network over the course of 2022.
UPDATE 4/3/2022: Vietnam's VinFast To Open Its First US Production Facility For EVs
Also worthy of mention are the Chrysler Airflow, Chevrolet Equinox EV, and Silverado RST EV which have been covered in detail by my colleagues here at Torque News. Give them a read and let us know what you think in the comments below.
Images by Mercedes-Benz, BMW, Cadillac, Sony, and VinFast licensed by CC BY 2.0.
James Walker is an automotive journalist at Torque News focusing on Lucid Motors. If it's got wheels he's interested in it, and he's very excited to see what kind of cars the EV revolution brings us. Whether it's fast, slow, new, or old, James wants to have a look around it and share it in print and on video, ideally with some twisty roads involved. You can connect with James on Twitter, Instagram, and LinkedIn.