You will see Acura NSX DNA running throughout the Acura lineup. Thanks to the most aggressive design redirective in recent memory, Acura now sits at the precipice of dominating several automotive segments, including luxury midsize 3-row SUV, 2-row crossover, premium midsize sport sedan, and yes, the "designed and manufactured in Ohio, 2017 Acura NSX hybrid sport supercar.
Reality check: 2017 Acura NSX is the only major manufacturer designed and built in the U.S.A. supercar, and Acura is rightfully proud of their accomplishment. I first encountered Acura NSX at the Marysville, Ohio Performance Manufacturing Center. This is the place that a very select handful of world-class technicians assemble a mostly hand-built supercar -- you could eat off the floor, it's that clean -- this is not a high production automotive plant -- its production line is hand-trolley transferred -- with maximum capacity stated at 8 cars per day.
With a beginning MSRP of $156,000, Acura NSX is affordable by supercar standards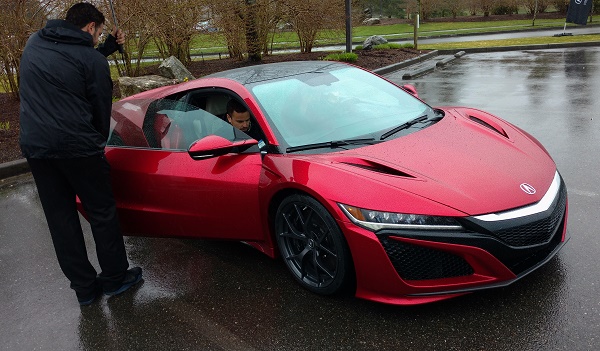 While I hold myself fortunate in experiencing drive-time behind the wheel of 2017 Acura NSX on the track and street, I've yet to catch a glimpse of one running the highways and streets of the U.S., or anywhere for that matter.
With less than 300 NSX supercars sold through the end of June, Acura's exceptional 3-seat, one engine, 3-electric motor, 9-speed dual clutch wonder remains a very rare commodity. Way back in mid year 2015, I predicted that 2017 Acura NSX would in effect be an "instant automotive collectable, " and that it is. Find full specifications here.
Is world-wide demand stalling NSX sales in the United States?
It could be! Acura doesn't release total production figures for NSX. But, while visiting Tokyo in the fall of 2017, I did view one at Honda World Headquarters Sales Showroom. For those fortunate enough to secure a second generation Acura NSX, low volume production insures higher future resale value. Although knowing a high end auto collector or two, I believe that the majority of NSX supercars being purchased today, will be held in collections for the long run. Acura NSX #0001 auctioned for over $1,000,000.
One of the coolest Acura NSX videos ever produced: "Engineering a Dream."
Acura captures the essence and spirit of 2017 NSX hybrid supercar driving the streets of Los Angeles, California. As stated in the video: "Performed by a professional driver on a closed course." In the video we revisit the history of NSX and it ageless appeal. Check it out, and let Torque News know what you think. Your thought provoking comment is always welcome here.