2017 Acura NSX Redefines Automotive High Performance
Reading between the lines of Road & Tracks extreme performance car assessment, 2017 Acura NSX redefines how we measure high performance, and what technology has done for the evolution of the automobile. It's no longer just about brute horsepower, torque and track prowess, it's more of a near intuitive car to driver connectivity.
Interestingly enough to this life-time autophile, when compared against a field of the world's most powerful and track-worthy high performance cars, 2017 Acura NSX does not claim the fastest ZERO to 60 MPH time, nor the greatest horsepower and torque produced out of a very select, high priced, field comprised of Audi, BMW, Chevrolet, Lotus, AMG Mercedes Benz, Jaguar, NISMO and Porsche. This is one heck of an over the top high performance car assemblage with average MSRP high enough to choke the most affluent of my readers.
In the case of NSX, it's how the seamless hybrid power produced is delivered to the road, the glove-like fit of the cockpit, and the driver to vehicle connectivity that separates Acura's performance pinnacle from the cren de la crem in high performance sport cars. 2017 Acura NSX arguably signals a renaissance of sorts, not only for the maker, but the auto industry as a whole.
Yet, as with all exceptional limited production performance cars, this one's pricey, and comes with the highest "as tested" MSRP in the group. (MSRP $202,960 * price as tested.) I experienced the driving pleasure that is 2017 Acura NSX here. It was a life changer for this Acura fan. 2017 Acura NSX goes racing.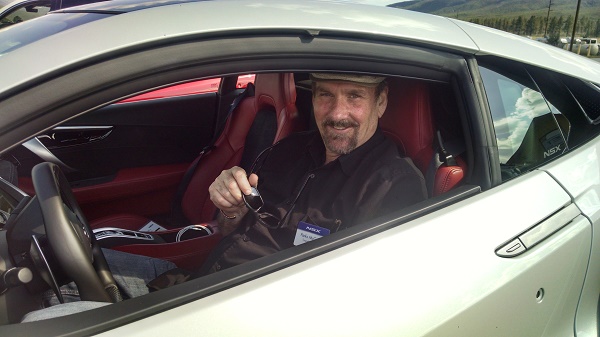 In this day of computer aided suspension components, engine to transmission interface, multiple drive modes, personalized dash-visuals, split second "near intuitive" human to car connectivity, drive-by-wire, ZERO turbo lag, pedal to throttle response, and sensor controlled reactive brake-force and stability track, according to the writers at Road & Track and me, what Acura has done through the advent of the 2nd generation NSX hybrid gasoline/electric supercar is reinvent how we measure high performance. Astounding!
Acura combines turbocharging and electric motor torque, and smart-AWD
The writers at R&T looked to the "total package" when picking this year's Performance Car of the Year. Not an easy measurement. You may read what I consider to be one of, if not the best written article to come out of R&T this year.