Sensory Stimulating 2018 Acura TLX Lands in Showrooms June 1
When looking to MSRP, and the total package value presented in 2018 Acura TLX, Acura's underappreciated midsize premium 4-door sedan may arguably be the best midsize sport sedan value for your dollar. New for model year 2018 is not only a new precision performance inspired diamond grill, but an overall body tweak that visual sets all 3 TLX variants heads and shoulders above the competition.
Reserved but not plane, confident but not obnoxious
This time, Acura TLX arrives at the starting line flying a new exciting color card; much improved seating; a beautiful factory wheel selection, and in the A-Spec trim, an Aero Kit inspired by Acura's award winning Precision Concept show car. Torque News first experienced TLX in Virginia.

Although sharing design aspects with NSX supercar and MDX 3-Row SUV, TLX retains some understated elegance of its own, while running on the edge of sensibility, meets drive-by-wire instant on torque, sprint-speed horsepower, and a very decent road handling capability -- likened to cars costing tens of thousands of dollars more. On the road you will find TLX in all variants to be very "sticky" in the corners, responsive, powerful, town-traffic friendly, interior quiet, and segment setting comfortable.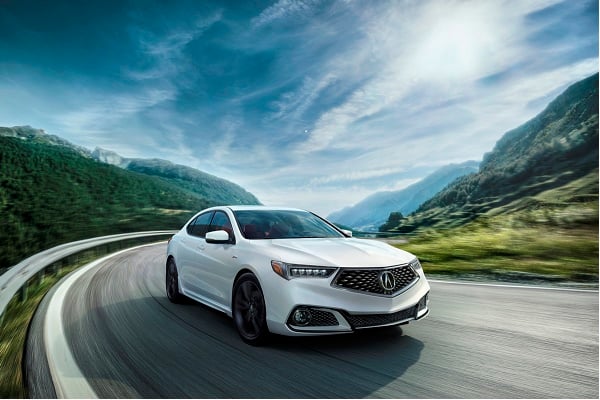 I love the look of this car. And, it's affordable
For me, the most important component of a car or light truck is the drivers seat. Sliding into the latest TLX offering was akin to slipping on a well worn, butter smooth, leather jacket. The balance of the TLX interior showcases Acura's commitment to quality. It's tight! Want more? Read my 2018 Acura TLX impressions here. I could tell you how she drives. But truthfully, I recommend a comprehensive TLX test drive to anyone considering the purchase of a premium midsize sport sedan.
*The refreshed 2018 Acura TLX performance luxury sedan goes on sale June 1 with a more sporty and alluring look reflecting the brand's new design direction, along with an all-new TLX A-Spec variant, and new premium features. The 2018 TLX offers AcuraWatch™ as standard equipment on all grades, leading all luxury midsize sedans in the application of advanced safety and driver-assistive technologies. The new 2018 TLX 2.4L starts with a Manufacturer's Suggested Retail Price (MSRP)1 of $33,000 while the V6 equipped models start at $36,200. The TLX V6 A-Spec is offered for the first time starting at $42,800.
What I like: New grill, body styling, A-Spec trim package, much improved seating and electronics
What I'd change: It's time for power steering wheel adjustment, and, Acura's stunning precision dash technology. Bring it on!