Econo-Sedan 2018 Hyundai Accent Offers Exceptional Ride Dynamic
Our test ride the week before taking delivery of 2018 Hyundai Accent S.E. AT, one notch up off the bottom of the Korean brands entry level car lineup, was Volvo's $68,000 XC60 T6 AWD 2-row SUV. Frankly, I thought I'd be rather miserable behind the wheel of 2018 Hyundai Accent, I wasn't.
Accent is the maker's entry level 4-door sedan lineup. Bumping head and tail lights with Honda Civic, Toyota Corolla, and Nissan Sentra, Accent takes the price and warranty advantage in the ever popular compact car class. Accent can be driven of the lot for under $16,000 in the basic, yet far from stripped SE, manual transmission variant.
This compact 4-door sedan passes my first butt-impression seat test -- fabric, mechanically adjusted, yet comfortable enough. Fortunately, Accents' future forward body style eludes to a very descent drive and ride experience.
Torque news gets back to driving basics with 2018 Hyundai Accent
It's a bit tricky this drive-review gig. One week I'll find myself behind the wheel of Acura's NSX supercar, or Hyundai's Genesis flagship lineup. Depending on the rotation, dropping back behind the wheel of an entry-level sedan or coupe is a bit of an ego deflating mind blower. That's when I reflect on why I got into this car review gig to begin with -- to review cars to the benefit of educating the consumer as to options. Not everyone wants or needs a $100,000 car or SUV.
For this review: Hyundai provided Torque News with their most popular Accent. Mildly equipped, yet comprehensive and user friendly, our test mule comes to market with a very rev-happy 1.5 L normally aspirated 4-cylinder engine paired to a hard working yet seamless 6-speed automatic transmission and front-wheel drive differential. Accent's gasoline engine performance surpasses the published horsepower and torque numbers -- it's quick enough, and rarely requires downshifting in town or on the highway. Want more? Check out the all new Hyundai Ionic Hybrid.
I like Hyundai's 6-speed automatic transmission. Flip the stick slightly to the left, and select shift --seamless enough
Granted, you won't find 6-second zero to 60 sprint speeds behind the wheel of Accent. Yet it's quick enough for most drivers, and may be perfect for your daily commute at a price point most budgets can justify.
Heated and cooled, power adjusted seats aren't found at this price point. Yet, Hyundai Accent presents a pleasingly comfortable drive and ride package, complete with power windows, a very effective climate control, and available backup camera. Accent's 130 horsepower, 119 lb-ft torque D-CVVT 4-cylinder engine proves to be rev-happy, and when driven with "green" intent, attains 28 MPG in the city, and a segment topping 38 MPG on the highway.
On the down side, Accent's interior is molded hard plastic personified
Truth: you'll find very few soft touch surfaces within the rather roomy confines of 2018 Hyundai Accent. It's a price-point-thing. Our Accent doesn't sport a leather hand stitched steering wheel, soft dash, or padded door inserts. This is Hyundai's answer to the utilitarian, yet affordable and mechanically reliable, wash out with a hose economy sedan. However, the Accent has a very civilized overall drive dynamic, is easily maneuvered in town, and comfortable enough for the long haul.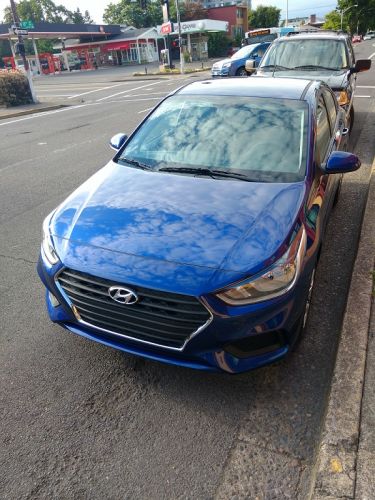 I liked Accent's do anything attitude while maneuvering Oregon back roads. Hyundai's compact sedan proved to be very road happy, bump and rut soothing, and stable enough while pushing through high speed sweeps -- no brake-fade noted.
Accent elevates "reasonable" economy car buying

Today's under $20,000 car when price adjusted for historical timeline and dollar devaluation is yesterday's $10,000 car. Yet, Accent doesn't visually come across a cheep, or price-point adjusted. Sure, our test car was sporting plastic hubcaps, I'd upgrade to alloy wheels.
On the ride side of things, thanks to exceptional suspension engineering and tuning, Accent presents a larger car ride dynamic, the cabin is relatively quiet, and large enough to carry 4 adults without compromise. For that weekend trip, or Home Center lumber haul, buyers will find a drop down into the trunk, 40-60 split second row.
2018 Hyundai Accent is a great entry-level car for the student. Young family, or any driver considering getting back to basics. Hyundai thoughtfully equips Accent with passive and (some) active safety features. Read more about that here. I recommend an Accent test drive to anyone considering the purchase of a compact-4 door economy sedan.
What we like: Overall look, drive-train, suspension, price point, and fuel economy.
What we'd change: Less interior plastic, loose the plastic hub caps, add 10 a bit more mid range torque. Other than that, perfect for the $.