The current 2nd generation Acura RDX is a perennial best seller in the premium 2-row SUV segment, with well over 50,000 units sold annually. For 2019, Acura borrows drivtrain technology from NSX and the Precision Performance Concept Cockpit. Torque News first experienced Acura's "True Touchpad Integration" at the Los Angeles Auto Show back in 2016.
At the end of March the redesigned and re-engineered 3rd generation Acura RDX 2-row takes the Acura Stage at NYIAS (New York International Auto Show) where the automotive press will view the most tech advanced and powerful RDX in Acura history. For 2019, Acura RDX returns to its turbocharged, SH-AWD (Super Handling All Wheel Drive) roots, effectively replacing the 3.5 Liter V6 engine, and CR-V derived, sensor activated all-wheel-drive. We experience 2018 Acura MDX SH-AWD.
Transferring torque to Acura's time tested driveline will be the first RDX application of a proprietary 10 speed automatic transmission.
2019 Acura RDX is designed in Los Angeles, engineered and built in Ohio
This time around RDX is designed in Los Angeles, engineered in Raymond Ohio and assembled in East Liberty Ohio. It's 2.0 L, direct injected turbocharged 4-cylinder gasoline engine is also manufactured in Ohio, making 2019 Acura RDX as domestic as GMC Denali, perhaps even more so when we look to the build sheet .
And just for the sake of variety, 2019 Acura RDX presents an A-Spec trim package variant for those of you looking for a bit more "sport" in your daily commute. This Acura TLX has it.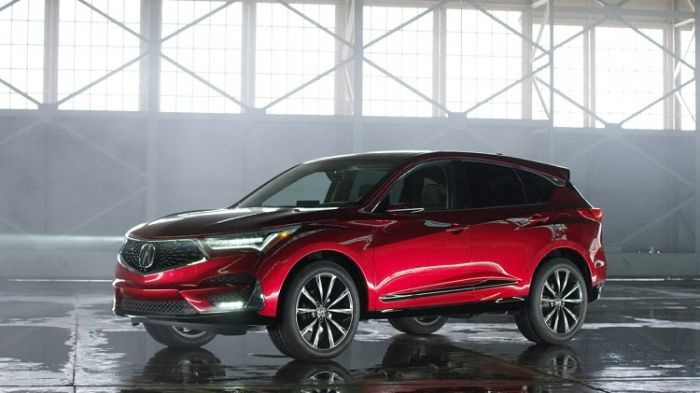 2019 Acura RDX brings driver-centric control, and NSX inspired sport to the 2-row SUV
For Acura, 2019 RDX is the first total SUV redesign presented in the better part of a decade. As such, this is an opportunity for Acura to gain some market ground in a very competitive segment while showcasing some outstanding proprietary new technologies. Gone is the RDX platform shared with the last generation Honda CR-V. What we'll witness in New York is Acura's technology and design language direction for the next 7 year manufacturing cycle.
These 5 features make 2019 Acura RDX superior in the midsize SUV segment
For those that appreciate Acura RDX for its midsize ease of handling and all-weather maneuverability, 2019 Acura RDX will come to market midyear 2018 with 3 outstanding features that will make RDX superior to much of the formidable competition in the midsize premium SUV segment.
1.Road and race track proven Earth Dreams 2.0L direct injected , turbocharged VTEC 4, as found in Civic Type-R.
2. A new design 10 speed automatic transmission, most likely outfitted with wheel mounted paddle shifting and select drive mode.
3. MDX and NSX inspired SH-AWD. (Super Handling All Wheel Drive)
4. True touch pad driver to vehicle command interface. Way cool!
5. A-Spec package option.
Look for the 2019 Acura RDX press debut via livestream from New York at 12:15 pm E.S.T. Or catch it later on Acura's YouTube channel.
Photo Attributions Acura Division 2018.