2018 Acura TLX A-Spec takes 'Precision Crafted Performance' mainstream
Frankly, you can buy more horsepower and torque for the dollar, but not from Acura. And, in the case of TLX A-Spec, the numbers tell a very small part of this story.
Following the market debut of the only designed and manufactured in America supercar, and the much refreshed 2018 Acura MDX sport-hybrid SUV, 2018 Acura TLX A-Spec captures much of the design cue and segment breaching spirit of the Acura Precision Concept Car. There's also a bit of NSX injected into every TLX A-Spec.
Well actually yes, and no. There is a slight family resemblance around the eyes (headlights) and nose. Ha! Acura's very straightforward and transparent as to what the visually captivating 2018 Acura will do and won't do. Torque News first encountered TLX A-Spec on the streets of Louisville, Kentucky.
This premium midsize performance sedan captures the spirit of Precision Performance, but it's no NSX. Regardless, when compared to Audi A-4, Genesis, and Infiniti Q50, Acura TLX A-Spec when equipped with the 290 horsepower 3.5 Liter V6, and Z-9 paddle shifted SH-AWD (super handling all-wheel-drive,) takes the total package value and driving performance lead in the premium 4-door sport sedan segment. I love the smell of leather and Alcantara fiber inserts early in the morning.
2-weeks, and one 2018 TLX A-Spec SH-AWD = separation anxiety
Acura engineering and design does a commendable job of injecting a bit of attitude into TLX. The A-Spec trim package features a custom tuned suspension, race track inspired trunk spoiler, Aero KIt, a front and rear cowling, as well as 4 inch round dual exhaust, (they're functional) a blackout diamond patterned grill, with anodized plated trim, and very cool 19 inch powder coated alloy wheels.
Everywhere we drove TLX A-Spec onlookers were captivated by the sport sedan's edgy unique good look -- it's very cool. Me, I appreciate the new found comfort of A-Spec's power adjusted, heated, and ventilated, leather and Alcantara fabric covered moderately bolstered seats. Aside from the carbon-fiber-looking, alloy burnished, cabin trim, Alcantara cloth detail inserts, and the A-Spec insignia gracing the leather clad steering wheel, the balance of TLX A-Spec is historically Acura correct , as it should be.
TLX A-Spec dynamic design hints to exceptional drive performance
As to peddle happy drive performance, there's enough horsepower and torque available to keep you grinning from ear to ear. For 2018, A-Spec is equipped with 4-drive-mode choices selected with the roll of a thumb. Our cylinder managed V6 seamlessly transitioned from Economy mode through Sport+, without hesitation.
While maneuvering A-Spec through the back road 2-lane twisties of Western Oregon, I discovered A-Spec's sweet spot-- the ride was just firm enough to ensure stability through the high speed sweeps -- the road to steering wheel feedback was genuine, brake fade and nose dive on the downhill run was negligible; thanks to the exceptional road handling characteristics of SH-AWD, TLX A-Specs track stability is exceptional.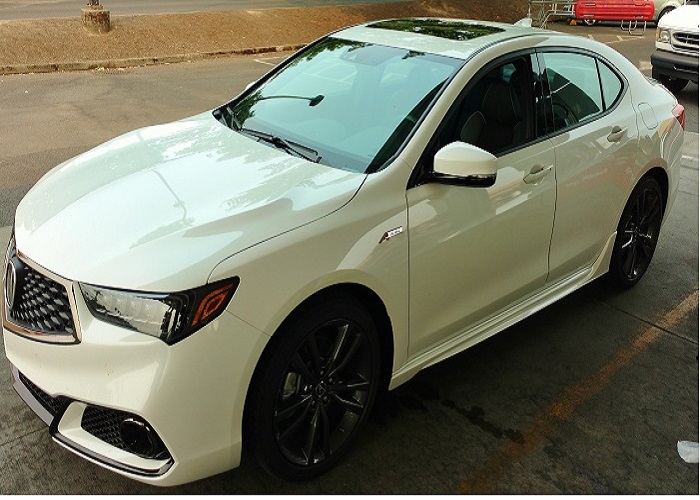 It's that thing you do when the drive-dynamic of a car captures your imagination: I kept going back for more. It turned out that 290 horsepower was more than enough when paired with the electronically managed 9 speed automatic transmission. For those inclined, ultimate gear selection is controlled via steering wheel mounted paddle shifting. At times, I did note a split-second delay on gear engagement, yet TLX A-Spec is amazingly responsive for a normally aspirated fuel injected V6 gasoline engine. I never found the driving limitations of TLX-A-Spec; although I'm sure it's there somewhere.
Turning back onto Interstate 5, I settled back into comfort mode. At 70 MPH, TLX A-Spec is one of, if not, the most comfortable midsize premium offerings in the midsize premium sedan segment. Toggling through the preset satellite selections playing through the ELS premium audio experience, I readily came to the realization that Acura's performance 4-door sedan is greater than the sum of its parts; a purchase bargain if you will, in a segment of some very good cars.
After 2-weeks in the seat of TLX A-Spec, a familiarity between car and driver developed. As with any relationship, the warts become a bit more apparent over time -- minimal. Here's what I believe: As priced, TLX A-Spec presents the best balancing act of high-driving performance meets cabin comfort, premium accommodation, and automotive safety. If I was to change anything, it would be to increase TLX MPG, and smooth out the 9-speed transmission, just a tad. At 20 city/29 highway, TLX V6 approaches the fuel efficiency limit of non hybrid offerings in its class.
Under real-world driving conditions, I averaged 21 MPG in mostly mixed city, country driving. As to the transmission, you'll either love it or hate it. This electronic 9-speed automatic, adjusts shifting patterns, throttle response, and deceleration assist, based on your individual driving style. In a press car, that's a very tough challenge.
Looking beyond drive-by -wire performance, TLX-A-Spec scores high on safety features
With 2018 TLX A-Spec you can enjoy near-track-racing road performance and state of the auto art active safety features. Our TLX 3.5L AWD A-Spec with a price as tested of $45,750 came equipped with ELS premium sound, in dash navigation, Apple Carplay, Android Auto, hands-free Bluetooth connectivity, and Acura's award winning Acura Watch ™. Read full TLX specifications here.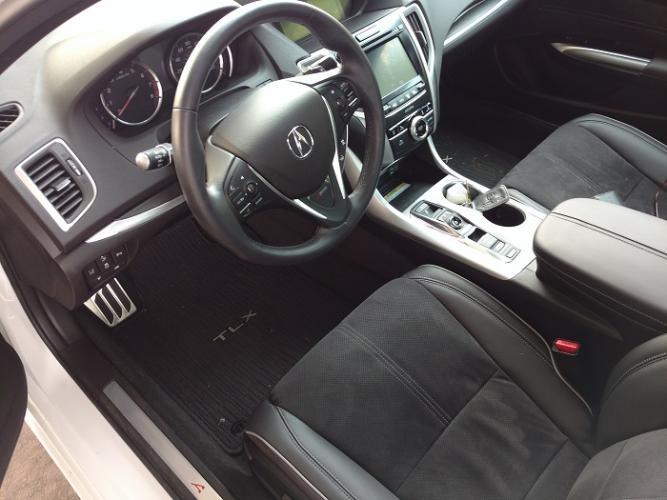 I'll just come out and say it: I love driving TLX A-Spec. Circumstances led to Acura's latest and greatest TLX uptick being left in my care for two weeks -- I became a little more attached to this loaner than I should have. At the risk of understating the general appeal and the near intuitive driveability and comfort of TLX A-Spec, simply put, I'll miss driving it. I recommend test driving 2018 Acura TLX A-Spec to those who are considering the purchase of a premium, sub-extreme performance 4 door sport sedan.