Acura RDX carries premium compact sales momentum into 2017
With premium car and SUV sales falling off a tad as we transition into 2017, Acura RDX carries exceptional segment leading sales momentum into 2017. Why? In the car business, sometimes "less is more," and more for less, always wins.
Case in point: 2017 Acura RDX. While premium as to fit, finish, and interior comfort, RDX is not trendsetting, or segment topping, as to Tech-driven connectivity and active safety options, new age supercharged, turbocharged, low displacement 4-cylinder engines, or state of the art torque vectoring gasoline/electric hybrid propulsion units. It's old-school in its proportions and propulsion, Acura fans love it!
V6 power, six-speed automatic , 2-row configuration, does it!
At its base core, Acura RDX is a primal driver's SUV, or crossover, depending on how you look at such labels, Acura calls it both a SUV and crossover. For me, RDX is just truck enough to get the job done when wandering off the interstate. Clearance is good enough. And I like the drive-by-wire throttle response and exhaust tone of one of the last remaining V6 power plants in the segment. There's just something about driving a high output V6 engine, no uninvited high pitched grumble or whine noted.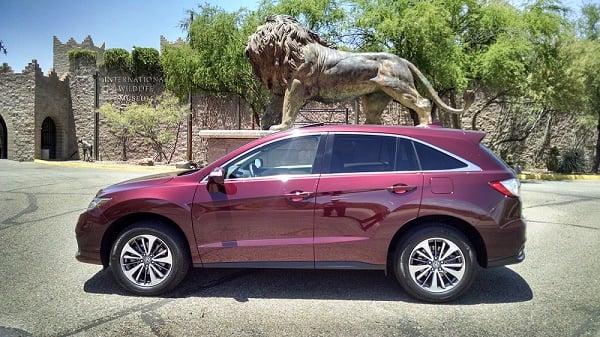 As to the no nonsense 6-speed automatic transmission, and CR-V derived traction-slip-activated all-wheel-drive, I like that too. It works fine for me, a truck guy from Northern California timber country. Read my latest and greatest RDX drive and ride review here as I put RDX through its paces on the road to Tombstone, Arizona. This 3.5 Liter V6 1-VTEC gasoline engine produces 279 horsepower @6200 rpm, and 252 lb-ft @ 4900 rpm, impressive in this compact premium SUV.
Not too big, not too small…

Here's the truth of the matter: in many regions of the U.S.,RDX continues to outsell the state of the art MDX SUV 3-row flagship. Not every SUV shopper wants or needs a 3-row SUV. Nor do all (mostly older) consumers appreciate new-fangled sensor-driven, near autonomous driving features, 9-speed automatic transmissions, or pull-down, 2nd row surround sound theater monitors.
And then there's the MSRP. While not "smart handling," or "torque vectoring," RDX comes to market with an all-wheel-drive option, a beginning front wheel drive MSRP of $35,670, and fuel efficiency approaching MPG 20 city/ 28 highway. A fully loaded all-wheel drive 2017 RDX equipped with "Advance" Acura active safety and connectivity electronic interface, 18 inch wheels, and an exceptional sound system, approaches MSRP $43,820, plus destination charges, applicable taxes and registration, representing one if not the greatest purchase value in the segment. As you know, pricing and available options do vary by region.
A current dealership price update from our reader Philip
Hi Parks, Thanks for the nice words on the RDX, as I am an Acura salesman. I have written you before, and you are posting the front drive MSRPs in this current update, A base AWD is $37,170+$975 destination for a total of $38,145, the Tech AWD is $41,845 with dest and the Advance is $43,820+$975 for $44,795. If you ever are not sure on something, please feel free to ask as I have been with Honda/Acura for slightly over 24 years between the motorcycle + car divisions.
Looking to the numbers, Acura RDX sales continue to uptick in January with 3202 units sold, an increase of 3.2% over January 2016.