As announced Thursday by Honda Performance Development via Honda News, the track proven, winning of late, Acura NSX GT3 car is now available worldwide, to the select few that can convince H.P.D. they can successfully campaign what is readily becoming Acura's driving force behind the resurrection of the brand. Torque News spoke with NSX GT3 co developer P.D. Cunningham of RealTime Racing in Carmel, California.
2018 Acura NSX GT3 is not hybrid electric motivated
You won't find gasoline/ electric sport hybrid technology hidden beneath the dynamic multiple material composite bodyline that is 2018 Acura GT3. Instead, the production NSX derivative is motivated by a twin turbocharged, port fuel injected 500 horsepower 3.5 Liter aluminum block and heads V6, sitting midship, the same engine that took NSX GT3 to victory at the toughest hillclimb in North America.
In NSX GT3: Torque transferred to a rear differential via the ZTRAC semi-automatic 6-speed sequential shift racing transmission. Acura informs Torque News that NSX GT3 has logged no less than 50,000 miles on-track development world-wide, with two wins and several podiums collected in its first year of sanctioned competition. To date NSX GT3 can be found running in the following series: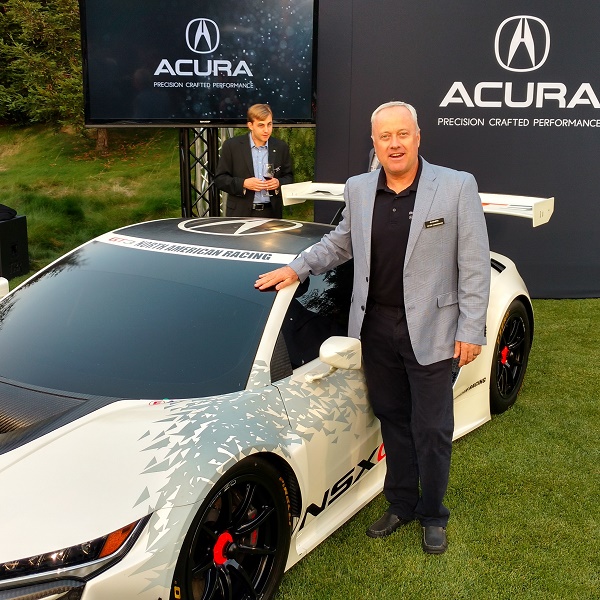 The Pirelli World Challenge and WeatherTech SportsCar Championship series in North America
The Blancpain GT Series and 24 Hours Nurburgring in Europe
The Blancpain GT Series Asia and GT Asia Series
The Super GT GT300 class in Japan
The Australian GT Championship
The Intercontinental GT Challenge
Manufactured in Marysville, Ohio at Acura's Performance Manufacturing Center along side your neighbor's 2017 Acura NSX sport hybrid: *The NSX GT3 chassis, including the multi-material body structure and TIG-welded chrome-moly roll cage, is built alongside the production NSX at the Performance Manufacturing Center (PMC) in Marysville, Ohio, exclusive worldwide manufacturing facility for the NSX3. Note:The PMC also operates a repair facility for the NSX GT3.
HPD's Art St Cyr had this to say: "We've intended to compete at the highest level since the NSX was just a sketch on a pad,"said Jon Ikeda, Acura Vice President and General Manager. "To see the NSX GT3 winning races and now available for racers and track enthusiasts to enjoy around the world is a major milestone for the second generation NSX, the Acura brand and the global development team that made it possible."
Production NSX shares commonality with NSX GT3 V6 racing engine
The production-based 3.5-liter, twin-turbocharged V6 racing engines are built alongside their production-vehicle counterparts at the Anna Engine Plant in Anna, Ohio. The racing engine uses the same design specifications as the production NSX, including the block, heads, valve train, crankshaft, pistons and dry-sump lubrication system. A six-speed, sequential-shift racing gearbox delivers power to the NSX GT3's rear wheels.
Final assembly is completed at JAS Motorsport in Italy. Honda Performance Development offers comprehensive driver's training and racing program support at various levels. You will find specifications and contact information for 2018 Acura NSX GT3 here.
Photo Attributions Parks McCants, Acura Division 2017.