2017 Pikes Peak I.H.C.: Where's Honda? [Video]
A great public relations shot in the arm for Acura
For 2017, fifty car entries will run the hill. Leading off the charge is Honda engineer Nick Robinson in an extreme race prepared 2017 Acura TLX. It's wearing the new "A-Speck" trim designation; but in reality, is closer in mechanical specification to the late, great, Acura TLX G.T. of Pirelli World Challenge fame, driven by racing legend and RealTime Racing owner Peter ( P.D.) Cunningham. We've had the pleasure of spending time with both Nick and P.D., and wish them huge success on the world's toughest hillclimb. I drive 2018 Acura TLX A-Spec.
Brother James Robinson drives NSX in Time Attack 1

While P.D. Cunningham is new to Pikes Peak, the Robinsons have ran and won here. With Acura carrying the torch at the 95th running of the Broadmoor Pikes Peak I.H.C., for Honda Motors, the stakes run high, with team backing, and H.P.D. (Honda Performance Development) race support running as high as any other international racing effort. James Robinson drops into the driver's seat of the NSX supercar in Time Attack I. The Acura brand is prominent on the hill, and should run well on Sunday June 25. Honda power of the past.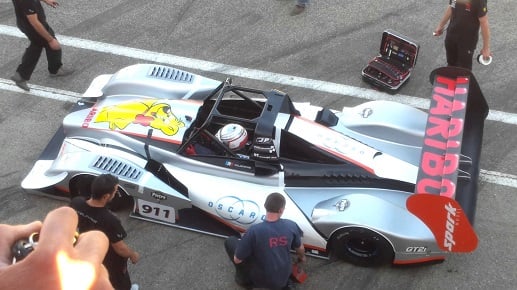 No electric this year for Honda
With Honda dedicating R&D to electrification: Interestingly enough, we don't find an electric participant from Honda, nor an unlimited G.P. style motorcycle running the hill this year. With motorcycle related deaths on the slope, 2-years running, it looks as if Honda has opted out of the 2-wheel heavy hitters for 2017. However, we do find a full-race Honda TRX quad on the list piloted by Jeremy Harbison, and 2, CB 450 Rs running in the motorcycle lightweight division -- ridden by Brandon Ward and Darel Lusia, both hailing from Colorado. Honda's won the lightweight division in the past. Honda Torque News shouts out best of luck and skill to all participants.2017 should be a great year for Acura and Honda. Check out the 2017 Pikes Peak event schedule here.