Tesla Stock Absolutely Crushed and Presents Buying Opportunity
$2,244,418.47 is the biggest daily $TSLA paper loss I've experienced so far.

Days like this are the price you pay to make big gains.

Luckily I've experienced so many wild swings over the years that it doesn't impact me anymore. There are too many incredible opportunities ahead. https://t.co/kOCqUe0IQ9 pic.twitter.com/5ckj20VkvL

— Jason DeBolt (@jasondebolt) November 9, 2021
Please also see: Tesla stock goes down due to Elon Musk decision to sell.
Jason Debolt, one of the most well known Tesla investors, posted this Tweet today, showing his over $2 million in "paper" losses today. Without selling any shares, there is no loss. Jason has been holding shares of Tesla for close to a decade now and plans on holding his shares of stock for at least another decade. I predict that he will be worth over $100 million one day.
When you have held Tesla stock for a while, you get used to the large ups and down with Tesla stock.
A Buying Opportunity
Many investment analysts have price targets for Tesla stock that is well over the now $1,020 it is at now as of today. Let's take a look at what analyst price targets are now:
Goldman Sachs analyst Mark Delaney raised his Tesla price target to $1,125 from $905, citing the Hertz deal and strong demand for Tesla vehicles.
Dan Ives from Wedbush Securities has raised his Tesla bull case price target to $1,800. His main cases for this are that Tesla is a transformation growth story and that Tesla China is worth anywhere between $300 to $400. He sees Tesla owning 80% of a $5 trillion market.
Colin Rusch from Oppenheimer as of 19 days ago, has a $1,080 price target and I see this changing very soon because he is typically a very bullish analyst on Tesla. He is familiar with Tesla's competitive advantage, including manufacturing, and market share and is very articulate in his understanding of Tesla as a company.
There are of course "bears" against Tesla, but I have a hard time agreeing with them because Tesla has first mover and manufacturing advantage with brand awareness and superior technology. There's an average of $840.71 on Tesla stock, if you include all analyst recommendations, even "bear" analysts who have share price targets under $100.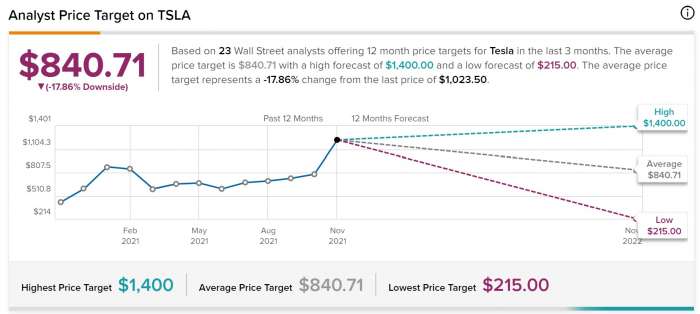 What Will Happen in the Coming Weeks
In the coming weeks, I see Tesla starting to go back up in price. The reason for this is that many have raised their price targets for Tesla and many portfolio managers are "underweight" Tesla. That means their percent of Tesla in their S&P 500 index fund is not quite the actual percent that Tesla is of the S&P 500. I think we'll start to see portfolio managers start to buy Tesla in order to have Tesla properly allocated.
I also think that Elon Musk finished selling all his shares of Tesla today. The volume of Tesla shares sold today greatly exceeds the average volume of about 24 million shares. There was over 50 million shares traded today and that easily accounts for the around 20 million shares Elon Musk sold.
How will we know that Elon Musk sold his shares? He can't disclose publicly that he did so, but we'll likely see a filing done in two days with the SEC that shows the shares that Elon Musk sold. Elon Musk is going to end up paying over 50% on his taxes for the government in the U.S. and California to use.
What do you think about Tesla stock plunging in value today? Did Elon Musk sell his shares?
Leave your comments below, share the article with friends and tweet it out to your followers.
Jeremy Johnson is a Tesla investor and supporter. He first invested in Tesla in 2017 after years of following Elon Musk and admiring his work ethic and intelligence. Since then, he's become a Tesla bull, covering anything about Tesla he can find, while also dabbling in other electric vehicle companies. Jeremy covers Tesla developments at Torque News. You can follow him on Twitter, Facebook, LinkedIn and Instagram to stay in touch and follow his Tesla news coverage on Torque News.