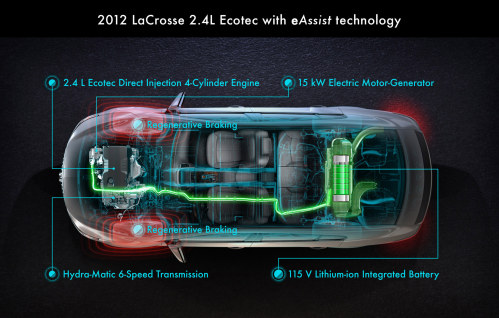 Buick LaCrosse with eAssist on par with highway fuel economy of compacts
Please
SHARE
with friends and include TorqueNews in
Google Alerts
for tomorrow's interesting stories.
Surely, as gas prices go up, so does purchase consideration for more fuel-efficient cars.
LaCrosse with eAssist, which goes on sale this summer, uses a variety of technological advances and body enhancements to deliver estimated segment-leading fuel economy of 37 mpg on the highway and 25 mpg in city driving without sacrificing passenger comfort. The fuel economy ratings are still awaiting EPA certification.
According the latest GM news release, not only is the luxury sedan expected to be more fuel efficient than competitors like the Acura TL, Lexus ES350 and Lincoln MKS, it also expects to beat smaller hybrids, including the Lincoln MKZ Hybrid, Toyota Camry Hybrid and Lexus HS Hybrid on the highway, while offering more rear leg room than any of them.
For the record, LaCrosse is the first in its segment with a four-cylinder, six-speed powertrain; the first with HiPer Strut suspension for improved ride and handling; and now has the new standard eAssist technology.
The eAssist system is a lighter form of electrification to the automobile. Using a state-of-the-art 115V lithium-ion battery system and latest-generation 15-kW electric motor-generator, regenerative braking takes place anytime the driver is off the throttle.
Regenerative braking in this case provides up to 15 kW of electricity to charge the battery to power all of the vehicle's electrical systems with recaptured energy instead of fuel; and that dramatically reduces the need to load the engine with the generator.
The system uses power stored in the battery to provide 15 hp of electric power assistance in various driving scenarios, delivering more than three times the power provided by the previous-generation belt-alternator-starter system.
"LaCrosse with eAssist is the smart choice for those who want great fuel economy and performance in a luxury vehicle," said Tony DiSalle, U.S. vice president, Buick marketing. "LaCrosse with eAssist is an excellent value, costing thousands less than competitors with similar technologies, and its fuel-efficient powertrain comes standard on four-cylinder-equipped models."
Steve Poulos, global chief engineer of the eAssist system said, "The additional 15 hp provided by electric assist allowed us to lower LaCrosse's gear ratio without sacrificing reserve acceleration and performance. For example, when climbing the grade of an overpass, a normal vehicle will downshift and lose some fuel efficiency, but LaCrosse with eAssist maintains gear for improved performance and increased efficiency."
http://media.gm.com/content/media/us/en/news.detail.brand_gm.html/content/Pages/news/us/en/2011/Mar/0323_lacrosse
Pages
Please
SHARE
with friends and include TorqueNews in
Google Alerts
for tomorrow's interesting stories.