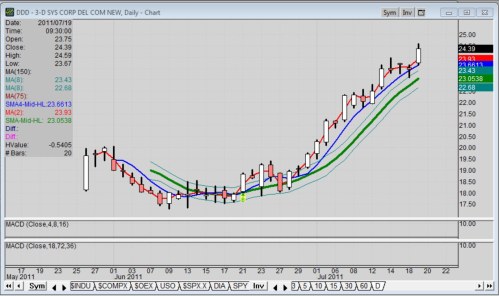 3D Systems (NYSE: DDD) acquires CAD software company, Alibre Inc.
Please
SHARE
with friends and include TorqueNews in
Google Alerts
for tomorrow's interesting stories.
This acquisition is consistent with 3D Systems' strategy to democratize access and accelerate adoption of affordable 3D content-to-print solutions that empower professionals and consumers to create and make in 3D.
Alibre, on the other hand, delivers a powerful suite of affordable tools that include full parametric CAD software for professionals and personal users in 50 countries and in 15 languages.
In fact, Alibre, Inc. had announced in May that was partnering with 3D Systems Corporation, the global leader and inventor of rapid prototyping and 3D printing solutions. The partnership allowed Alibre to offer complete 3D design and 3D printing for creators, DIYers and businesses.
To meet the 3D printing needs of a growing Maker community, the bundles delivered the first-ever total personal manufacturing package starting under $1,500. This enabled someone to go from idea to 3D model on a computer screen to actually holding the finished product in their hands within hours.
Little did we know the partnership would turn into a total acquisition
Alibre will now evolve from a company name into a very important brand that, together with the Sycode productivity plug-ins and other new product developments of 3D Systems, will become a leading brand in 3D's portfolio. The company especially plans to expand the breadth and reach of the Alibre design productivity tools and bundles across all of the channels and marketplaces of 3D Systems.
3D Systems Corporation (NYSE:DDD) which operates out of ROCK HILL, South Carolina, also announced earlier this month that it plans to hold a conference call and simultaneous webcast to discuss its financial results for the second quarter and first six months of 2011 on Thursday, July 28, 2011, at 11:30 a.m. Eastern Time. The company expects to release financial results and to file its Form 10-Q on July 28, 2011, prior to the conference call.
The company which initially opened for trading at $4.26 at Nasdaq under the symbol, TDSC, switched in May of this year to the New York Stock Exchange (NYSE) under the ticker, DDD.
Torque News Assessment
It is just coincidence that I had already reviewed a copy of Alibre Design's CAD software within the past two years. What struck me was its ability as a parametric-based software to allow smaller design firms to have access to the same capabilities as the larger firms.
For the record, Alibre develops Alibre Design™ and Alibre CAM™, the fastest growing parametric CAD/CAM solutions on the market. A small fraction of the cost of comparable software, Alibre Design offers the same core features as SolidWorks, Pro/E, Inventor, and other mid-range solid modeling packages at a cost that is affordable to any business or individual. Alibre CAM extends Alibre Design to provide integrated 2 1/2 to 5 axis CNC machining.
Pages
Please
SHARE
with friends and include TorqueNews in
Google Alerts
for tomorrow's interesting stories.