Tesla has updated the range of most of their lineup and added some significant features to Model 3 line in many markets as we reported here and here.
The range increase was because of new software in all the models and in addition, the Model 3 got the Octovalve based heat pump that is reported to help increase the range of the Tesla Model Y a staggering 10%!
These updates have been rolled out to all the countries that import their Tesla Model 3's from Tesla's Fremont factory in California. Interestingly, this means either the rumor than Tesla plans to ship cars from China to Asia and Europe is false or more likely that the Shanghai plan will convert to the refreshed model 3 first for export and later for domestic consumption.
Australian & New Zealand Price Updates
The Australian market has almost no government incentives for EV's, so Tesla must offer a great value on its own merits. New Zealand on the other hand has moderate incentives for electric cars.
It doesn't appear these price changes are related to exchange rate differences, since those 2 currencies have been seen little change in their relation to the US dollar in the last few months. In fact, the Chinese Yuan has appreciated about 6% in the last month, so if these cars are coming from China instead of the US, that would cause them to have a price increase, just purely looking at exchange rates. Clearly, the savings in shipping costs, the lowered depreciation expense (since the Shanghai factory was far cheaper to build) and the lower labor costs available in China outweigh increased costs of the strengthening of Chinese currency for Tesla.
The Standard Range Model 3 dropped $7,000 or 9% fo $66,900 in Australia and $5,000 or 6% to $74,900 in New Zealand. This makes the Tesla Model 3 a much better buy, especially considering that many would value the new feature as worth about $5,000 for power liftgate, upgraded exterior/interior, and increased range. An Australian Dollar is worth 71 cents and a New Zealand Dollar is 66 cents on October 17th.
The Long Range AWD Model 3 dropped $6,000 or 7% to $81,900 in Australia and $5,000 or 5% to $92,900 in New Zealand. The Performance Model 3 dropped $5,000 or 5% to $90,900 in Australia and $5,000 or 5% to $101,900 in New Zealand.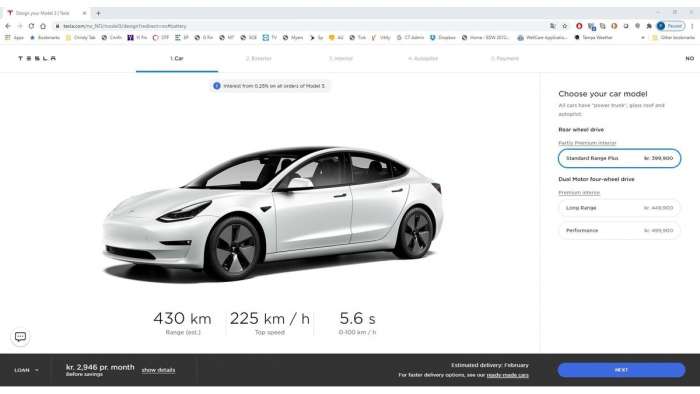 Norway Price Updates
The Norway market couldn't be more different from the Australian and New Zealand market for electric vehicles in terms of incentives. This is highlighted in this article that explains the broad ranging support.
No annual road tax
Maximum 50% of the total amount on ferry fares for electric vehicles
Parking fee for EVs implemented locally but with an upper limit of a maximum 50% of the full price
Access to bus lanes
Company car tax reduction reduced to 40%
No purchase/import taxes
Exemption from 25% VAT on purchase.
This has caused over half the buyers of new cars in Norway to pick electric cars, but this also means that all the manufacturers send their best EVs to Norway. Tesla has enjoyed great sales in Norway for years, but now is being outsold by the Audi e-tron, Volkswagen e-Golf, Hynundai Kona EV and the Nissan Leaf so far this year. The VW ID.3 is now being sold in large volumes and will be a top seller barring any unforseen issues.
Tesla has expanded their delivery resources to deliver a lot of cars in Norway and there will likely be a big increase is sales in the country in 2021 when the Model Y from Berlin is made available. Tesla is likely to give up a little profit on its cars now to continue to expand its operations in the country as it prepares for a large increase in sales next year as the Model Y will be in the very popular crossover category and should be very aggressively priced due to the lower costs expected to be enabled by the Berlin Gigafactory.
The Standard Range Model 3 dropped 31,000 kroner or 7% to 420,900 kroner. A Norwegian kroner is worth 11 cents on October 17th. The Long Range AWD Model 3 dropped 35,000 kroner or 7% to 449,900 kroner. The Performance Model 3 dropped 40,000 kroner or 7% to 499,900 kroner.
Check out the following recent articles of mine.
First Pictures of Refreshed 2021 Tesla Model 3 Surface
Tesla Model 3 Owner Walks Away From High-Speed Head-On Crash With Minor Injuries

Paul Fosse is a Software Engineer delivering financial data marts using massively parallel databases (Exadata and GreenPlum) for a major healthcare insurer and a lifelong lover of cars. From the time I saw the 1972 Volkswagen Dasher review in Consumer Reports, I knew the industry would convert to front-wheel drive. Now I am excited to have a front-row seat to the industry's biggest transition in generations, the transition from gas and diesel cars to electric vehicles. I ordered my first EV (Nissan Leaf) in 2010 and now own a 2018 Tesla Long Range Model 3 and have a Cybertruck and a Model Y on order. Contact me on Twitter at Paul Fosse with tips for new stories. Full disclosure, I'm a Tesla Shareholder.