Why Wild Kia Stinger Battles Tame Toyota Camry, Honda Accord
The performance-oriented 2018 Stinger fastback sport sedan is the first Kia ever to place amongst the final three cars for the prestigious 2018 North American Car of the Year award. It's pitted against two heavy weights, the 2018 Toyota Camry and 2018 Honda Accord and it won't be an easy win. The Kia brand has come a long way to be announced this week at the LA Auto Show as one on the finalists.
Mark Phelan, President of NACTOY, said at the announcement, "The 2018 finalists reflect the incredible variety of vehicles and new, advanced technology automakers are adding to their offerings as well as the increasing emphasis on making the most advanced safety features available to consumers even on affordable models."
Stinger was designed in Frankfurt and developed on the Nurburgring, and the fastback sport sedan is the brand's first performance car. The South Korean automaker is moving into new territory with the performance sports fastback Stinger GT, and it will compete with the Audi S5 Sportback, BMW 440i Gran Coupe, and Infiniti Q50.
The hotter Stinger GT is available with a 3.3-liter twin-turbo V6 Lambda II engine, producing 365 horsepower and 376 lb.-ft. of torque. The Stinger GT launches from 0-60 mph in 4.7 seconds and has a governed top speed of 167 mph. The Kia Stinger starts at $31,900.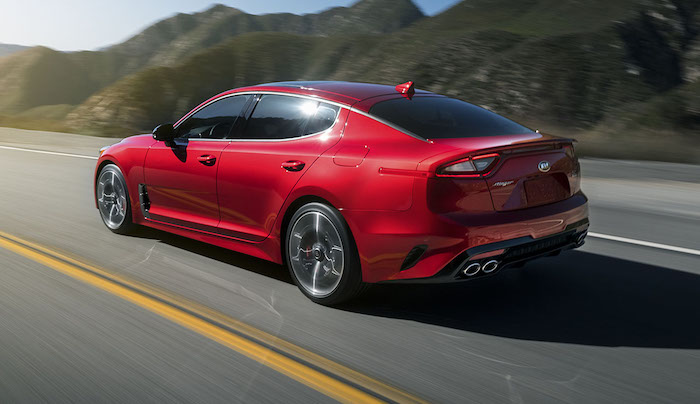 A milestone for Kia
"Today marks an important milestone in Kia's history and the jurors' acknowledgement of Stinger's world-class style, performance and value honors the global research, development and planning teams that ushered the Stinger from concept car dream to reality," said Justin Sohn, president and CEO, Kia Motors America.
Inside, Stinger comes with leather seating and ultra-soft Nappa leather is available. A thick hand-stitched leather-wrapped steering wheel with paddle shifters sits front and center, while the GT trim gets a sporty flat-bottom steering wheel. All Stingers are available with a large color TFT instrument cluster with performance gauges including a track timer.
The all-new wild 2018 Stinger fastback sport sedan is a finalist for 2018 North American Car of the Year and does battle with the tame Toyota Camry and Honda Accord. Winners of the NACTOY award will be announced at the North American International Auto Show (NAIAS) in Detroit on January 15, 2018. Can Kia win the prestigious award? Stay tuned.
Photo credit: Kia USA