The winners are announced for Wards 10 Best Interiors list for 2019 spotlighting vehicles with creative and colorful interiors across a wide range of price points. It's not a surprise the $276,730 Bentley Continental GT gets a nod for best of 2019 interiors. The $23,330 compact CUV Nissan Kicks gets a win for its interior. The 2019 Subaru Ascent family hauler was nominated for the award but fell short of getting a win.
Wards 10 Best Interiors winners are recognized for aesthetics, comfort, ergonomics, materials usage, fit-and-finish and user-friendliness of displays and controls. The Subaru Ascent Touring was one of the 32 nominated vehicles with all-new or significantly improved cabins available in the U.S. Wards doesn't put a price cap and they say value does play a role.
The 10 Best winners
In alphabetical order, here are this year's winners. Bentley Continental GT ($276,730), BMW M850i ($119,295), Genesis G70 ($44,895), Hyundai Santa Fe ($39,905), Jeep Gladiator ($51,245), Lincoln Nautilus ($67,630), Mercedes-Benz A220 ($51,935), Nissan Kicks ($23,330), Toyota RAV4 ($39,565), and Volvo V60 ($54,690).
Wards Senior Content Director Drew Winter says, "We're proud of a list that includes a $23,330 compact CUV and an ultra-luxury coupe that is 10 times more expensive," Winter says. "They both make the list because they represent meaningful achievement in their respective segments."
Even though Subaru has come a long way with its interiors, they still have a ways to go before they win this competition. The Japanese automaker's interiors were the weak point for all their cars when just a few years ago they had more hard plastic inside than anything else. Subaru interior materials were cheap and the fit and finish were poor.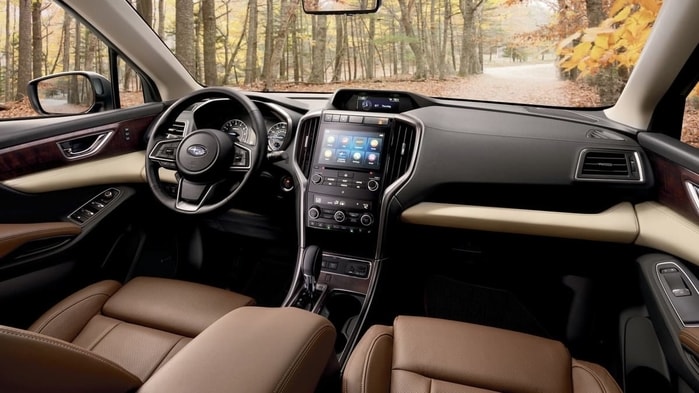 2019 Subaru Ascent Touring
Things are changing with the introduction of the Ascent Touring. Their new top Touring trim comes with a power driver's seat, Panoramic dual glass moonroof, rear privacy screen, flip up rear cargo floor, second row fold-and-slide captains chairs, heated and ventilated front seats, heated second-row seats, Carmel cream wood accents, driver assistance steering wheel controls, a large center stack screen, and ambient lighting.
Even though lower quality interiors have been an issue for the brand in the past, Subaru is making strides to improve this area of weakness. Subaru Ascent Touring is the best example, but they haven't arrived yet. The 2019 Wards 10 Best Interiors will be honored in a special ceremony during the WardsAuto Interiors Conference on May 9 at Suburban Collection Showplace in Novi, Michigan.
You May Also Like: 3-Row SUV Wars: New Subaru Ascent Shakes Things Up
Leave your comments below, share the article with friends and tweet it out to your followers!
Follow more Subaru news on Facebook, Twitter and Instagram
Photo credit: Subaru USA