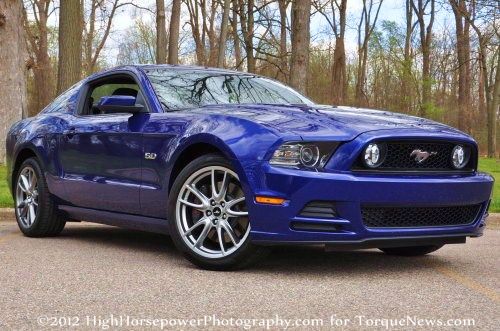 Top ten 300 horsepower cars under $35,000
Please
SHARE
with friends and include TorqueNews in
Google Alerts
for tomorrow's interesting stories.
You don't have to spend a fortune on a car to be able to put your foot on the gas pedal and have enough horsepower to push you back in the seat. Here are ten affordable cars under $35,000 with the 2013 Ford Mustang leading the list as least expensive. They all have over 300 horsepower and give driving enthusiasts a little more fun on the commute to work. The list may surprise you and includes both coupes and sedans. There are some good deals out there for those looking for a little more horsepower under the hood.
1. Ford Mustang: 305-hp $22,260
At $22,260 it's the least expensive car on the list. The 2013 Ford Mustang, develops 305-hp from a 3.7-liter V-6 and will go from 0- 60 mph in 5.9 seconds which is quicker than its other V-6-equipped American rivals. The Ford Mustang is an American icon.
2. Chevrolet Camaro: 323-hp $23,280
With 323-hp, the base 3.6-liter V-6 Camaro has been redesigned and makes 11 more horsepower than the previous model. It's the 45th year of Camaro, and an icon from the day it was born as a 1967 model. It's able to get to 60 mph in 6 seconds.
3. Dodge Challenger: 305-hp $24,995
The 2012 Dodge Challenger harkens back to 1970, and brings muscle car performance and styling to everyday driving. The Challenger SXT features the company's award winning Pentastar 3.6-liter V-6 which puts out 305 hp and 268 ft. lbs. of torque. The Challenger is heavier and goes from 0-60 in 6.4 seconds.
4. Chevrolet Impala: 300-hp $25,760
The Chevy Impala is a surprising car to make the list an is the cheapest sedan on the list. The 3.6-liter V-6 puts out a healthy 300 horsepower and 262 lb. ft. of torque. The Impala still manages to get 30 mpg highway. The 2012 Chevrolet Impala gets a new V-6 and six-speed automatic transmission.
5. Hyundai Genesis Coupe V-6: 348-hp $28,750
The 2013 Hyundai Genesis Coupe, now in its fourth year, gets a new 3.8 liter V-6 with direct-injection and pumps out 348 horsepower. The previuos generation engine produced 306 hp. The good-looking rear-wheel-drive sport coupe will go from 0-60 in 5 seconds. Hyundai is challenging the Japanese competition.
6. Dodge Charger R/T: 370-hp 29,995
The second sedan on the list is another proudly American musclecar. The Charger R/T's HEMI V-8 puts out 370-hp, and comes with either rear-wheel or all-wheel-drive. This latest version of the American full-size sedan will compete with the best competing models the world market has to offer for under $30,000.  
7. Ford Mustang GT: 420-hp $30,995
The 5.0-liter V8 engine in the 2013 Mustang GT will deliver 420 horsepower, an 8-hp gain over the 2012 model. The Mustang GT has revised styling and a light-weight body. Pair the weight of the Mustang GT and its 420-hp V-8 together and you have one fun driving machine.
Pages
Please
SHARE
with friends and include TorqueNews in
Google Alerts
for tomorrow's interesting stories.