Subaru wants its new electric vehicles to look different from the Toyota model because, as I said in a previous report, the automaker has learned its lesson with the Solterra EV collaboration with Toyota. Toyota owns 20 percent of Subaru, but that doesn't mean the eight new Subaru battery electric vehicles will be clones of Toyota. 
When Subaru CEO Atsushi Osaki unveiled the Sport Mobility Concept last week, it was a wake-up call for its new design language. Osaki said it will explore ideas for its products based on new technologies.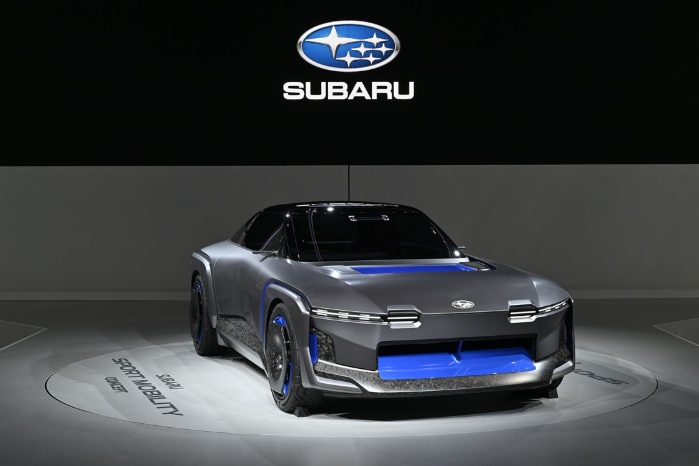 The only EV in Subaru's current lineup, the Solterra, is a rebadged version of the Toyota bZ4X, meaning that the overall design was mostly predetermined by stylists at Toyota. And Subaru won't let that happen again. 
A report from Automotive News says in the future, Subaru will engineer and design its EVs, and the company is working on a unique design language for them, said Daisuke Tokano, general manager in charge of EV design.
"When we make our own EV products, we will need more differentiation (from Toyota)," Tokano said.
The report says, in the front, the new look will include a departure from Subaru's trademark C-shaped bracket headlamps, Tokano said. The current headlamp design pays tribute to the shape of Subaru's trademark Boxer engine. 
But since EVs have no gas engine, Tokano now projects a thin, linear light strip in the front design. The six light pixels within each headlamp represent the six stars in the current Subaru logo.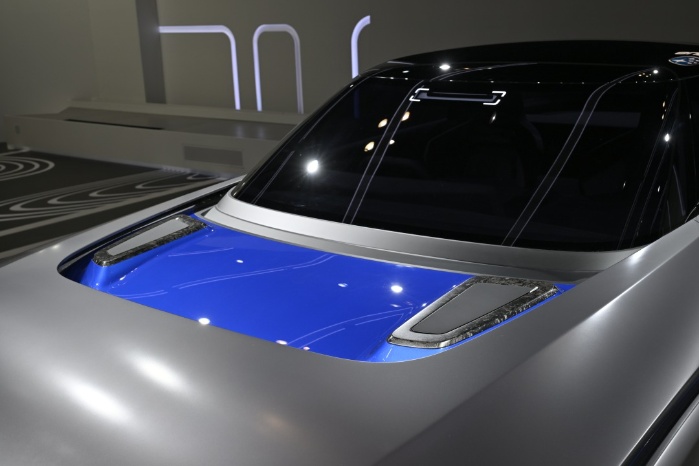 Tokano says to improve the new EV's aerodynamics, the air intake in the lower front fascia feeds through a duct exiting in the middle of the hood to channel the air smoothly over the windshield and roof.
The winds of change are blowing at Subaru.
The new design directions are critical for Subaru because it announced in August that it will expand its EV lineup to eight models by 2028 from the four it previously envisioned. It wants to get 50 percent of its global volume, an estimated 600,000 vehicles, from full-electric models by 2030.
The concept car unveiled in Tokyo "Plays with possibilities for one of the future entries, a rallycross-styled sporty hatchback that evokes the vibe of a WRX. The short front and rear overhangs are envisioned as enabling dynamic car jumping and nimble handling", Tokano said.
The Automotive News report said Subaru is opening a new design center early next year at its primary industrial and research and Development hub in Gunma, north of Tokyo. The new facility will use new digital technology, such as oversized LED screens for design reviews and virtual- and mixed-reality tools.
Subaru is ramping up its electric vehicle development, and even though the battery technology may come from Toyota, Daisuke Tokano, Subaru's general manager in charge of EV design, says its new EVs will not be Toyota clones. 
Thanks for reading, everyone. I hope you enjoyed this Subaru EV story. See you tomorrow for my latest Subaru Report.
For additional articles related to new Subaru EVs, here are a few of my top stories you may enjoy. 
My Must-Read Top Picks
I am Denis Flierl, a 12-year Torque News senior writer with 20+ years of Subaru and automotive journalism experience. I enjoy bringing you, the Subaru fans and customers, the most up-to-date Subaru news, reviews, and new model information. You'll find the latest Subaru stories on the Subaru page. Follow me on my The Dirty Subaru website, Dirty Subaru blog, SubaruReport, All Subaru, WRXSTI, @DenisFlierl, Facebook, and Instagram.
I've got you covered! - I cover all Subaru all the time - It's called the "Subaru Report." Check back daily for my expert Subaru analysis!
Please leave your comments below, share the article with friends, and post X to your followers! 
photo credit: Subaru