Do you remember the Subaru SVX? The SVX performance coupe was sold from 1992 to 1997 and pushed the limits of what was possible. While the model's time was short-lived, the SVX paved the way for new sporty models. The Alcyone SVX two-door grand tourer coupe was Subaru's first attempt to enter the luxury/performance car market. 
Subaru announced its exhibition outline for the Japan Mobility Show 2023, which runs October 27 through November 5, 2023. The Subaru Sport Mobility Concept is one of six models it will reveal on October 25 during the press reveal.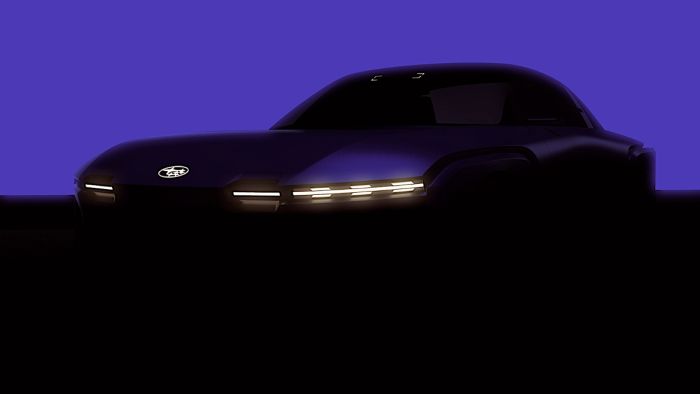 Could the SVX be coming back in an all-electric package?
Subaru teased a blacked-out profile shot of a low-riding, two-door fast-back offering. Subaru Corporation said its Sport Mobility Concept is an EV and hinted at all-wheel-drive ability.
"This concept model expresses the enjoyment that Subaru offers in the age of electrification, embodying the pleasure of going anywhere, anytime, and driving at will in everyday to extraordinary environments," Subaru said. "This is a battery electric vehicle (BEV) concept that evokes the evolution of the Subaru Sport values."

I initially thought that the Subaru Sport Mobility Concept gives a nod to the discontinued Subaru SVX design. Subaru's EV vision, with its pronounced fenders, could foreshadow a future SVX, but Subaru has yet to reveal much about the new EV.  
Subaru says its booth will showcase Subaru's vision of future mobility and communicate Subaru's efforts to strengthen its bond with society, allowing visitors to experience "Enjoyment and Peace of Mind" for today and the future. Subaru's electric future will be on display. 
The Subaru SVX was ahead of its time, but it's right on time in Subaru's new electric age. An all-new Subaru SVX EV would deliver on the concept's promise. Will Subaru Corporation bring back the SVX in an electric form? It's all speculation right now. Stay tuned. 
Now it's your time to sound off. What do you think the new Subaru Concept EV will be? The new electric STI? 
Thanks for reading, everyone. I hope you enjoyed this Subaru story. See you tomorrow for my daily Subaru Report.
Here are a few of my top picks for additional articles related to the new Subaru EVs. 
MY TOP PICKS
Denis Flierl - I have over twenty years of Subaru and automotive journalism experience. I enjoy bringing you, the Subaru fans and customers, the most up-to-date Subaru news, reviews, and new model information. You'll find the latest Subaru stories on the Subaru page. Follow me on my The Dirty Subaru website, Dirty Subaru blog, SubaruReport, All Subaru, WRXSTI, @DenisFlierl, Facebook, and Instagram.
I've got you covered! - I cover all Subaru all the time - It's called the "Subaru Report." Check back daily for my expert Subaru analysis!
Please leave your comments below, share the article with friends, and post X to your followers! 
Photo: Subaru