Subaru Corporation will display a new sporty concept at the Japan Mobility Show 2023. Should fans get excited, or is it just a tease? Subaru says they will unveil a new concept sports model, as you can see in the image here. With over two decades of covering Subaru concepts, I've learned that the Japanese automaker loves to tease its fans. But they need to deliver on the concept's promise. 
Remember that it's only a concept and not a production sports car, but here is what the Japanese automaker said in its announcement. Subaru announced its exhibition outline for the Japan Mobility Show 2023, which runs October 27 through November 5, 2023. The Subaru Sport Mobility Concept will be unveiled on October 25 during the press reveal.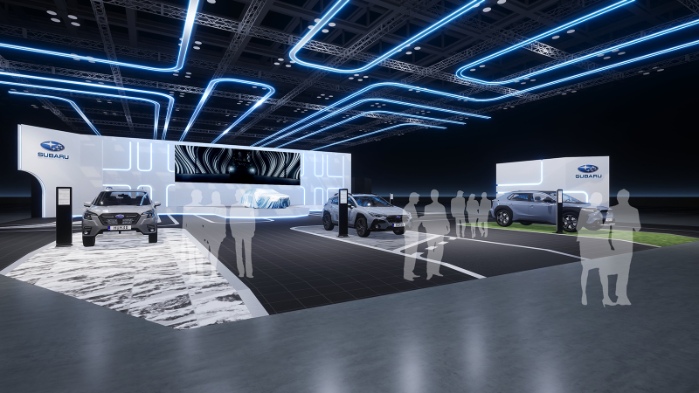 The Subaru booth rendering.
Subaru says its booth will showcase Subaru's vision of future mobility and communicate Subaru's efforts to strengthen its bond with society, allowing visitors to experience "Enjoyment and Peace of Mind" for today and the future. Subaru's electric future will be on display. 
Subaru Sport Mobility Concept
Subaru says, "This concept model expresses the enjoyment that Subaru offers in the age of electrification, embodying the pleasure of going anywhere, anytime, and driving at will in everyday to extraordinary environments. Driving with peace of mind allows us to embark on exciting new adventures. This battery electric vehicle (BEV) concept evokes the evolution of the Subaru Sport values."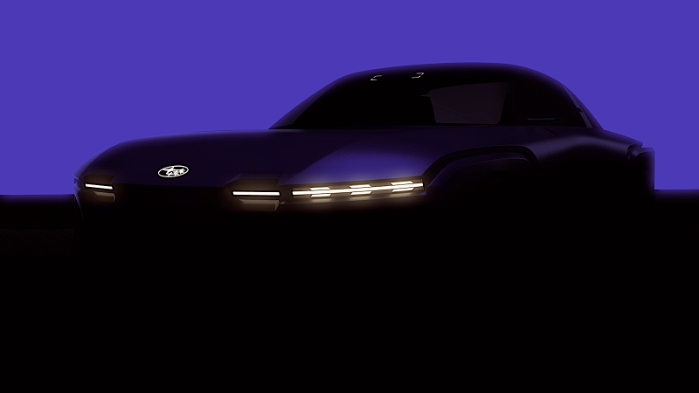 Subaru's future electric models
Subaru Corporation announced earlier this year that they will offer four new electric vehicles to U.S. customers by 2025 to be developed with Toyota. Four more electrified models are coming to the U.S. market by 2028 that will be fully Subaru they will create by themselves. Subaru has yet to announce what the new EV models will be. 
The Subaru Sport Mobility Concept EV reveals the Japanese automaker has not abandoned its values of fun-to-drive, performance, and sporty cars. The concept sports car teaser reveals a two-door coupe, and we know it comes with EyeSight safety technology that can be seen lighted through the windshield. 
I initially thought that the Subaru Sport Mobility Concept gives a nod to the discontinued Subaru SVX design. The SVX performance coupe was sold from 1992 to 1997 and pushed the limits of what was possible. While the model's time was short-lived, the SVX paved the way for new sporty models. 
The Subaru SVX was ahead of its time, but it's right on time in Subaru's new electric age.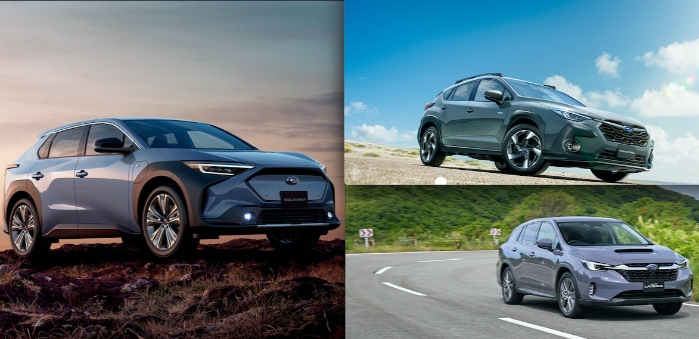 Subaru's Japan Mobility Show 2023 exhibition models.
Subaru is also bringing the new Levorg Layback Limited EX, Solterra ET-HS, Forester Special Edition model, and a new Crosstrek Limited trim level to the Japan Mobility Show 2023. 
If Subaru wants to keep the passion for the brand, a sporty battery-electric two-door coupe like the SVX would excite Subaru fans about the future. The Subaru Sport Mobility Concept will be unveiled on October 25 during the press reveal. It's time for Subaru Corporation to push the limits of what's possible again. 
The Subaru SVX was ahead of its time, but it's right on time in Subaru's new electric age. A Subaru SVX EV would deliver on the concept's promise. Stay tuned. 
For additional articles related to Subaru EVs, here are a few for your consideration:
Denis Flierl brings over thirty years of combined auto industry and automotive journalism experience to Torque News readers. He is an accredited Rocky Mountain Automotive Press (RMAP) member. The last twelve years have been spent with Torque News, covering Subaru vehicles and the latest news. Check back daily for his expert Subaru analysis. You'll find the latest stories on the Torque News Subaru page. Follow Denis on Facebook, Social Media Platform X, and Instagram. 
Subaru Report - We've got you covered! Check back tomorrow for more unique, informative SUBARU news, reviews, and previews you can trust.
Please leave your comments below, share the article with friends, and post X to your followers!
Photo credit: Subaru