Every month, the Subaru Solterra compact SUV EV sets new records. I covered Solterra's sales exploits monthly, and the EV set another sales record in October. It's beginning to sound like a broken record.
Some critics say that Subaru needs to keep up with the transition to EVs, but the automaker is doing well with only one electric model. 
Another best-ever month for Solterra?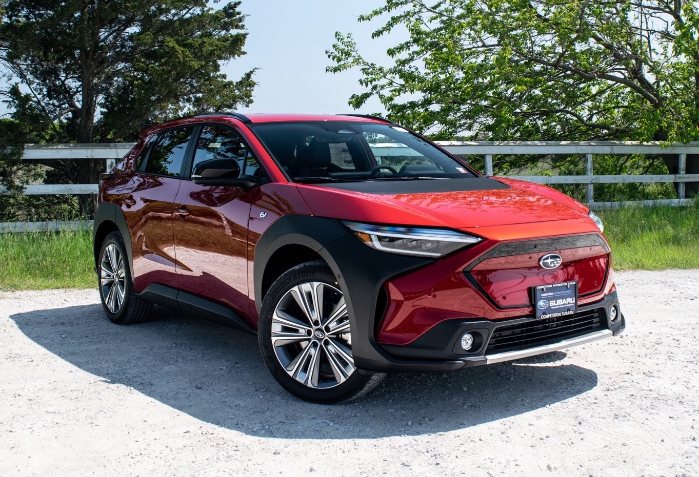 photo credit: Competition Subaru
Yes, the Solterra EV now has four record months of sales. SOA delivered 1,210 compact electric SUVs to EV customers in October. In October, Solterra had its best sales month so far. SOA has delivered 6,973 Solterra all-electric models to customers in the first ten months of 2023. The Solterra is on pace to sell nearly 9,000 all-new EVs to U.S. customers. 
That's a far cry from the 6,000 new Solterra models the Japanese automaker projected to sell when launching the all-new compact SUV EV. 
Where does the Solterra go from here?
I reported in October that Consumer Reports recommended the Solterra as one of the most reliable EVs you can buy. CR says the all-new Solterra is now one of the twelve best reliable EVs, demonstrating impressive range (for an EV with all-wheel-drive) and everyday practicality.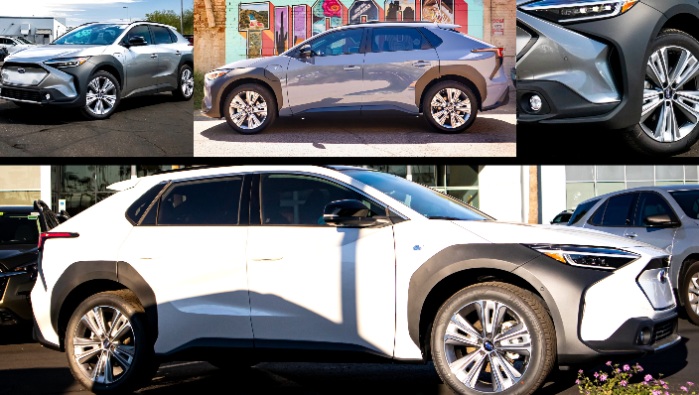 photo credit: Tucson Subaru
Another reliable source says the Subaru Solterra will get a complete redesign soon because its flaws need fixing. Both are right, according to reliable sources.
CR says, "Though it isn't cheap, the Solterra drives well and uses an EV-specific platform. This frees up a lot of space for storage and passenger room in the car. Our tests show that it has quick acceleration and agile handling. But its limited Environmental Protection Agency-estimated 222-mile range is significantly less than the competition's, as is the slow rate at which it charges." 
A recent report from Automotive News (by subscription) says the Solterra will soon get a complete redesign because it has some flaws. The report says, "After a rough launch, Subaru's first EV (the Solterra) will be due for a freshen in 2026 under the brand's regular product-cycle cadence, but that change may also include a re-engineering. Subaru may intervene sooner to address some of the Solterra's initial teething pains, including a ho-hum battery range. That product decision would depend on Toyota's plans for the bZ4X."
The Strange Subaru Forester Phenomenon That Fades To Black via @SubaruReport @torquenewsauto photo @SmithtownSubaru#subaru #forester #subaruforester
-https://t.co/J8SJ3AxjyF
— Denis Flierl (@DenisFlierl) November 7, 2023
I have uncovered two problems with the Solterra and have written about both. The Solterra is an above-average EV in reliability but needs more range. The Solterra is also Subaru of America's most expensive model.
There's a reason why the Solterra is setting new records every month. 
The Solterra is reliable and offers all-weather capability with its Symmetrical all-wheel-drive system and severe weather capability with the X-Mode system for deep snow/deep/mud settings. The Solterra earned the highest safety scores from the Insurance Institute for Highway Safety. The Solterra is a comfortable EV with ample storage and excellent acceleration. 
Consumer Reports recommends the 2023 Subaru Solterra and says it's one of the twelve best new electric cars for shoppers. I agree with CR on some points, and it's a good choice if you live in a non-mountainous region. Automotive News says the Solterra has issues with limited range that Subaru will likely address soon, and it could get a redesign sooner than expected. 
The Solterra has many good attributes, but the compact SUV needs more range and is too expensive for budget-minded customers. Subaru is designing new EVs, which will arrive in the next few years, likely have an extended range, and be considerably cheaper. Stay tuned. 
Thanks for reading, everyone. I hope you enjoyed this Subaru Solterra story. See you tomorrow for my latest Subaru Report.
For additional articles related to the new Subaru EVs, here are a few of my top stories you may enjoy. 
My Must-Read Top Picks
I am Denis Flierl, a 12-year Torque News senior writer with 20+ years of Subaru and automotive journalism experience. I enjoy bringing you, the Subaru fans and customers, the most up-to-date Subaru news, reviews, and new model information. You'll find the latest Subaru stories on the Subaru page. Follow me on my The Dirty Subaru website, Dirty Subaru blog, SubaruReport, All Subaru, WRXSTI, @DenisFlierl, Facebook, and Instagram.
I've got you covered! - I cover all Subaru all the time - It's called the "Subaru Report." Check back daily for my expert Subaru analysis!
Please leave your comments below, share the article with friends, and post X to your followers! 
photo credit: main image Tucson Subaru