Is the 2023 Subaru Solterra an EV you should consider? Consumer Reports says the all-new Solterra is now one of the twelve best reliable EVs, demonstrating impressive range and everyday practicality that they recommend. But another reliable source says the Subaru Solterra will get a complete redesign soon because its flaws need fixing. Which one is right?
Consumer Reports (by subscription) says the twelve EVs recommended here have been thoroughly tested, factoring in road-test performance, predicted reliability, owner satisfaction, and safety. Check the list below of their recommended EVs ranked in order of their overall score.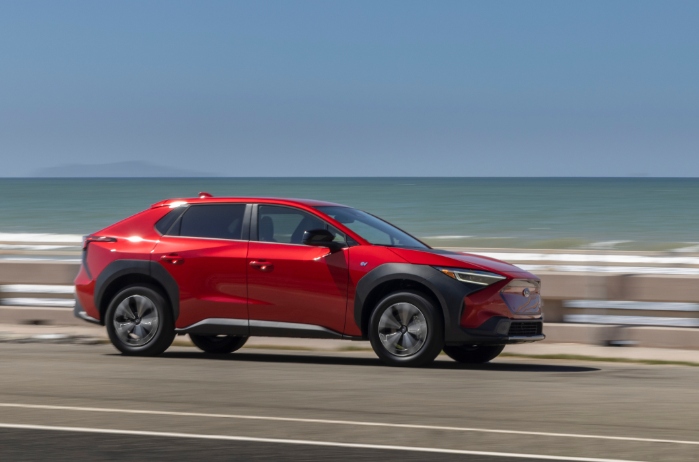 The Kia EV6 is the best ranked EV with a score of 91, followed by the BMW iX (85), Genesis GV60 (84), BMW i4 (84), Genesis Electrified GV70 (81), Kia Niro Electric (80), Tesla Model 3 (78), Lexus RZ (77), Hyundai Ioniq 5 (76), Subaru Solterra (75), Toyota bZ4X (75), and Nissan Leaf (70).
I won't just list the models with CR's explanation of the EVs like another writer on the Torque News website. I will give you other valued opinions and my test drive observation of the Subaru Solterra.
Here is what Consumer Reports says about the Subaru Solterra.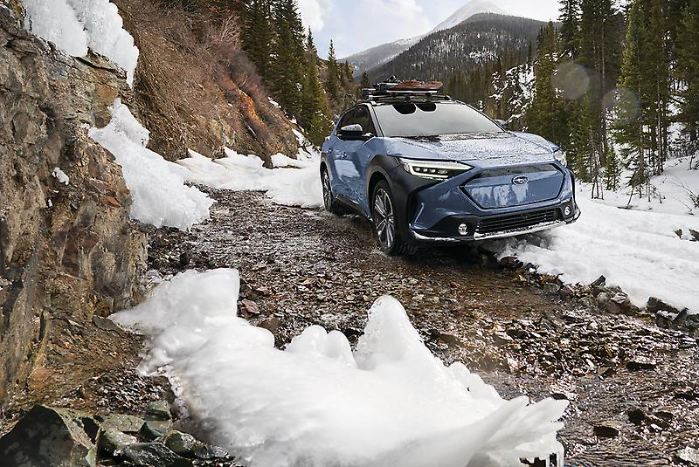 CR says, "Though it isn't cheap, the Solterra drives well and uses an EV-specific platform. This frees up a lot of space for storage and passenger room in the car. Our tests show that it has quick acceleration and agile handling. But its limited Environmental Protection Agency-estimated 222-mile range is significantly less than the competition's, as is the slow rate at which it charges." 
"We like that the Solterra comes standard with a comprehensive level of driver assistance and active safety systems, including automatic emergency braking with pedestrian detection, highway-speed AEB, blind spot warning, and rear cross-traffic warning."
A recent report from Automotive News (by subscription) says the Solterra will soon get a complete redesign because it has some flaws. The report says, "After a rough launch, Subaru's first EV (the Solterra) will be due for a freshen in 2026 under the brand's regular product-cycle cadence, but that change may also include a re-engineering. Subaru may intervene sooner to address some of the Solterra's initial teething pains, including a ho-hum battery range. That product decision would depend on Toyota's plans for the bZ4X."
What is the problem with the Solterra?
The Solterra needs more range, so Subaru may give the EV a complete overhaul sooner than expected. A Subaru SUV typically gets a remodel after five years, but the Solterra needs to be competitive in its range. The Solterra must be more efficient to compete with other automakers' new EVs. 
Here is why Solterra is a good choice for many EV buyers
The Solterra is reliable and offers all-weather capability with its Symmetrical all-wheel-drive system and severe weather capability with the X-Mode system for deep snow/deep/mud settings. The Solterra earned the highest safety scores from the Insurance Institute for Highway Safety. The Solterra is a comfortable EV with ample storage and excellent acceleration.  
Here is why Solterra is a good choice, but it's not for everyone.
After driving the Solterra recently, I found that the compact SUV has a limited range. I took the new 2023 Subaru Solterra into the mountains of Colorado and found an issue with the new EV. I drove up I-70 into the mountains and pushed the Solterra up the steep incline to the Lookout Mountain exit. I started with 167 miles of range left and drove 7.5 miles. There were only 115 miles of range left when I reached the exit.
The Solterra used 52 miles of range in just 7.5 miles of uphill driving. For those who will use the Solterra for mountain excursions, the range of 222 miles will get used up quickly and could deter active customers living in mountainous regions from buying the new EV.
In my previous story about the Solterra, I wrote, "Customers looking for a battery electric vehicle will get a Solterra with all-wheel-drive all-weather performance, fun-to-drive, unique vehicle balance in severe conditions, and top safety scores. Subaru infused the 2023 Solterra EV with its core values, not those of other automakers. But the range could be a problem for some customers."
What is the price of the 2023 Solterra?
The 2023 Solterra has three trim levels: Premium, Limited, and Touring. Pricing for the Solterra Premium trim level starts at $46,220. The Limited trim carries a starting manufacturer's suggested retail price of $49,720. The top-of-the-line Touring trim is priced at $53,220. Prices include destination and delivery fees ($1,225). Subaru says US retailers set the actual price and may charge more.
Consumer Reports recommends the 2023 Subaru Solterra and says it's one of the twelve best new electric cars for shoppers. I agree with CR on some points, and it's a good choice if you live in a non-mountainous region. Automotive News says the Solterra has issues with limited range that Subaru will likely address soon, and it could get a redesign sooner than expected.  
The Solterra has many good attributes, but the compact SUV needs more range. Subaru is designing new EVs, which will arrive in the next few years and likely have an extended range. Stay tuned. 
For additional articles related to the Subaru Solterra, here are a few for your consideration:
Here is a YouTube video worth checking out: What is the ACTUAL range of a Subaru Solterra?
Denis Flierl brings over thirty years of combined auto industry and automotive journalism experience to Torque News readers. He is an accredited Rocky Mountain Automotive Press (RMAP) member. The last twelve years have been spent with Torque News, covering Subaru vehicles and the latest news. Check back daily for his expert Subaru analysis. You'll find the latest stories on the Torque News Subaru page. Follow Denis on Facebook, Social Media Platform X, and Instagram. 
Subaru Report - We've got you covered! Check back tomorrow for more unique, informative SUBARU news, reviews, and previews you can trust.
Please leave your comments below, share the article with friends, and post X to your followers!
Photo credit: Subaru