When Subaru announced the six-cylinder 3.6-liter Boxer in the Outback was going away, many fans were disappointed. But turbo power is back for the SUV. Powering the 2020 Outback is a newly-available turbocharged 2.4-liter Boxer. It's sourced from the Ascent family hauler.
The all-new 2020 Outback 2.4 XT comes in Onyx Edition XT, Limited XT, and Touring XT models and they are powered by the brand's all-new direct-injected turbocharged 2.4-liter Boxer 4-cylinder that beats the current Outback 3.6R engine's power specs. The 3.6R develops 256 horsepower and 247 lb. ft of torque. The new XT turbocharged 2.4-liter Boxer produces 260 horsepower and 277 lb.-ft. of torque.
More power at lower RPMs
Subaru says the outgoing six-cylinder 3.6R Boxer powerplant sustains just 225 lb-ft of torque from 2,000-6,000 rpm. The new XT turbocharged Outback models benefit from a less broad torque curve, with its 277 lb-ft. of torque achieved from 2,000 rpm through 4,800 rpm. The new Outback XT's available torque should make a big difference for those pulling a high mountain pass loaded with cargo and people, when pulling a trailer, or climbing a steep mountain trail.
What about fuel economy
The 2019 Outback naturally aspirated six-cylinder 3.6R engine gets an EPA estimated 20/27 city/highway mpg and 22 combined mpg. The new 2020 Outback FA24 2.4-liter engine manufacturer's estimated fuel economy is 23/30 mpg city/highway with the turbo. Recent reports say the bigger Ascent with the same FA24 2.4-liter turbo isn't quite getting its 21/27 city highway estimated mpg in the real world.
Why did Subaru ditch the 6-cylinder?
The 3.6R's demise is no surprise because Subaru Corporation spelled it out in their "Prominence 2020" plan. The plan outlines every Subaru boxer engine will come with the latest Direct Injection technology. Iy also said customers would see smaller turbo engines developing more power and with greater fuel efficiency in the new-generation Subaru vehicles. So far they have produced that in the new Legacy and now Outback.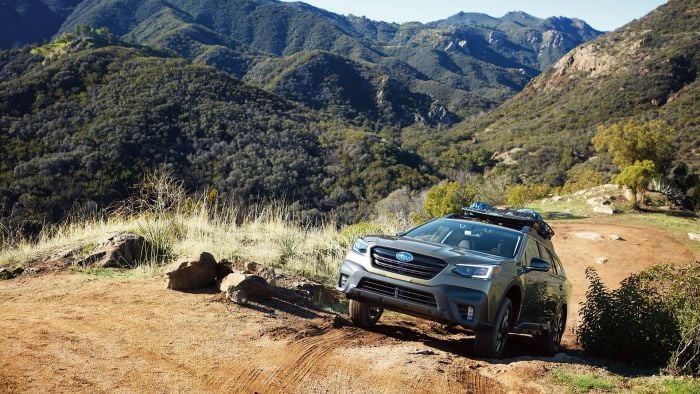 Pulling power
When equipped with the turbocharged engine, the next-generation Outback is capable of towing 3,500 lbs. up from the 3.6R's 2700 lb rating. This is a considerable jump due to all that extra available torque. More pulling power will be available from the 2.4-liter turbo with its peak torque at low rpms. If you are pulling a steep trail the 2.4XT will have plenty of low-rpm grunt to get the job done.
If there is a weak link in the Outback power train it's the Lineartronic CVT automatic transmission. Subaru has made a commitment to the transmission for its fuel-saving characteristics. On the upside, it does feature an 8-speed manual mode function with steering wheel paddle shifters. Subaru keeps improving their CVT, so we'll see how it performs with the new turbo engine.
2.5-liter is improved
For those who don't need more power, Subaru still offers the 2.5-liter normally aspirated Boxer engine in the new Outback. It now features nearly 90 percent new parts, as well as direct injection and auto stop/start, and increased output and fuel efficiency. The new engine produces 182 horsepower and 176 lb.-ft. of torque compared with the outgoing model with 175-hp and 174 lb-ft. of torque. Manufacturer's estimated fuel economy is 26/33 mpg city/highway for the 2.5-liter.
You May Also Like: How New Subaru 2.4L Turbo Engine Compares To Competition's V6 Power
Leave your comments below, share the article with friends and tweet it out to your followers!
Follow all Subaru news on Facebook, Twitter and Instagram
Photo credit: Subaru USA