The next-generation Crosstrek is the automaker's most significant launch this year. The top-selling Crosstrek, with its complete remodel, will attract new small SUV buyers to the brand. Here is what small SUV shoppers will get in the newly-remodeled subcompact SUV and how much a fully loaded top trim level Wilderness will cost.
The 2024 Subaru Crosstrek is an affordable subcompact SUV. A 2024 Subaru Crosstrek Base trim starts at a reasonable $26,290, but how much does a full-loaded new Wilderness trim cost? The top-of-the-line Crosstrek Wilderness trim starts at $33,290, but it's over $44,000 with all the goodies.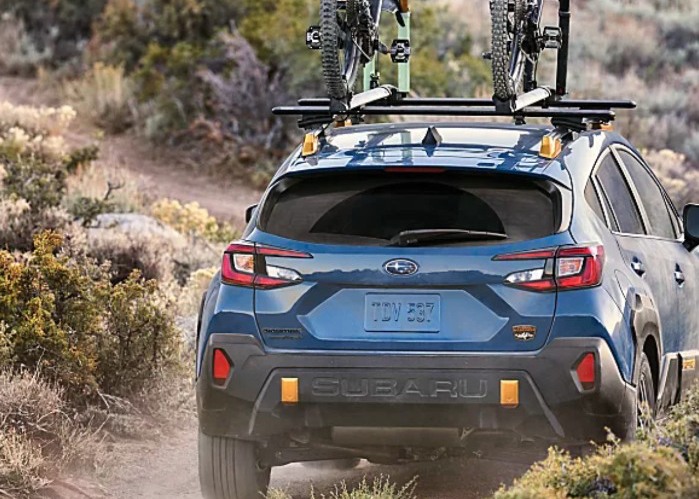 Here is what you get on a 2024 Crosstrek Wilderness trim level with all the options and accessories. 
The 2024 Crosstrek Wilderness details
The 2024 Crosstrek Wilderness joins the Outback and Forester Wilderness family of outdoor-themed models for active customers. The Crosstrek was the most likely model to join the group because nearly 33 percent of Crosstrek owners use their vehicle for off-road pursuits. The Crosstrek is ready to get further off the grid.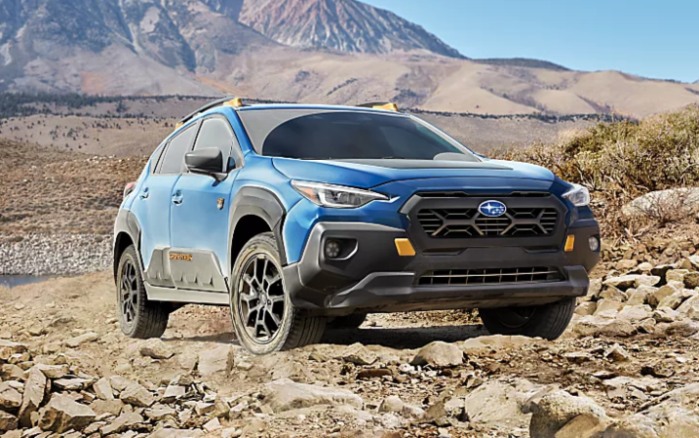 Subaru says they engineered the Crosstrek Wilderness drivetrain for better off-road performance by installing a revised differential gear ratio and retuned Lineartronic CVT automatic transmission.
"The 4.111 final drive ratio (vs. 3.700) improves the SUV's climbing ability, and the new tuning for the CVT optimizes traction at low speeds and on slippery surfaces. Additionally, maximum towing capacity more than doubles to 3,500 lb. thanks to the addition of a transmission oil cooler," says the Subaru announcement.
Outside, the Crosstrek Wilderness has new front and rear bumpers, a hexagonal front grille, more prominent wheel arch cladding, a metal front skid plate, unique hex-design LED fog lights, and an anti-glare hood decal in matte-black finish.
Crosstrek has the Wilderness badges on the front doors and rear gate, a body-color roof spoiler, and black side mirrors with integrated turn signals. In addition, the Crosstrek Wilderness is available in a new Geyser Blue exterior color, which is exclusive to the Wilderness family.
The Crosstrek Wilderness has a ladder-type roof rack system with a 176 lb. dynamic load capacity and a 700-lb. static load limit, allowing the safe use of larger roof-top tents.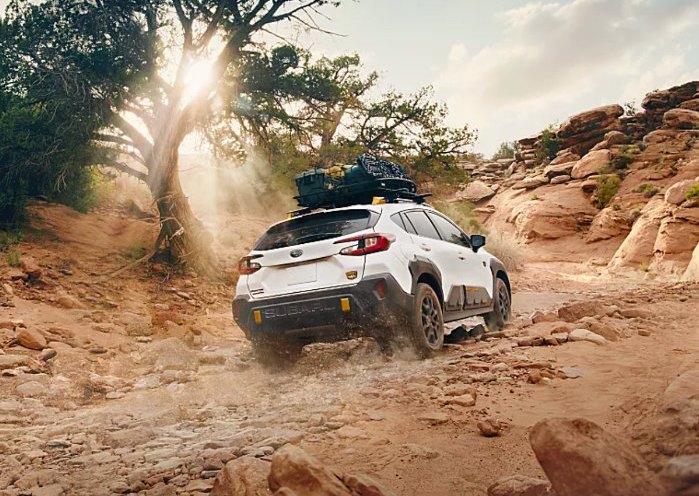 Additional off-road capability
Exclusive suspension components give the 2024 Crosstrek Wilderness 9.3-inch ground clearance, more than a half-inch increase over the other Crosstrek models (8.7 inches). 
Longer coil springs and shock absorbers provide added ground clearance, and unique front and rear shock tuning helps maintain the vehicle's stability on rough terrain. In addition, Subaru says a longer dampening compression stroke helps increase absorption on uneven road surfaces, providing a smoother ride.
Additional off-road upgrades include an approach angle that increased from 18.0 degrees in other Crosstrek models to 20.0 degrees on the Wilderness; the departure angle increased from 30.1 to 33.0 degrees, and the ramp break-over angle increased from 19.7 to 21.1 degrees.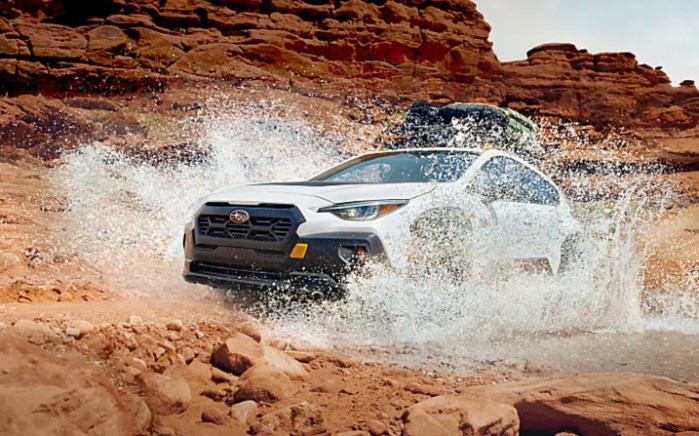 The Crosstrek Wilderness has Yokohama Geolander all-terrain tires for improved mud, gravel, or snow performance. They are mounted on 17-inch alloy wheels in a matte-black finish, and the tires have raised white letters.
Crosstrek Wilderness has dual-function X-Mode with Snow/Dirt and Deep Snow/Mud modes. In addition, the X-Mode display features a new roll-angle indicator to help the driver judge potentially hazardous situations.
Subaru says a low speed/low ratio gradient control is automatically put on standby to sense when the vehicle is traveling on a steep incline at low speed. When it does, the system shifts the CVT to its lowest ratio (4.066:1).
Inside, The Crosstrek Wilderness comes with water-resistant Subaru StarTex material, the Wilderness logo embossed in the front headrests, copper-colored contrast stitching, and anodized copper-finish accents on the shifter, gauge meter rings, and leather-wrapped steering wheel. A Wilderness logo appears in the meter display at start-up.
The Wilderness has a removable water-resistant rear cargo tray protecting the load floor from wet, muddy gear tossed in the back. In addition, the rear gate comes equipped with an LED light for better nighttime visibility.
Wilderness standard features include a wireless charger, cargo cover, fog light kit, and a rear gate light. 
The 2024 Crosstrek Wilderness MSRP with destination and delivery ($1,225) is $33,290 —about $7,000 more than the lowest-priced Base trim level. But add in all the options and accessories, and Crosstrek Wilderness is $44,034. That's $17,744 more than the Base trim level.
Check Out This Related Story: The All-New Subaru Crosstrek Wilderness Vs. Forester Wilderness - Why One Wins Easily
Here is what you can get with all the options and accessories. 
An available option package for Crosstrek Wilderness includes a power moonroof, a 10-way power driver seat with 2-way lumbar support, and a Harman Kardon 10-speaker system with a 432-watt equivalent amplifier for an MSRP of $2,270.
Crosstrek Wilderness accessories
Auto-Dimming Mirror with Compass and HomeLink - $405 
Phone Holder - Cup Holder Mounted - $54.95 
Rear Gate Assist Handle - $149.95 
Auto-Dimming Exterior Mirror with Approach Light- $290 
Battery Charger and Maintainer - $149.95 
Carpeted Floor Mats - $132 
Mud Flaps - Wilderness - $139.95 
Footwell Illumination Kit - $221 
LED Upgrade - $150 
Thule Awning - Roof Mounted - $849.95 
Thule Bike Carrier - Hitch Platform - 2 bikes - $799.95 
Thule Cargo Carrier - $649.95 
Thule Crossbar Set - Aero Extended - Black - $609.85 
Thule Roof Top Tent - $2,799.95 
Collapsible Pet Kennel - Medium - $199.99 
Pet Harness - Medium - $91.99 
Pet Rear Door Protector - $199.95 
Pet-friendly Padded Cargo Liner - $279.95 
Seat Cover - Rear (5 Door - with armrest) - $249.95 
Thule 2-Inch Hitch Adapter - $49.95 
What is the price of all 2024 Subaru Crosstrek trim levels?
The 2024 Crosstrek Base has a starting price of $26,290 (the same MSRP as the 2023 Base model equipped with the Lineartronic CVT automatic transmission).
The 2024 Crosstrek Premium has a starting price of $27,440, Sport ($30,290), and Limited ($32,190). Pricing includes destination and delivery fees ($1,225). The all-new Crosstrek Wilderness costs $33,290, including dealer destination and delivery fees.
The 2024 Subaru Crosstrek is an affordable subcompact SUV for about $26,000 for the Base trim level. But a full-loaded, top-of-the-line Crosstrek Wilderness trim with all the goodies is over $44,000. The 2024 Crosstrek Wilderness arrives this fall.
Don't Miss This Related Story: Subaru's 3 Hot Wilderness Trims Are Far From Equal And Which Is The Best For You
Denis Flierl brings over thirty years of combined auto industry and automotive journalism experience to Torque News readers. He is an accredited Rocky Mountain Automotive Press (RMAP) member. The last twelve years have been spent with Torque News, covering Subaru vehicles and the latest news. Check back daily for his expert Subaru analysis. You'll find the latest stories on the Torque News Subaru page. Follow Denis on Facebook, Twitter, and Instagram. 
Subaru Report - We've got you covered! Check back tomorrow for more unique, informative SUBARU news, reviews, and previews you can trust.
Please leave your comments below, share the article with friends, and tweet it to your followers!
Photo credit: Subaru