New BMW M2 Is a Bigger Star Among Stars in LA
We aren't sure who was the star of the 68th annual Director's Guild of America Awards in LA. The new BMW M2 Coupe looks good all by itself and received plenty of attention. Abigail Breslin who posed with the M2 makes the newest performance M look even better on the red carpet.
BMW is the sponsor of the Directors Guild of America and the Bavarian automaker brought the M2 Coupe and BMW 7 Series to the 68th annual its latest appearance in LA over the weekend. The M2 could be the one of the brand's biggest stars. The newest M is a big hit before it even makes its dealer launch this spring.
M2 is already a big hit with performance enthusiasts
In some global markets like Australia, the new M2 Coupe is already sold out before it hits dealer showrooms. The performance car made it's global debut at the Detroit Auto Show and performance enthusiasts in the U.S. can't wait for the coupe to arrive. In Australia, the new M2 Coupe is set to launch in April, yet the car is already being ordered at a rate that may see the first year's allocation totally sold out before the car even makes it to dealer showrooms.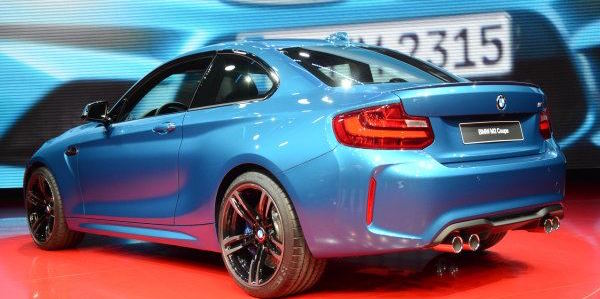 Saturday, the BMW M2 and 7 Series sedan were at the Hyatt Regency Century Plaza in Los Angeles for the awards. Other stars on hand were Jane Lynch who presided over the ceremony, along with Angela Basset, Abigail Breslin, Rachel McAdams, Leonardo DiCaprio and Alejandro Gonzalez Inarritu, who won the award for "Outstanding Directorial Achievement in Feature Film."
M2 is a star in the BMW lineup
BMW says the M2 is the legitimate successor to the BMW 1 Series M Coupe and it carries on the tradition of a compact, high-performance sports car that started with the 2002 turbo. The 365 bhp coupe will launch the M2 from 0-60 in just 4.2 seconds. The M2 is a rear-drive performance car that still comes with a 6-speed manual gearbox, a rarity among many modern performance cars.
The 2016 BMW M2 has what it takes to be a star in its own right. It gets bold styling, impressive performance, a manual gearbox, it's lightweight and it gets back to the tradition of a compact, high-performance sports car.
Source: BMW
Image sources: BMW and HighPowerPhotography.com for TorqueNews