Families are flocking to the Subaru brand because they make the safest vehicles on the road according to the IIHS. Now, Subaru vehicles are the best SUVs for families according to IIHS. Subaru Corp is leading the way in making child restraints more accessible in most of their vehicles, the Insurance Institute for Highway Safety (IIHS) said in a report last week. When it comes to strapping your child in the backseat, Subaru has the easiest to use child restraints for families.
The Insurance Institute for Highway Safety has a way of testing vehicles for ease of use for child restraints. The IIHS began rating automakers' LATCH hardware (which stands for Lower Anchors and Tethers for Children), on ease of use in 2015.
Subaru ranked highest in 2019 model ratings for ease of use, with seven models earning the top "GOOD+" IIHS rating for LATCH accessibility, followed by Toyota with five and Honda with three. The 2019 Subaru Ascent, Subaru Forester, Subaru Outback, Subaru Crosstrek, Subaru Impreza sedan, Subaru Impreza 5-Door, and Subaru Legacy all scored highest in the latest testing. The only vehicles not on the best list are the performance Subaru WRX, WRX STI, and BRZ.
Watch What Makes Subaru SUVs Most Family Friendly and Subscribe to Torque News Youtube for Daily Reports on Subaru and Car Industry.
It's the automaker's choice as to where they put the latches for car seats, as there are flexible requirements. IIHS senior research engineer Jessica Jermakian said the LATCH system, has been in vehicles for over 15 years and says, Subaru has stood out by making it a priority to improve its LATCH hardware. "They went from, back in our early ratings, having many marginal ratings to now getting the top rating of 'GOOD+,'" she said. "In many of those Subaru vehicles, parents can use LATCH in all three of the rear seating positions in the second row."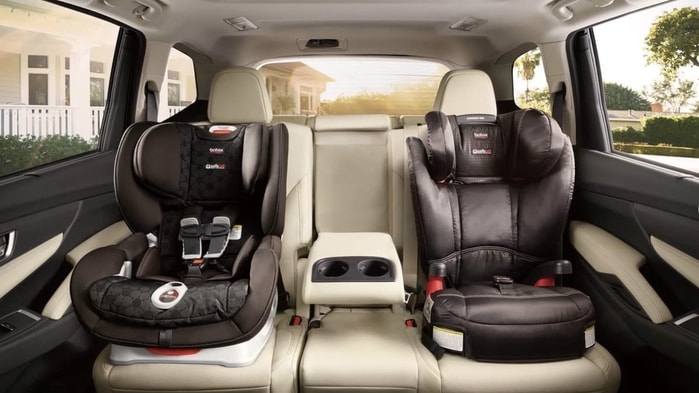 Family friendly
Automakers like Subaru with 7 vehicles getting the highest ratings have made LATCH hardware easier to access by measures such as cutting out seat material around the anchors, said Jermakian. "In many of the U.S. automakers, they haven't made those kinds of design changes," she said. "The anchors may still be buried within the seat and hard to access."
Subaru has excelled in installing the anchors in the most accessible and easy to use locations like in their all-new 2019 Subaru Ascent family hauler. Parents don't have complaints, they are not difficult to use, and can get a good tight installation of the car seats. Subaru vehicles are now the most family-friendly.
You Might Also Like: New Subaru Ascent Could Prove Most-Popular With Expectant Moms
Leave your comments below, share the article with friends and tweet it out to your followers!
Follow more Subaru Ascent, Forester, Outback news on Facebook, Twitter, Instagram, Subaru Report
Photo credit: Subaru Corp, Subaru USA