Which are the best new midsize sedans for 2023? Consumer Reports updated ranking of the top-8 models now scores the 2023 Subaru Legacy number sixth best in the midsize category. CR says, "Midsized and large sedans are still a smart choice for many consumers. They effectively blend fuel economy, passenger room, cargo space, and flexibility into a package that's often more enjoyable to drive than the average SUV."
Consumer Reports (by subscription) ranks the 2023 Subaru Legacy as the number six overall midsize sedan of eight models. They now rank the Legacy below the Toyota Camry but ahead of the Honda Accord.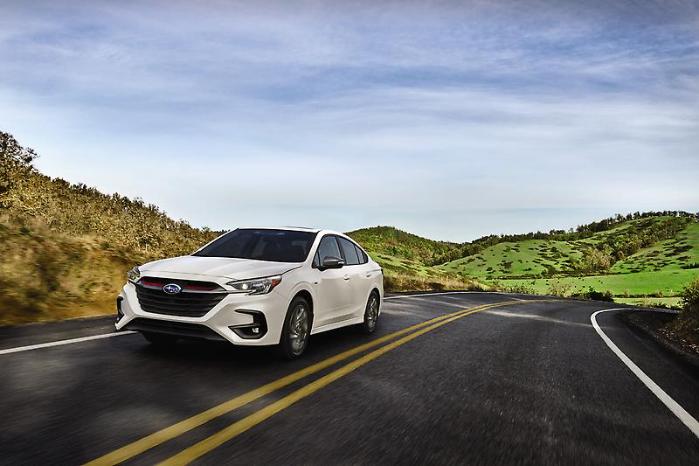 What does CR say about the Subaru Legacy? 
CR says, "The all-wheel-drive Legacy is one of the top midsized sedans. Its super-comfortable ride outshines that of some luxury cars. Handling is responsive but not sporty." 
Subaru Legacy has two engine options: an 182-horsepower 2.5-liter or a 260-horsepower turbocharged 2.4-liter engine. CR says, "We like that the well-tuned continuously variable transmission doesn't let the engine get too loud." it provides a decent 28 mpg overall."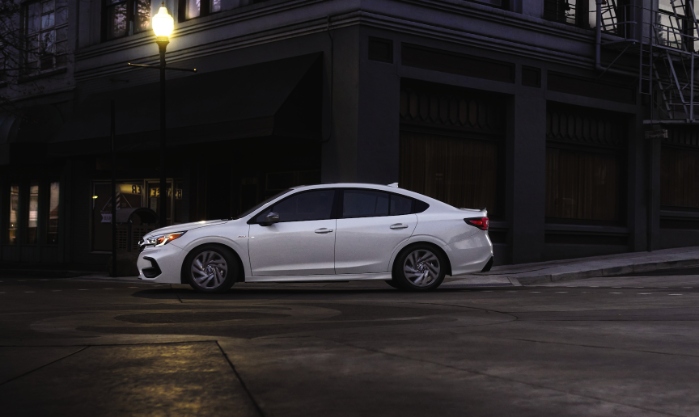 What is the downside to the Legacy?
"But users must wade into infotainment menus to do some common tasks," says the CR report. And "The standard engine is adequate but makes an unpleasant roar when pushed."
"The turbo version delivers strong acceleration and is quieter; it returns 24 mpg overall in the similar Outback SUV. We like that the well-tuned continuously variable transmission prevents the engine from getting too loud."
Below are Consumer Reports' eight best mainstream midsized sedans for 2023, ranked in order of their overall score.
Toyota Camry Hybrid 90
Honda Accord Hybrid (90)
Toyota Camry - (82)
Nissan Altima (82)
Kia K5 (81)
Subaru Legacy (80)
Hyundai Sonata (80)
Honda Accord (80)
The 2022 Subaru Legacy Legacy was ranked the second-best midsize sedan last year but dropped four spots for the 2023 model year.
Why choose Legacy over an SUV?
Not everyone needs a bigger SUV. If you don't have a family to haul around and don't use your vehicle for weekend adventures, you don't need that extra space. The advantage of a sedan over an SUV is it's lighter, more aerodynamic, and offers better driving dynamics.
Ride quality for four passengers will be better than a higher-riding SUV. For the first time in any Subaru vehicle, Legacy gets a floor cross member filled with a highly rigid and lightweight two-part foam material and an all-new suspension that is lighter, stronger, and more responsive. Legacy's stiffened platform and strengthened suspension will lower the center of gravity, providing more responsive steering and handling and a smoother, quieter ride.
What is the Legacy fuel mileage?
With gas prices rising this fall, consumers are looking for fuel efficiency. Being lighter contributes to better fuel economy over a bigger SUV.
The EPA says the Legacy XT with the 2.4-liter turbo returns an estimated 23/31 city/highway mpg and 26 combined mpg. The standard naturally aspirated 2.5-liter engine gets an EPA-estimated 27/35 mpg city/highway and 30 combined mpg fuel economy.
Legacy is still the only sedan in America that comes standard with all-wheel-drive, and all trim levels come with Subaru's excellent Symmetrical system for all-weather capability. The sedan will navigate safely through snow, ice, or muddy roads.
Capable cargo
If you don't need to throw a mountain bike in the back, Legacy offers capable cargo-carrying ability. The 2023 Legacy has 15.1 cu ft of cargo capacity and 1.4 inches of additional cargo floor length. The Legacy's trunk can comfortably hold four full-size luggage bags, giving it the functionality to match that of many small crossovers.
Legacy offers standard roof brackets to quickly install a rack, box, or tray if you need to carry additional cargo, making loading surfboards, canoes, mountain bikes, and other sports equipment easy.
What is the price of the 2023 Subaru Legacy?
The 2023 Legacy sedan comes in five trim levels. The 2023 midsize sedan starts at $25,415 for the base trim, Premium ($27,715), Limited ($32,465), Sport with a new 2.4-liter turbo engine ($34,915), and top-of-the-line Touring XT ($38,715). Destination and delivery fees are included in the pricing above ($1,020).
Is the 2023 Subaru Legacy a safe car? 
The 2023 Subaru Legacy gets the highest Top Safety Pick+ award from the Insurance Institute for Highway Safety. 
Should I wait for the 2024 Subaru Legacy?
Midsize sedan buyers might want to wait. Subaru is upgrading the 2024 Legacy sedan with new features for customers. Check out the pricing, trim, and new model guide for complete information.
What's new for 2024 Legacy models?
Legacy Base and Sport trim get new upgrades. The Base Subaru Legacy dome light has been upgraded to LED. The 2024 Subaru Legacy Sport trim level now comes standard with the Subaru Starlink 11.6-inch Multimedia Plus system featuring a Harman Kardon speaker system with a 576-watt equivalent amplifier.
What is the price of the 2024 Subaru Legacy?
For the 2024 model year, the Legacy sedan is still available in five trim levels. The base is priced at $25,985, Premium ($28,285), Sport ($35,585), Limited ($33,035), and Touring XT ($39,285). Destination and delivery fees are included in the price above ($1,090).
If you can't find a 2023 Legacy, the 2024 Subaru Legacy midsize sedan arrives this fall and should be a top pick by Consumer Reports. 
For additional articles related to the 2023 Subaru Legacy, here are a few for your consideration:
Report Says the Subaru Legacy Is On the Chopping Block, It's Not Because Of Slow Sales
CR's 7 Best New Cars Under $30K - Subaru Legacy Is Not The Best But It's A Top Pick
2024 Subaru Legacy Pricing And Model Guide - The Sport Trim Gets New Upgrades
Check Out This Related 2023 Subaru Legacy YouTube review.
Denis Flierl brings over thirty years of combined auto industry and automotive journalism experience to Torque News readers. He is an accredited Rocky Mountain Automotive Press (RMAP) member. The last twelve years have been spent with Torque News, covering Subaru vehicles and the latest news. Check back daily for his expert Subaru analysis. You'll find the latest stories on the Torque News Subaru page. Follow Denis on Facebook, Twitter, and Instagram. 
Subaru Report - We've got you covered! Check back tomorrow for more unique, informative SUBARU news, reviews, and previews you can trust.
Please leave your comments below, share the article with friends, and tweet it to your followers!
Photo credit: Subaru