Everybody loves a bargain, and getting a good value for your hard-earned money is essential. According to a U.S. News report, there are some cheap lease deals right now on SUVs. However, there are times when saving does not equal a good value.
One of the cheapest lease deals is on a 2024 Subaru Crosstrek. I have written numerous reports on the next-generation Crosstrek and why it's a good choice for small SUV customers. But not all trim levels are a good value. Keep reading, and I will explain why the Crosstrek Base trim lease is not a good value.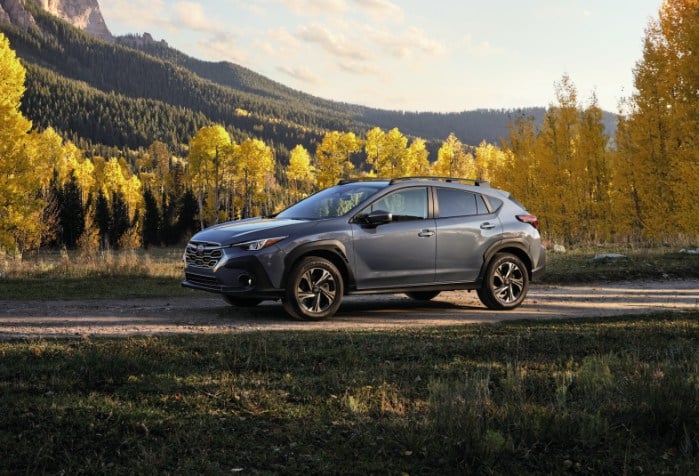 U.S. News List of the Cheapest SUV Lease Deals
2023 Hyundai Kona: $202 per month for three years
2024 Honda HR-V: $259 per month for three years
2023 Toyota Corolla Cross: $369 per month for three years
2024 Chevrolet Trax: $249 per month for two years
2023 Mazda CX-30: $301 per month for three years
2023 Jeep Renegade: $319 per month for 42 months
2023 Volkswagen Taos: $229 per month for 39 months
2023 Kia Soul: $219 per month for two years
2023 Ford Bronco Sport: $429 per month for three years
What does U.S. News say about the 2024 Subaru Crosstrek?
"Lease Deal: $299 monthly for three years with $2,549 due at signing. The 2024 Subaru Crosstrek boasts a spacious, comfortable cabin, a blend of nimble handling, and a smooth ride. Subaru fully redesigned the Crosstrek for 2024, ushering in changes like fresher styling, improved architecture, and a longer list of driver-assistance features."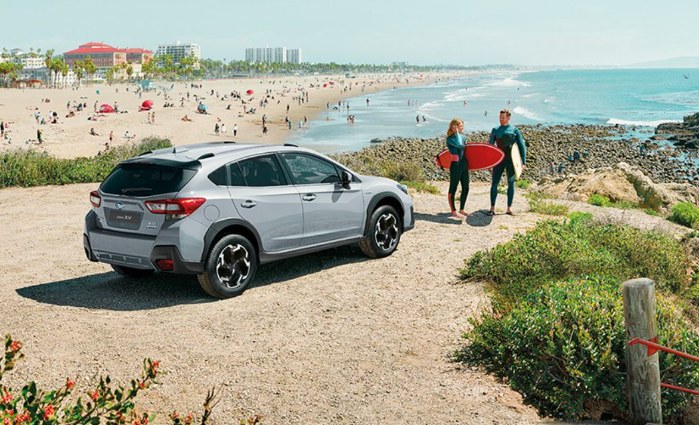 "This lease deal on the base trim of the Crosstrek expires October 31. Don't be warded off by the base model. It's loaded with features, including all-wheel drive, dual 7-inch touch screens, and a host of advanced safety tech. However, its infotainment system could benefit from further refinements. The front seats and cargo hold are spacious for the class, and the second row is a good fit for shorter passengers."
Here is my take on the 2024 Crosstrek Base lease. I disagree with U.S. News. I suggest avoiding the Crosstrek Base trim level because it's not a good value. 
The base Subaru Crosstrek trim level is attractively priced and is $1,150 less than the Premium trim level. The base models have Subaru's Symmetrical all-wheel-drive, standard EyeSight safety technology, Starlink multimedia, and 8.7 inches of ground clearance. Here's why only some buyers ever buy one.
Subaru sells very few Crosstrek base trim levels for a reason. The base trims only offer 17-inch steel wheels, and features like a power driver's seat, heated seats and mirrors, keyless access, and push-button start are omitted.
Which trim level is the best value?
I recommend you look at the Crosstrek Premium trim for an excellent urban commuter. It is a good value for subcompact SUV shoppers who use it for occasional off-pavement excursions. 
In addition to its Symmetrical all-wheel-drive system, standard EyeSight safety technology, Starlink multimedia, and 8.7 inches of ground clearance, the Crosstrek Premium has added features. 
It has a leather-wrapped steering wheel and shifter handle, fog lights, an all-weather package with heated front seats, heated mirrors, heated windshield washers, Starlink safety and security, and an available 6-way power-adjustable driver's seat.
Which Crosstrek is best for outdoor enthusiasts?
Customers with active lifestyles will want the 2024 Subaru Crosstrek Sport trim level. Like all trims, the Sport comes with standard Subaru Symmetrical all-wheel-drive and 8.7 inches of ground clearance. But the Sport trim comes with Subaru's new dual-function X-Mode for additional off-road capability. Sport also comes with a larger 2.5-liter engine.
The Sport's 2.5-liter engine produces 30 additional horsepower over the standard 2.0-liter engine and is a must for carrying extra gear up a mountain pass. The 2.5-liter also gets one mpg better highway fuel mileage.
And if you like to get your vehicle dirty on the weekends, check out the Crosstrek Wilderness trim level. 
For customers looking for a 2024 Crosstrek, here is the new pricing.
For 2024, the Crosstrek will be available in Base, Premium, Sport, Limited, and Wilderness trim levels and has a starting price of $26,290 (the same MSRP as the 2023 Base model equipped with the Lineartronic CVT automatic transmission).
The 2024 Crosstrek Premium has a starting price of $27,440, Sport ($30,290), and Limited ($32,190). Pricing includes destination and delivery fees ($1,225). 
What is the price of the Crosstrek Wilderness?
The 2024 Subaru Crosstrek Wilderness is the most expensive Crosstrek trim level. The all-new Crosstrek Wilderness costs $33,290, including dealer destination and delivery fees ($1,295).
In my opinion, it would be best if you stayed away from the Crosstrek Base trim level. The lease is attractive, but it's not a good value now and won't be when you trade it in 3 years. 
It's time for your Subaru Crosstrek comments. 
If you are a small SUV shopper, which Crosstrek trim level will you look at this fall?
Thanks for reading, everyone. I hope you enjoyed this Crosstrek report. See you tomorrow for my latest Subaru Report.
For additional articles related to the 2024 Subaru Crosstrek, here are a few of my top stories for you. 
You might like this YouTube video: 2024 Subaru Crosstrek Features: Complete In-Depth Review
Denis Flierl - I have over twenty years of Subaru and automotive journalism experience. I enjoy bringing you, the Subaru fans and customers, the most up-to-date Subaru news, reviews, and new model information. You'll find the latest Subaru stories on the Subaru page. Follow me on my The Dirty Subaru website, Subaru Report, All Subaru and WRX STI social media channels:  Also Facebook, Social Platform X, and Instagram. 
I've got you covered! - I cover all Subaru all the time. 
Please leave your comments below, share the article with friends, and post X to your followers!
Photo Credit: Subaru