The new 2019 Subaru Ascent will be what adventurous Americans are looking for in a SUV/Crossover vehicle. Subaru discontinued the outgoing Tribeca 3-Row vehicle because it was too small, it didn't come with Subaru's "go-anywhere" attitude and it didn't have the family resemblance of it's sporty stable mates. Here's how Subaru gets it right with the new recreation-purposed Ascent family hauler and why it could become the brand's best-selling vehicle.
Active consumers in North America are being rewarded for making Subaru so successful. The Japanese automaker sells 60 percent of their global vehicles to U.S. and Canadian buyers, they asked for a large Subaru family hauler with a recreational attitude and they answered with the Ascent.
Subaru didn't waste their time building a SUV/Crossover like everyone else has, they infused the new Ascent with attitude and the spirit that made the Subaru brand successful in the beginning. It starts on the outside with lower side and wheel arch cladding giving the crossover a rugged and capable appearance. You won't need to worry about scraping the lower body while traveling through brush, water or a rocky trail.
Ascent is going to be used by active families who take it on back-country adventures to go hiking, mountain biking, snowboarding, kayaking, and camping. Like Forester, Outback and Crosstrek, Ascent comes with 8.7 inches of ground clearance on all trims so it easily clears obstructions on the trail. Subaru says Ascent still maintains a comfortable low step-in height for both front and rear passenger entry.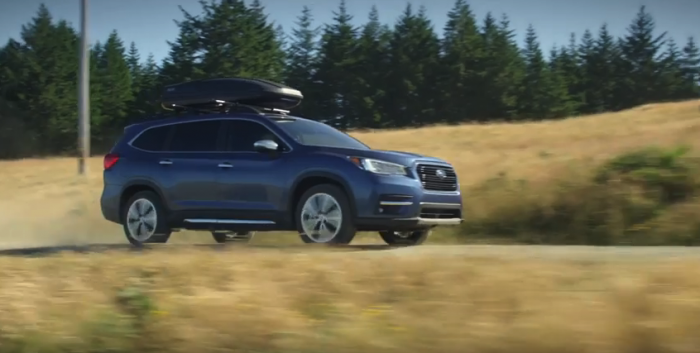 Active families will need to carry cargo carriers, mountain bikes, kayaks, snowboards, and other gear for weekend get-aways. Ascent comes standard with adjustable roof rails allowing for a number of accessories for carrying your equipment and gear.
Subaru Corp has also included its X-MODE on all trims of the 2019 Ascent. X-MODE can be used for extreme off road situations, or for helping you get out of a sticky situation like in this Crosstrek article. It's also paired with Hill Decent Control that helps maintain a constant speed when traveling downhill enhancing vehicle control on a back country trail.
Up until now, Subaru models could only tow up to 1500-lb. with a trailer hitch allowing for a very small trailer. The new Ascent has a max 5,000-lb. towing capacity, the most of any Subaru in history. Now active families can tow a small camper trailer, motorbikes, or snow machines. Subaru will also offer a new Trailer Stability Assist to help maintain vehicle stability while towing. Subaru says The TSA system utilizes yaw sensors to monitor trailer sway and then can brake individual wheels to stabilize the vehicle and trailer.
For the first time, Subaru now offers standard on Touring, a Smart Rear View Mirror which displays a view from behind the vehicle from a camera mounted above the rear gate glass. This feature benefits the driver in poor visibility to the rear of the vehicle due to passengers, cargo or a trailer blocking the view.
Subaru learned their lesson well with the Tribeca. They produced the new 2019 Subaru Ascent with a recreation-purposed "go-anywhere" attitude that made the brand successful from the beginning. Active families can see the new 3-Row vehicle at the LA Auto Show running December 1-10 at the LA Convention Center. It will arrive in showrooms early summer 2018.
Photo credit: Subaru USA