5 Things to Look for When New US-Spec Crosstrek Breaks Cover in NY [Video]
The all-new US-Spec 2018 Subaru Crosstrek will break cover at the New York International Auto Show in April, and it will come with five new improvements for American consumers. The Crosstrek crossover utility vehicle gets its first redesign since it launched in 2012, and gets the completely revamped Subaru Global Platform (SGP). What does it mean for consumers?
The new architecture is part of the companies "Prominence 2020 mid-term management vision" which Subaru says delivers "enjoyment and peace of mind" for their customers. That enjoyment will come from the new-generation Crosstrek's redesigned architecture that significantly enhances the body and chassis rigidity and strength.
The Crosstrek is the second model in Subaru's lineup to get the new SGP, and if it's like the new 2017 Impreza that was the first model to get it, it will be good news for compact crossover buyers. The 2018 Crosstrek should feature far more driver-responsive handling and ride comfort. When we drove the new Impreza, we found it had a quieter cabin, and going over broken pavement, it smoothed out the bumps better than the outgoing model. Look for the new Crosstrek to have the same improved driving dynamics.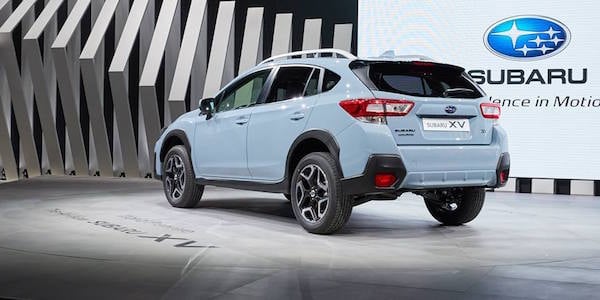 The Subaru brand is all about safety, and the new Crosstrek's 40 percent stronger structure will offer up better safety protection for driver and passengers. The 2018 Crosstrek will now come standard with Subaru's EyeSight driver assist system. It will now include Pre-Collision Braking Control, Adaptive Cruise Control, and Lane Keep Assist function. The crossover should offer class-leading collision safety and hazard avoidance performance.
The new Crosstrek will also feature a newly-designed 2.0-liter direct injection boxer engine that will deliver more power and improved fuel economy over the outgoing model. Subaru says engineers made the engine and new CVT automatic lighter to achieve the better performance.
Urban adventure-seekers will now be able to get farther away from civilization with the new CUV. The Symmetrical all-wheel-drive system is still standard on all models, but the new crossover is now equipped with X-MODE for enhanced drivability on poor road surfaces and gains real off-road capability for adventurer-seekers who will use the small crossover for off-road pursuits. This will make the 2018 Crosstrek a true off-roader and more than a compact commuter. Watch new Crosstrek video on Page 2.
When the new Crosstrek is unveiled at the New York International Auto Show next month, American consumers will see the new crossover get a 40 percent stronger structure for enhanced safety, improved ride quality and driving dynamics, more power, improved fuel economy, and X-MODE for enhanced off-road capability. The new-generation US-Spec 2018 Subaru Crosstrek can be seen at the NY Auto Show April 14-23, 2017. It could be a home run for Subaru. Stay tuned.
Photo credit: Subaru