The Volvo XC60 we tested this week doesn't have a model name, but a naming paragraph. As far as we can tell, its full name is the XC60 T8 Recharge AWD Inscription Extended Range. You might as well just use the VIN. The great news is that the name is worth remembering. This is hands-down one of the best vehicles in the American market today, and easily the best green luxury crossover. Those considering a Tesla Model Y should take note of this excellent alternative. For the remainder of our review, please allow us to call the vehicle we are reviewing the XC60 T8 Recharge.
Related Topic:We Drive and Compare the Tesla Model Y vs. Ford Mustang Mach-E - You Pick A Winner
XC60 T8 Recharge AWD Inscription Extended Range - What Is It?
Volvo's XC60 T8 Recharge is a roomy five-passenger crossover SUV with a very green powertrain. It is a true luxury vehicle with all of the amenities one should expect in any luxury vehicle today.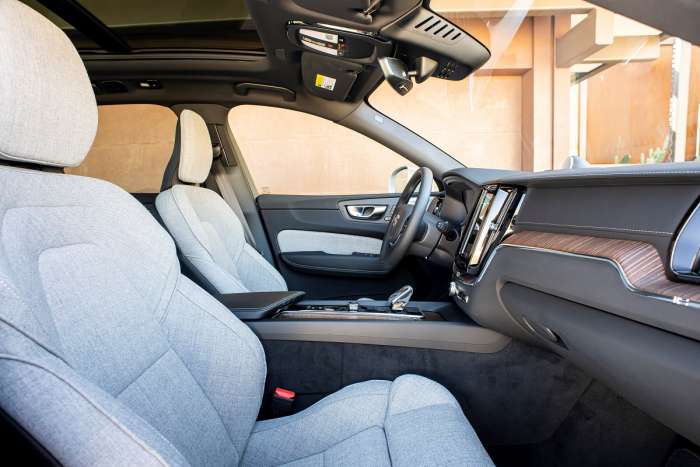 XC60 T8 Recharge AWD Inscription Extended Range - How Is It Powered? What's Its Range?
The T8 Recharge version of the XC60 has both a turbocharged engine and electric motors working together, or with the electric drive doing all of the work depending on which mode you select. The total torque available is a whopping 523 lb-ft. The electric battery has a capacity of 18.8 kWh. Power is delivered by a geared automatic transmission, and the vehicle features all-wheel drive.

XC60 T8 Recharge AWD Inscription Extended Range - The Drive
The XC60 T8 Recharge has outstanding ride quality. This is due in part to its optional air suspension. It is silky smooth over the worst New England spring roads and handles superbly for a vehicle of its type. Steering and braking are ideal for its mission. One-pedal driving is available if you prefer it.
We enjoyed using Pure Mode the most. This is all-electric propulsion. The vehicle has more than ample power with just its electric drive for all normal circumstances. If you want "full power" simply press the accelerator to the floor and the turbocharged engine will kick in. We used it just once this way. Operating in Pure mode on the highway we wanted to scoot quickly out of a truck's blind spot while going uphill.
Once the all-electric range of 35 miles or so is used, the vehicle switches to Hybrid mode. Like every plug-in hybrid-electric vehicle (PHEV) it is never "just a gasser." Hybrid mode is where the Volvo XC60 T8 Recharge sets itself apart from vehicles like Toyota's (excellent) RAV4 Prime. The gas engine in this Volvo is fantastic, and you love hearing it and driving with it. It's not a sad apology of a backup plan. There is never any buzziness or harshness. What you feel, if you can feel it at all, is a subtle addition of power. My wife in the passenger seat could not guess when it was on or off in many circumstances. When you floor the vehicle in hybrid mode every sensation is positive.
XC60 T8 Recharge AWD Inscription Extended Range - Interior, Infotainment, Features
The cabin of our test vehicle was outstanding in all ways. The seats were upholstered in premium cloth.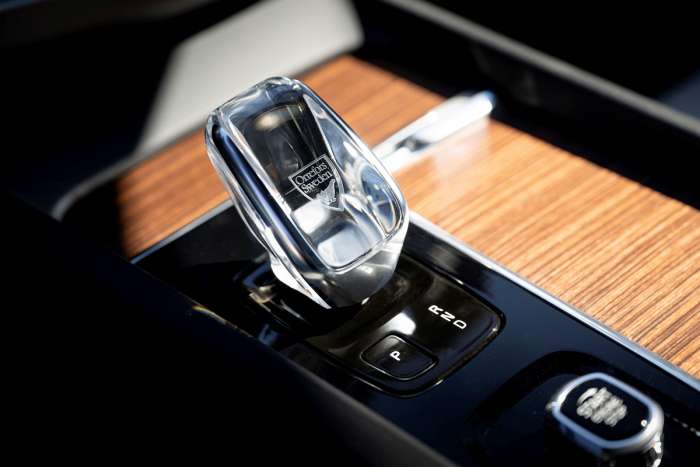 The dash is trimmed with a rich open-pore style wood. Every touchpoint was superb, including the crystal drive mode (gearshift) selector.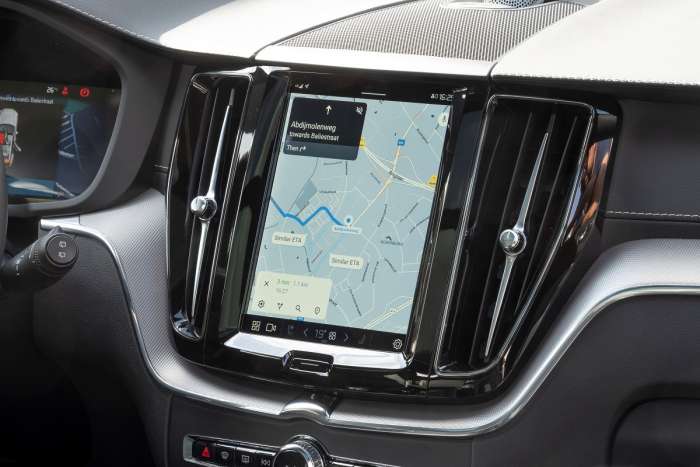 The infotainment system was unique to our experience and outstanding in all ways. The center screen features Google Maps as its standard Nav system. So there is no need to bother connecting to Android Auto. All of our apps worked well with the Volvo system without the need for any third-party software downloads. The main screen is very large and clear. The drive information screen also shows the Google Maps view but in a side-to-side rectangular view. That is then enhanced by a head-up display. Using voice commands and the steering wheel controls precludes the need to use the main screen's menus when driving. However, the main screen does offer a single button toggle if you wish to call up the main menus while the Google Maps view is in place. We found the entire setup intuitive, modern, and very classy.
XC60 T8 Recharge AWD Inscription Extended Range - Price, and Value
The XC60 T8 Recharge line starts at about $64K. Hey, that's exactly where the Tesla Model Y starts! Our well-equipped tester had a lot of pricey options bringing its cost including destination charges to $72,840. Subtract the federal tax incentive from that and your price before any dealer markups is $65,340. At that price, this vehicle is a much better value than any Tesla Model Y in our opinion.
Volvo's warranty is 4-years or 50K miles in duration. The Hybrid Battery warranty is for 8-years or 100K miles, except in California, where the warranty is extended to 10-years or 150K miles in duration. In addition, Volvo includes all required maintenance for three years or 30K miles in its vehicle purchase price. Volvo's maintenance interval is 10K miles or 1 year, which is longer between service visits than the Tesla Model Y's super-short 6,250-mile tire service interval. Wait, less maintenance stops for the PHEV when compared to the BEV? Yup.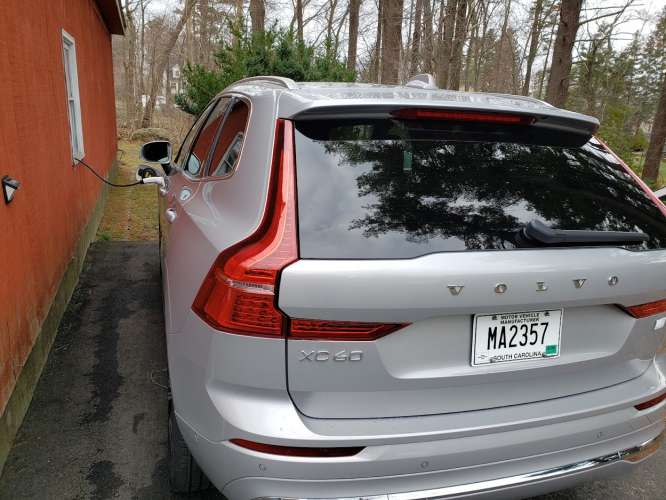 XC60 T8 Recharge AWD Inscription Extended Range - Living Electric
The Volvo XC60 T8 Recharge Earns an impressive 63 MPGe rating and can travel on electric power alone for an estimated 35 miles. In our driving, this was true even on the highway. The 35-mile range is conservative. The EPA says the Volvo XC60 T8 Recharge will have a $1,600 annual energy cost. However, if your electricity supply is on the lower end of the price scale (maybe solar?), and you use the electric range most of the time, your energy cost will be less than half that. If you drive the vehicle as a hybrid more of the time, your energy cost will be higher. Trust us. It is so good in Pure mode you will maximize your EV miles out of habit.
So we made the comparison to Tesla's Model Y in our title. Is that just clickbait? Nope. John Voelcker, one of the most respected EV advocates and EV-focused automotive media members in America said this week on social media of the Volvo XC60 T8 Recharge, "It can now be used as a legit EV for some distance, and adds one-pedal driving to boot." In his own review of the vehicle for Forbes, Mr. Voelcker says that "...Volvo's latest plug-in hybrids could easily cover half or more of their miles electrically." Remember, these accolades are coming from a battery-electric vehicle advocate.
If you follow Torque News you know that many of our EV reporters love PHEVs. We even own them. We know that the EV mode is so pleasing that every PHEV owner plugs in every time they park at home or anyplace charging is offered. During our testing over seven days, we fully charged and fully depleted the EV traction battery six times. Including twice in one day. That saved us from traveling about 210 miles on gasoline. We used just under four gallons of gasoline in the course of a week driving in hybrid mode. Remember, there is no "gas-only mode." By comparison to a typical gasoline-powered luxury crossover, we saved roughly ten gallons of gasoline in our week with the Volvo PHEV. The XC60 T8 Recharge earns a perfect 10 score on the EPA's smog scale. The same rating BEVs do.
Adding in 35 miles of EV range took a few hours on my inexpensive 20-amp Level 2 charger. If you have a higher-capacity charger at home you can charge faster. An owner who uses the Volvo XC60 T8 Recharge for commuting could easily top off its battery overnight (of course). In my use, I was able to use it in the morning, plug it in again when I got home, and have it ready for EV mode driving again later in the day. Like all PHEVs, you can preserve the EV range if you wish to during trips when you have a highway portion to start and local driving at the end. For example, if you were heading from the outer suburbs to the inner city. Like all PHEVs, if you have a long road trim ahead (college move out day perhaps) there is never a need to charge. You can drive this PHEV for over 500 miles in hybrid mode.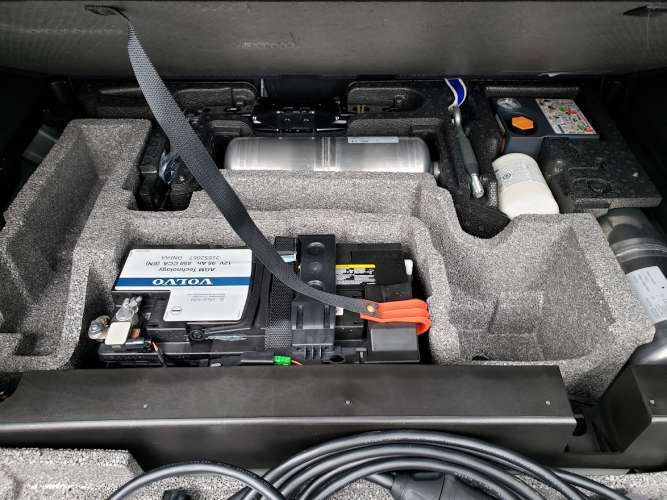 XC60 T8 Recharge AWD Inscription Extended Range - What's Missing?
The only thing we found missing from the XC60 T8 Recharge was a spare tire. It comes with an inflation kit instead. The RAV4 Prime offers a spare, as do some other PHEVs we have tested. We feel every crossover SUV should have one.
XC60 T8 Recharge AWD Inscription Extended Range - Conclusion
We hate to gush, but it seems appropriate here. The Volvo XC60 T8 Recharge AWD Inscription Extended Range is the best five-passenger luxury crossover I have ever tested (over a decade) when all things are considered. We want to move to a greener mode of transportation, and this Volvo provides a solution that would eliminate our using over 500 gallons of gasoline per year by comparison to a gas-only crossover SUV. Furthermore, it is possible to complete one's daily driving entirely in EV mode. That saves you money, and dramatically reduces carbon and other pollutants. Remember, this vehicle has over 500 ft-lbs of torque. It's a very capable vehicle offering more performance than nearly any buyer will need or even want. Yet it is also ultra-clean in its operation. Add in Volvo's great warranty and three years of included maintenance and the XC60 T8 Recharge AWD Inscription Extended Range seems like a smart financial choice to boot. If you are shopping for the most practical and overall best five-passenger luxury crossover SUV in America, be sure you check out the XC60 T8 Recharge AWD Inscription Extended Range.
XC60 T8 Recharge images courtesy of Volvo. Image of XC60 plugged in and cargo area by John Goreham.
John Goreham is a long-time New England Motor Press Association member and recovering engineer. John's interest in EVs goes back to 1990 when he designed the thermal control system for an EV battery as part of an academic team. After earning his mechanical engineering degree, John completed a marketing program at Northeastern University and worked with automotive component manufacturers, in the semiconductor industry, and in biotech. In addition to Torque News, John's work has appeared in print in dozens of American news outlets and he provides reviews to many vehicle shopping sites. You can follow John on TikTok @ToknCars, on Twitter, and view his credentials at Linkedin
Re-Publication. If you wish to re-use this content, please contact Torque News for terms and conditions.