Volvo EM90 All-Electric Minivan
Most of the time I write about Tesla and Aptera electric vehicles, but when I saw an X.com post about the Volvo EM90 all-electric minivan, I was very curious to know what it had. I also thought it was a smart idea to release a van, since Tesla has not yet released their van yet.
Let's go over the highlights of this vehicle:
Price: $114,000
0-62 mph: 8.3 seconds
Horsepower: 268
Power Train: Real-wheel-drive
Battery: 116 kWh
Range: 459 miles CLTC range (321 EPA range)
Bidirectional charging
Seats 6
15.6 inches center screen
21-speaker sound system
Available to pre-order in China
According to Sawyer Merritt, CLTC range is China Light-Duty Vehicle Test Cycle and EPA range is usually about 30% lower than CLTC. EPA range is more accurate.
The price point is a little difficult to swallow, however, since Tesla has not released a van yet, I think Volvo is smart to go after the van market.
It's true that someone could just buy a Model X for cheaper than this - by about $30,000 and get just a little less room, it looks like.
There could be complaints about the 268 horsepower, but people buying this van are most likely not going to buy it for the performance. They are going to buy it for the ability to transport people and for the utility it provides.
It's also possible that this price point might be too much for most families. Families with kids might struggle to buy this van at this price - unless there are 10-year loans for vehicles. I can't believe I'm saying that, but with the way prices are for vehicles these days, there may need to be 10-year loans...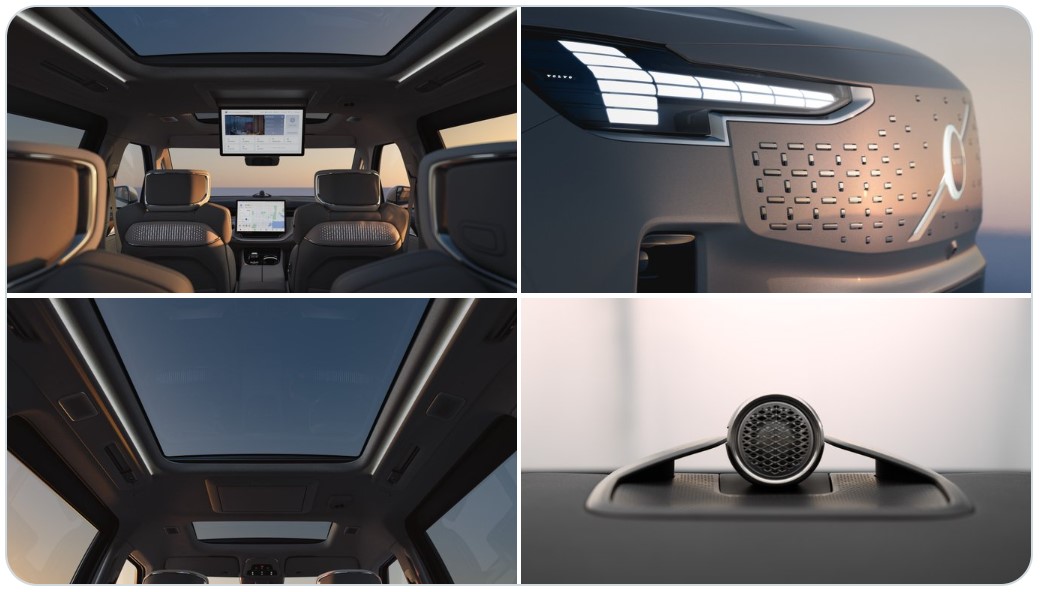 You May Also Be Interested In: An electricity shortage is coming, says Elon Musk. Are you ready?
Will This Van Succeed?
The big question is will this van succeed? I've brought up the good points about it - the main one being that Tesla has not released their van, and there are not that many vans on the market.
The van has some very cool lighting on the front and back of it - the lights go back and forth. There's also a screen that comes down in the back from the ceiling, which is good for those who want to watch movies or have entertainment.
The back seats also have trays, which will be nice for those who want to eat or work on their laptops.
There is also an amazing 21 speaker sound system.
The van also has room in the back, even after there are 6 passengers seating. The passengers look like they will have several feet of legroom, which is nice.
Volvo will need to get the price point down about $30,000 for this van to do well in my opinion, but we'll see what actually happens with sales numbers once this van is being sold.
The bidirectional charging is nice for those taking the van camping or off-grid.
DrElectronX on X.com says this about the bidirectional charging:
"Bidirectional charging? That means I pay $0.27/kWh for charging and discharging, I get paid $0.03/kWh. This has not financial benefit. You cannot discharge onto the grid when it is down. That is illegal and dangerous. To power your house, you need a system installed with proper interlocks. Quite expensive."
The actual, real-world range is closer to 320 miles, which is about what a Model X long range is 348 miles.
Another question is, how much bigger is the inside of this van than the Model X? We don't know the answer to that, but it certainly seems to have a bit more room inside based on the images.
Tesla knows what it is up against now. When it builds its van, it must do the following:
Match the size of this van
Be cheaper to buy
Be the same or more horsepower
Be the same or more range
Be safer
Have other added benefits for those with disabilities
Still, Volvo has struck first with this minivan and I have to congratulate them for doing something unexpected and smart.
NEWS: Volvo has officially unveiled the EM90, an all- electric minivan. The is Volvo's first ever minivan.

Highlights:
• Starting price: $114,000
• 268 hp, 0-62 mph in 8.3 seconds
• RWD
• 116-kWh battery pack
• 459 mile CLTC range
• Bidirectional charging
• Seats 6
•… pic.twitter.com/L8jnkbjgaG
— Sawyer Merritt (@SawyerMerritt) November 12, 2023
Here are 7 commonly searched questions people may ask related to the Volvo EM90, with direct answers, written in a unique and original way from the point of view of an expert in electric vehicles:
Question: How much does the Volvo EM90 cost?
Answer: The Volvo EM90 starts at $114,000, which is comparable to other luxury electric minivans on the market. However, it is important to note that the price can vary depending on options and dealer markup.
Question: What is the range of the Volvo EM90?
Answer: The Volvo EM90 has a CLTC range of 459 miles, which is one of the longest ranges of any electric minivan on the market. This means that you can easily drive from Los Angeles to San Francisco on a single charge.
Question: How many people does the Volvo EM90 seat?
Answer: The Volvo EM90 seats up to seven people, making it a great choice for families or groups. The second and third rows of seats are also very spacious, so even tall passengers will be comfortable.
Question: When will the Volvo EM90 be available?
Answer: The Volvo EM90 is expected to be available in the United States in early 2024. However, you can already pre-order one from a Volvo dealer.
Question: How does the Volvo EM90 compare to the Tesla Model X?
Answer: The Volvo EM90 and the Tesla Model X are both luxury electric minivans with long ranges. However, there are some key differences between the two vehicles. The Volvo EM90 has a more traditional design, while the Tesla Model X has a more futuristic design. The Volvo EM90 also has a more spacious interior than the Tesla Model X.
Question: What are the pros and cons of the Volvo EM90?
Answer: Pros:
Long range
Spacious interior
Luxurious features
Bidirectional charging
Cons:
Expensive
Not yet available in the United States
Question: Is the Volvo EM90 worth buying?
Answer: Whether or not the Volvo EM90 is worth buying depends on your individual needs and budget. If you are looking for a luxury electric minivan with a long range and a spacious interior, then the Volvo EM90 is a great option. However, it is important to keep in mind that it is expensive and not yet available in the United States.
In Other Tesla News: The HUGE wiper blade on the Cybertruck has Elon Musk frustrated.
What do you think about Volvo's new all-electric minivan? Will this succeed?
It would mean so much to me if you would share this article with friends and family and on social media! Thank you so much for your support!
Hi! My name is Jeremy Johnson, and I am a Tesla investor and supporter. I first invested in Tesla in 2017 after years of following Elon Musk and admiring his work ethic and intelligence. Since then, I've become a Tesla bull, covering anything about Tesla I can find, while also dabbling in other electric vehicle companies like Aptera. I cover Tesla developments at Torque News. You can follow me on X.COM or LinkedIn to stay in touch and follow my Tesla news coverage. Image Credit, Sawyer Merritt, Screenshot