Volvo is known for making fine European-styled wagons that are safe, well-built, long-lasting, and which serve a certain clientele. In the modern age of Volvo, we'd add that Volvo does it with panache. We found in our testing this week that the 2024 Volvo V60 Cross County B5 has that special something that luxury buyers seek.
2024 Volvo V60 Cross County B5 - What Is It?
The V60 is a five-passenger midsized wagon with an interior passenger volume similar to a Subaru Outback. However, its cargo volume is somewhat smaller. We checked the specs and found the cargo space to be roughly halfway between that of a Subaru Crosstrek and an Outback. 
The Cross Country part of the name means that this wagon is one that Volvo has given a small smattering of off-pavement features. A smidge of ground clearance, all-wheel drive, and hill descent control. 
B5 means that the V60 is equipped with a four-cylinder turbocharged gas engine and a mild hybrid system that makes a beneficial impact on fuel efficiency but not fuel economy since Volvo recommends premium fuel. We observed a respectable 31 MPG in rural driving. 
2024 Volvo V60 Cross County B5 - How Does It Drive?
The main reason we would recommend this wagon over an Outback is its engine. The 258 lb-ft of torque are available all the time, with the peak being available at just 1,800 RPM.  That results in a very satisfying push in all situations. There is ample passing power, and rural mountain driving is very pleasing. There are gears in the transmission, not an odd-feeling, rubber-bandy CVT spoiling the fun. You don't need a Sport mode since the engine is so willing to offer you what you need.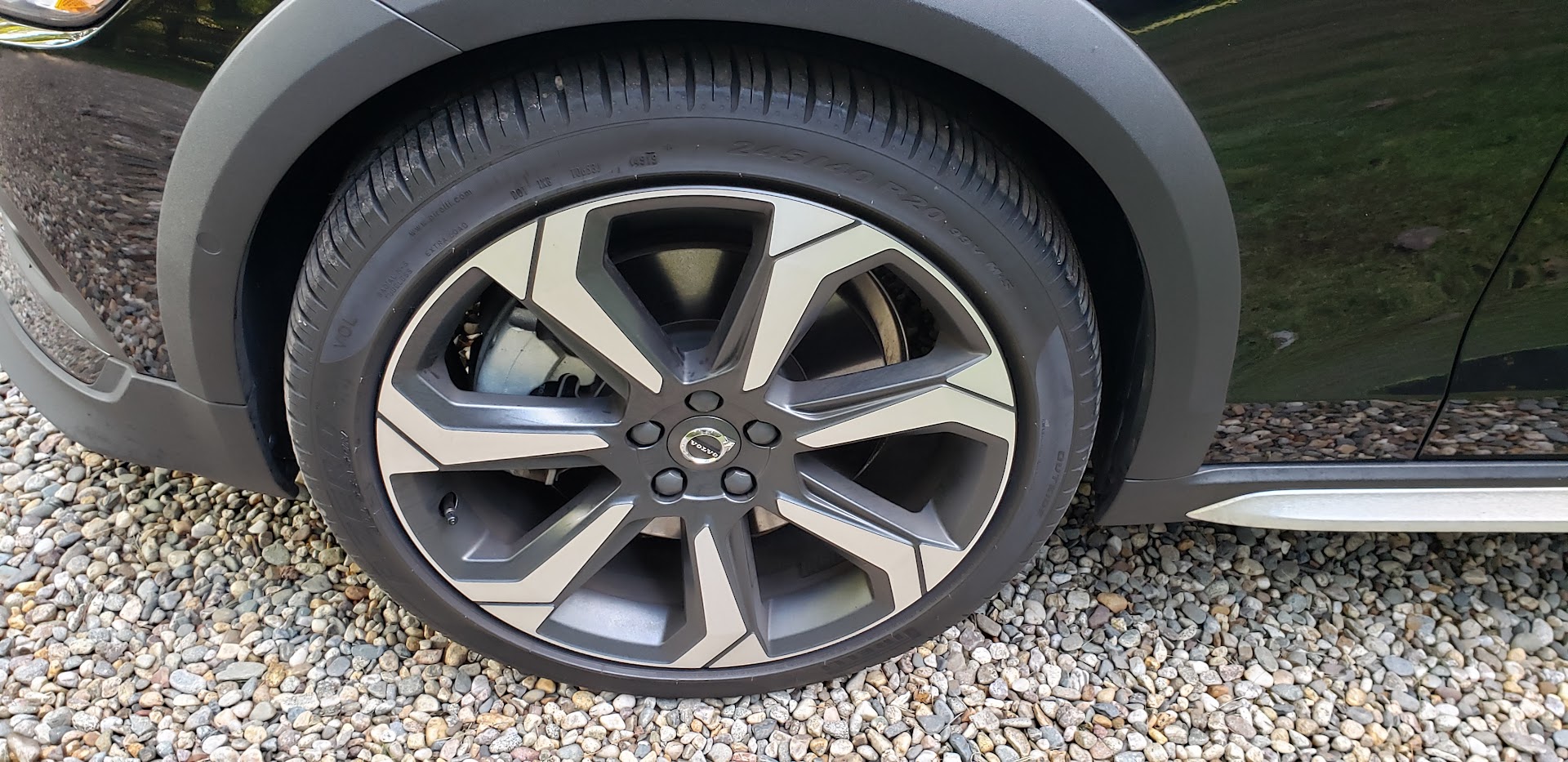 Being a wagon wearing low-profile touring tires, the 2024 Volvo V60 Cross County B5 handles quite nicely. In turns, it is a joy to steer. The brake pedal has a high-quality, solid feel. There is zero hybrid braking weirdness to be detected. Big bumps are felt pretty stiffly, but that's what happens when the tires are made for highway cruising. 
Related Story: First Drive: Pirelli P Zero VOL  All-Season Tires - Right Tires, Wrong Car?
2024 Volvo V60 Cross County B5 - Would It Be Any Good "Off-Road?"
Unlike an Outback Wilderness, the V60 Cross Country has almost no off-roading abilities. Starting with low-profile street tires we would expect to be cut or gouged by rocks within a few minutes of any off-road driving. They would offer minimal grip on any "off-roading" surface, such as sand, mud, or deep snow. It's also very long, which is never a plus in the type of off-road driving offered in the Northeast. Sure, you could navigate a wet soccer field parking lot, but would you turn onto a dirt trail someplace you've never been before? 
However, with a set of Falken WildPeak A/T Trail tires, perhaps mounted on smaller diameter rims and with a taller sidewall, it would handle trails and unmaintained dirt roads to a ski cabin adequately. A set of Michelin CrossClimate2 tires would enhance its snow capability significantly. As it is delivered, this vehicle is set up for pavement. 
Its one feature that may help in winter is an "Off-road Mode" that turns out to be sort of a hill decent control system. It did manage our descent down a steep dirt road, proving that it has some promise. 
2024 Volvo V60 Cross County B5 - How Much Does It Cost?
The 2024 Volvo V60 Cross County B5 with the Ultimate package is closest to the one we tested. It has a price of $51,045, including Volvo's Destination and Delivery fee, but not including dealer doc fees or added dealer costs. We were very surprised it was this inexpensive. While the rapidly devaluing dollar can make it hard to get one's mind around prices today, we know from testing this vehicle's near-peers that it is a very good deal. 
2024 Volvo V60 Cross County B5 - Is It a Green Vehicle?
Since the B5 powertrain has no ability to propel the vehicle using only electric power, we can't call the vehicle "green." Many green vehicle EVangelists would say that since it is not 100% electric, it is part of the "problem," not part of the solution. Personally, your author thinks mild hybrids are a great idea and that every gas-powered vehicle should at least have this level of fuel efficiency enhancement.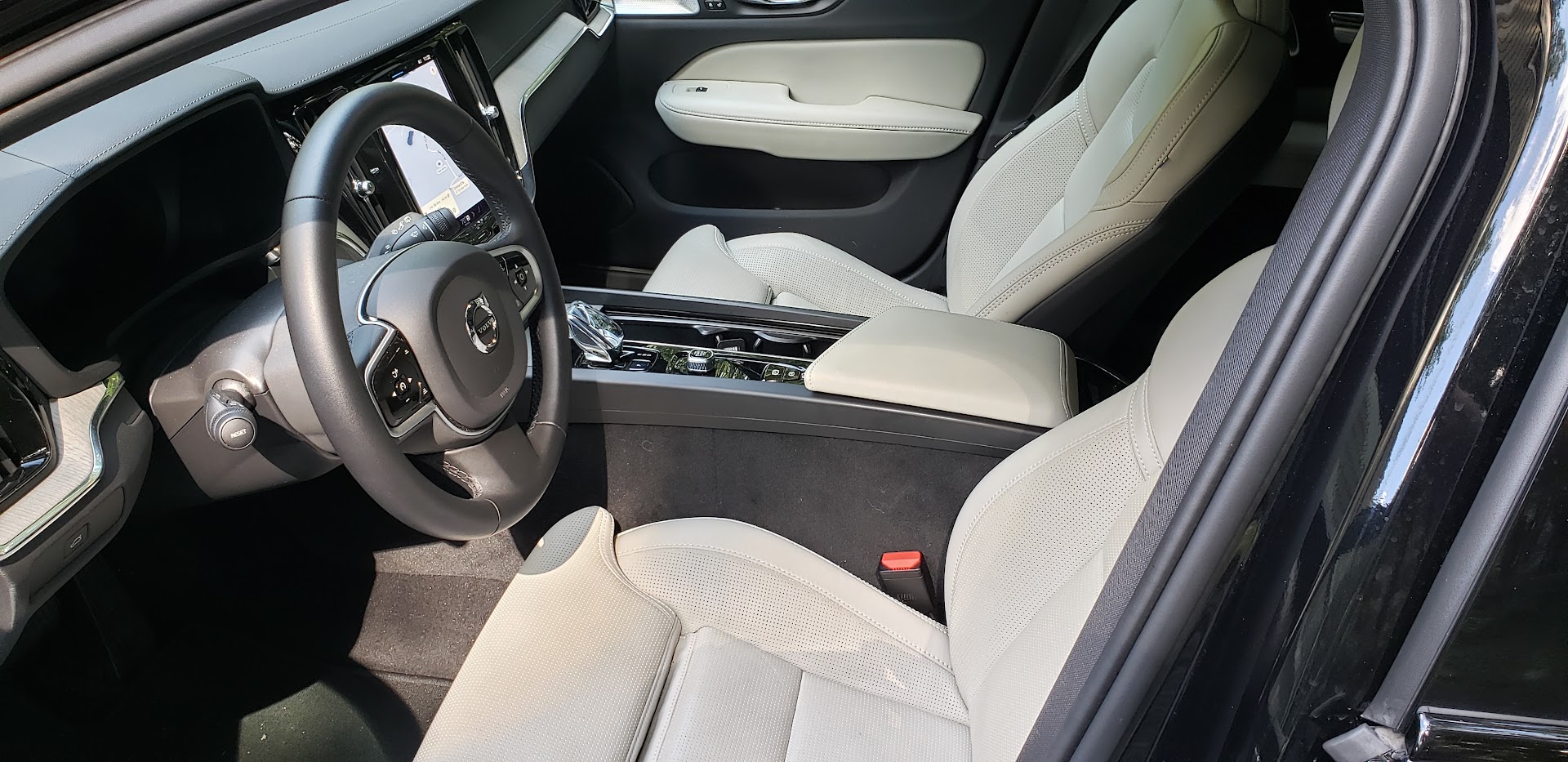 2024 Volvo V60 Cross County B5 - Infotainment and Interior Features
The interior of the V60 is splendid. Just so nice. The Scandinavian design is real, and it works. The seating surfaces are better than anything Tesla has ever considered in its wildest dreams. The V60's interior is perfectly comfortable and very kind on the eyes. 
The infotainment system is an example of a direction we do not endorse. Rather than just let you use your phone to run Android Auto, Volvo has built-in Google and runs it using a data-consuming cell device you or the second owner will pay for after the trial period ends. Android Auto is out, but Apple CarPlay is provided, so if you are among the minority in Volvo's targeted markets who use Apple phones, you can let the Google Maps telematics subscription expire and still run Google Maps and your infotainment apps from your phone. 
The screen size and orientation are perfect. We like that it accepts touch commands (as well as voice) and offers you what you need without a lot of hunting. There is a center-mounted volume knob, so bonus points for that. 
The optional premium sound system was better than average, but it didn't offer that "feel it in your chest" bass thump one might expect from a premium system. This is despite having a subwoofer setting. Lower frequencies are crisp and clear. Setting music aside for a moment, the system was ideally-suited to audiobooks and podcasts. 
2024 Volvo V60 Cross County B5 - Conclusion
A similarly-equipped Subaru Outback Touring XT has a price of $44K, according to the brand's online configurator. We love Subarus here at Torque News, and your author has owned four. However, there is a point at which Subaru's luxury and panache ends and the Volvo V60 Cross Country is perfectly positioned just above that point - but not so far out of reach that buyers can't justify the cost.
This is a vehicle with looks, design features, and that special something that easily justifies its slightly higher-than-mainstream price point. Most importantly, it delivers a truly exemplary driving experience. Don't choose it to go off-road, but with the right tires, this wagon would make an ideal winter vehicle that could access your chalet when the weather turns ominous. We give the Volvo V60 Cross Country B5 two thumbs up and would recommend it to anyone who appreciates a finely styled European wagon. 
*Our media vehicle was a model year 2023 vehicle, but it carries on in 2024 unchanged. Prices listed in our story are for 2024 vehicles now on sale. 
Images of the Volvo V60 Cross Country B5 by John Goreham.
John Goreham is an experienced New England Motor Press Association member and expert vehicle tester. John completed an engineering program with a focus on electric vehicles, followed by two decades of work in high-tech, biopharma, and the automotive supply chain before becoming a news contributor. In addition to his eleven years of work at Torque News, John has published thousands of articles and reviews at American news outlets. He is known for offering unfiltered opinions on vehicle topics. You can follow John on Twitter, and connect with him at Linkedin.