Initially, the S60 appeared in the Volvo range in the year 2000, 10 years before the Chinese group Geely became the owner of the Swedish brand, which passed into the hands of Ford from 1999 to 2010. It is therefore under the governed by the American manufacturer that the Volvo S60 was launched and it remained one of the brand's flagship models until 2010.
The current 2024 Volvo S60 continues its quest without changing too much its formula centered on its Scandinavian design. Its Recharge trim, however, underwent a major overhaul last year to emphasize the electric range. Volvo has made great improvements with its Recharge plug-in hybrid trim that perfects its performance. This week at Torque News, I tested the Recharge Ultimate top trim of the 2024 Volvo.
The 2024 Volvo S60 distinguishes itself as a luxury sedan that doesn't fit the mold of a sports sedan, setting it apart from competitors like the BMW 3-series and Genesis G70. Instead, it embraces a more subdued and relaxed character that caters to drivers seeking a Scandinavian aesthetic and understated elegance. Its exterior exudes a fetching design, complemented by a minimalistic interior adorned with high-quality materials and exceptionally comfortable seats.
However, one minor drawback is the limited storage space, something potential buyers may wish for more of. The base model of the S60 comes equipped with a 247-horsepower turbocharged four-cylinder engine, which, while functional, doesn't leave a lasting impression. This engine can be paired with either front- or all-wheel drive.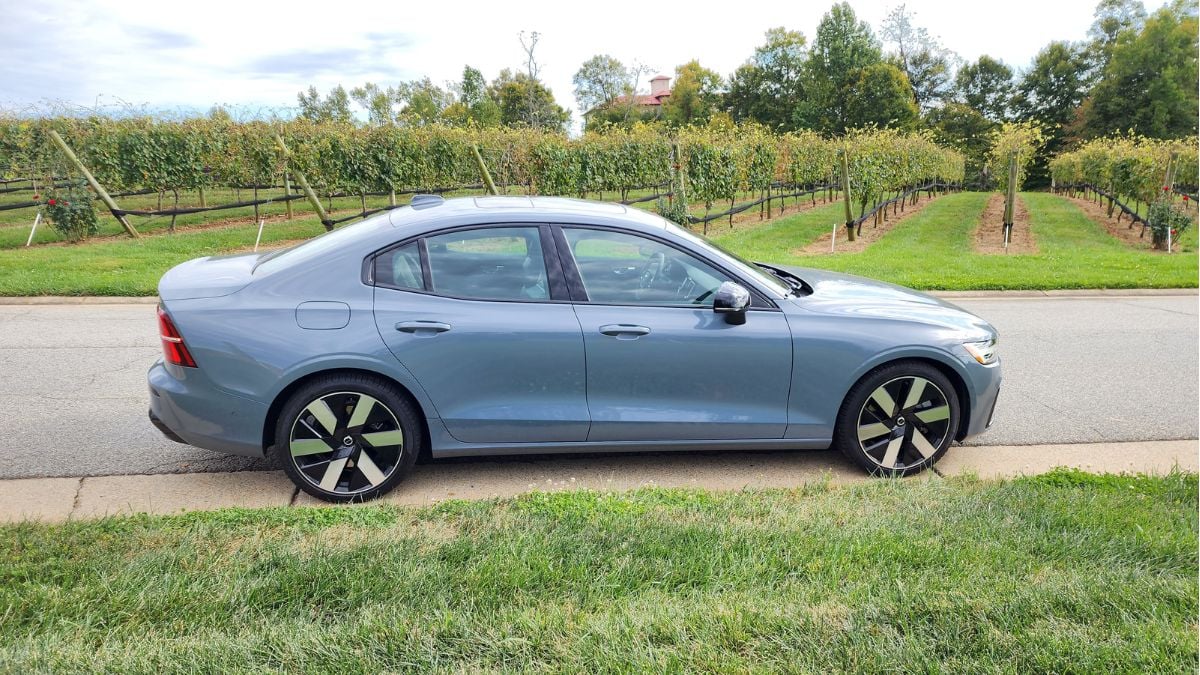 For those looking for a more compelling performance, the plug-in-hybrid powertrain stands out. With 455 horsepower, standard all-wheel drive, and an EPA-estimated electric-only range of 41 miles, it offers a more exciting driving experience. Furthermore, safety remains a top priority for Volvo, and the 2024 S60 reflects this ethos by including a wide array of standard driver-assistance features. In addition to its safety focus, the S60 boasts a range of desirable and popular features that enhance the overall ownership experience, making it a competitive option in the luxury sedan market where Tesla overcomes BMW and wins the luxury car market in the United States with only one model.
What's New in the 2024 Volvo S60?
In 2024, the Volvo S60 will maintain its strong position in the luxury sedan segment without undergoing significant changes. However, several minor updates enhance the model lineup. Notably, a new Vapour Grey metallic paint option adds a fresh exterior color choice for buyers, adding a touch of sophistication to the S60's aesthetics. On the flip side, Black Stone is no longer available, signaling Volvo's commitment to refining its color palette.
Another notable update is the standardization of the "Dark" exterior theme across the entire S60 model line. This consistent design approach underscores the S60's sophisticated and sleek appearance. Additionally, Volvo has fine-tuned its package offerings for the 2024 S60. The Climate package for front-drive models now includes heated rear seats, providing extra comfort during colder months. The mid-level Plus trim introduces a standard air purifier, enhancing cabin air quality. Furthermore, the top-tier Ultimate trim is exclusively offered with all-wheel drive, providing an extra layer of traction and control in various driving conditions. However, it's worth mentioning that the 2024 S60 lineup bids farewell to the performance-oriented Polestar Engineered plug-in-hybrid model, a change that reflects the brand's evolving focus for the S60 series. These subtle updates affirm Volvo's commitment to delivering a refined and luxurious driving experience while adapting to evolving market preferences.
Volvo S60 2024 Trims and Pricing
The 2024 Volvo S60 offers a diverse range of trims and pricing options to cater to various preferences and needs:
Core: Starting at $43,095, the Core trim provides a solid entry into the world of the 2024 Volvo S60. It offers a blend of luxury and performance, making it an attractive choice for those seeking a balance between cost and features.
Plus: Priced at $46,045, the Plus trim builds upon the Core's foundation, adding extra features and enhancements to elevate your driving experience. It's an option for those who desire a bit more sophistication and technology.
Ultimate: The Ultimate trim, with a starting price of $50,845, represents the pinnacle of the S60 lineup. It incorporates the highest level of luxury and an array of advanced features, providing an exceptional driving experience for those who seek the very best.
Recharge Core: For those with an environmental consciousness, the Recharge Core trim is an option at $53,045. It combines the S60's core attributes with a plug-in hybrid powertrain, offering a more eco-friendly driving solution.
Recharge Plus: Priced at $55,995, the Recharge Plus trim takes the Recharge Core's foundation and enhances it with additional features and technology. This is an excellent choice for those who want a green vehicle without compromising on luxury.
Recharge Ultimate: The Recharge Ultimate trim, starting at $58,495, represents the top tier of the S60's plug-in hybrid offerings. It combines sustainable driving with the highest level of luxury and technology, ensuring a premium driving experience.
These trims and their respective pricing options provide a wide range of choices, allowing buyers to select the S60 model that best aligns with their preferences and budget.
How Is S60 Recharge Ultimate Different From Other Trims
The 2024 Volvo S60's top Recharge Ultimate trim distinguishes itself by offering a unique combination of luxury, sustainability, and advanced features. Unlike the conventional trims like Core, Plus, and Ultimate, the Recharge Ultimate emphasizes electrification. It boasts a plug-in hybrid powertrain, blending a powerful engine with electric capability. This not only enhances performance with 455 horsepower but also offers an impressive electric-only range for eco-conscious drivers. The Recharge Ultimate is designed for those who want a premium driving experience while reducing their environmental footprint.
In terms of features, the Recharge Ultimate trim is equipped with top-tier amenities, including advanced safety technologies, a premium sound system, and a spacious interior filled with upscale materials. This trim takes the S60's luxury to new heights and provides a premium driving experience while keeping sustainability in focus. It's a standout choice for individuals who seek a perfect harmony of performance, opulence, and environmental responsibility, making it a leader in the S60 lineup.
Technicals and Performance
Let's now move on to the technical aspect of the vehicle and first of all its performance. You should know that if the S60 with a traditional engine (4 cylinders, 2 liters turbo) has 247 horsepower, the S60 Recharge version delivers more than 200 additional horsepower, or 455 horsepower by combining power from the conventional and electric engine.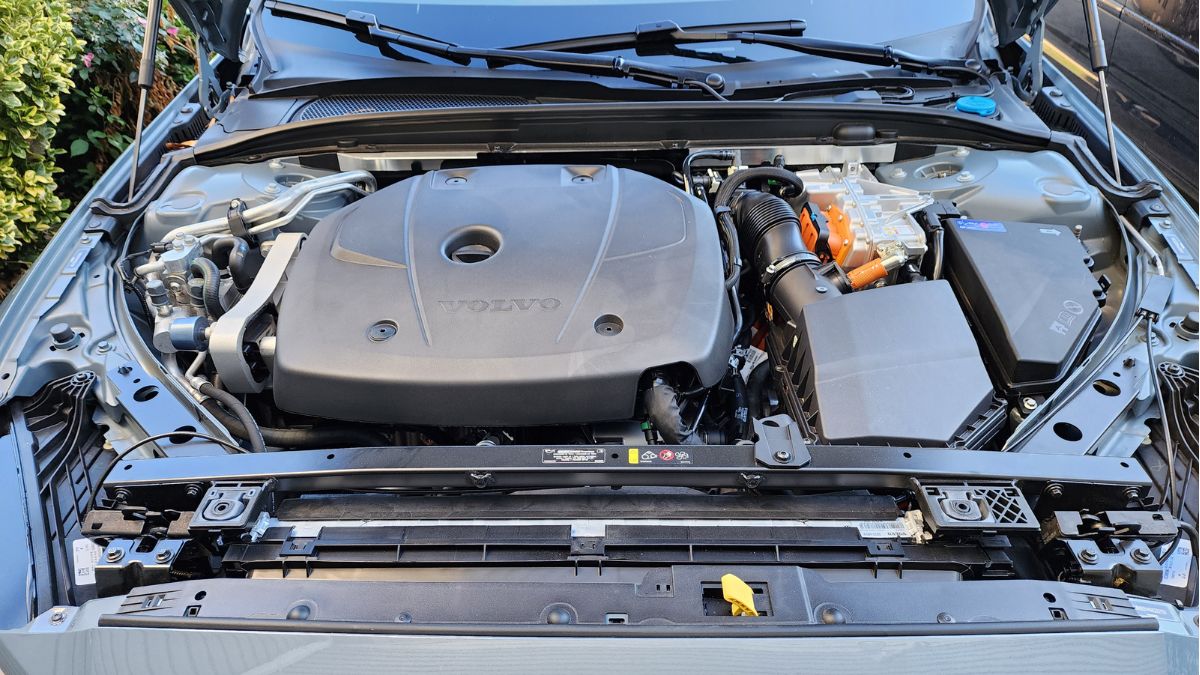 This does not mean that the S60 Recharge is a sports car, despite its 523 lb-ft of torque, its 8-speed Geartronic semi-automatic transmission (via paddles on the steering wheel) and its all-wheel drive. Its weight of more than 2 tonnes (2011 kilos) must be taken into account. Basically, the S60 is already not the lightest car on the market but by adding the battery for electric propulsion, you obtain this weight that many SUVs do not even achieve!
The plug-in hybrid group of this S60 has greatly evolved from the 2022 model year. It adds a 143 hp electric rear motor powered by an 18.2 kWh battery.
But, beyond this very relevant characteristic, it is the smoothness and the marriage between the two engines that impresses connoisseurs. The shaking is almost non-existent and the noise level of the heat engine is significantly lower than before. All-wheel drive also provides greater dynamic cohesion. This is important to taste the 455 hp and 523 lb-ft of torque that confidently catapult the compact sedan to 0-60 in about 4.5 seconds.
Exterior
Stylistically, the grille and bumper of this S60 have slightly been remodeled since the 2023 model in order to support a design that remains contemporary and interesting, if not magnetizing.
This car is elegant, refined, and discreet. I found the Volvo S60 to be very pleasant to drive.
The vehicle's exterior design is striking. It effortlessly combines elegance and modernity. Volvo has crafted a sedan that exudes a sense of timeless sophistication. The sleek profile and well-defined lines create a sense of dynamism, while the signature Volvo grille and Thor's Hammer LED headlights give the car a distinctive and authoritative presence on the road. The overall design is aerodynamic and refined, contributing not only to the car's aesthetics but also to its fuel efficiency and performance.
With its attention to detail and clean, uncluttered lines, the 2024 Volvo S60 stands as a testament to Volvo's commitment to marrying aesthetics with functionality, making it a captivating choice for those seeking a blend of style and substance on the road
Interior
On board, I appreciate the simplicity of the layout. Generally speaking, in the 2024 Volvo S60, you'll find an interior that redefines luxury, showcasing Volvo's unwavering commitment to quality and attention to detail. Let's explore this unique and captivating experience: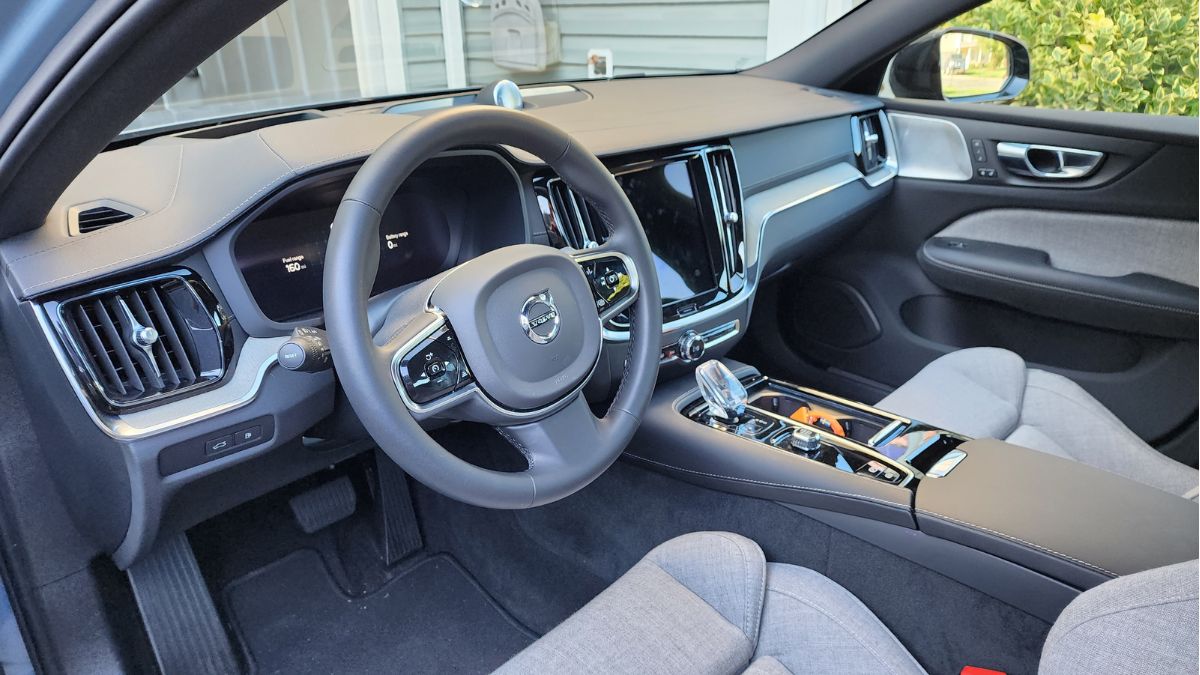 Craftsmanship and Build Quality: Step inside the 2024 Volvo S60, and you're immediately greeted by Volvo's hallmark craftsmanship. The interior is a testament to superb build quality, with a meticulous selection of upscale materials that grace every surface. From rich, soft-touch leather to meticulously crafted trims, the attention to detail is unmistakable.
Forward-Thinking Design: Volvo's design philosophy is forward-thinking, evident in every inch of the S60's interior. You'll encounter distinctive touches like jeweled switchgear that adds a touch of elegance to your everyday drive. The cabin is thoughtfully designed to create a seamless and harmonious space, making you feel like you're in a sanctuary on wheels.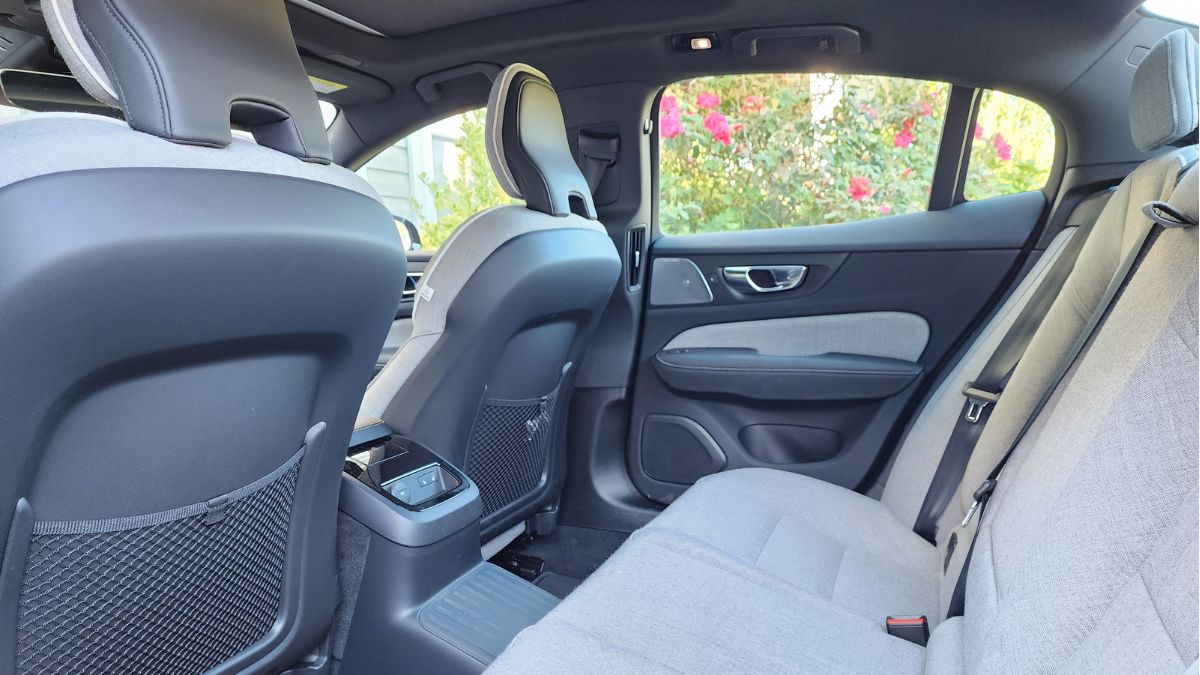 Luxurious Comfort: The S60 doesn't just stop at aesthetics; it pampers you with luxurious features. The front seats are more than just seats; they're designed to cosset you in comfort, and some even offer massaging capabilities. Passengers in the rear won't feel left out, as they'll enjoy generous legroom and headroom, ensuring everyone onboard experiences a first-class journey.
Practical Storage: While the interior is exquisite, it's also designed with practicality in mind. You'll discover useful storage solutions like door pockets and a center console with a retractable cover and a handy bin beneath the armrest. However, it's worth noting that these spaces, while well-designed, have some limitations in terms of space.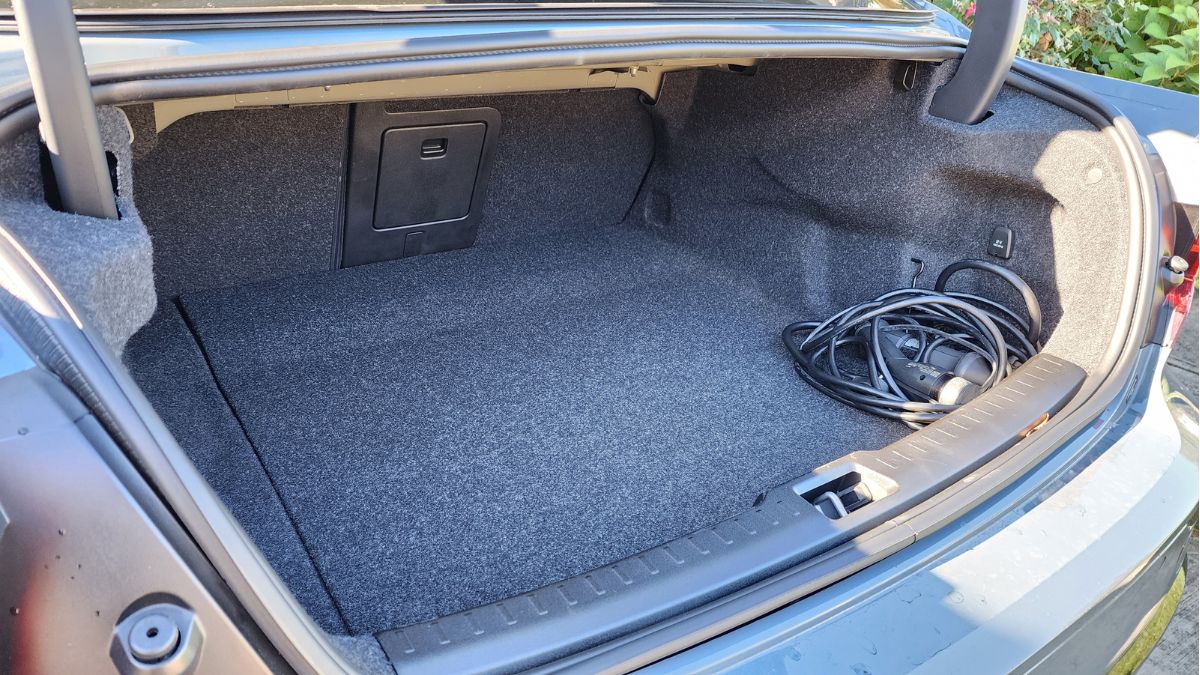 Cutting-Edge Infotainment: The S60 features a cutting-edge tablet-style infotainment system that operates through a Google-based interface. This modern system is not only intuitive but also integrates a native-voice assistant, ensuring seamless interaction. While it impressively incorporates a physical home button and a large volume knob, it falls short by lacking a tuning knob.
Tech and Audio: As for tech enthusiasts, the S60 promises Apple CarPlay and Android Auto as standard features, making connectivity a breeze. For an enhanced audio experience, there's the option for a Bowers & Wilkins premium audio system, which takes your auditory senses on a delightful journey.
In the 2024 Volvo S60, the interior isn't just a cabin; it's an immersive experience, where every element is meticulously curated to provide you with the utmost comfort and technology, reflecting the Swedish brand's unwavering commitment to excellence
The Drive
I had the pleasure of spending a week testing the 2024 Volvo S60, and I can confidently share my expertise on its driving experience:
Comfortable Cruiser: The 2024 Volvo S60 excels as a comfortable and stylish sedan. During my week-long test, it proved to be an ideal choice for those who prioritize a smooth and refined ride over high-performance driving. The suspension setup offers a plush, comfortable ride that swallows road imperfections with ease, making long journeys a breeze.
Engine Performance: The car I tested was equipped with the B5 powertrain, a turbocharged four-cylinder engine that provided ample power for daily driving. It delivered a smooth and linear power delivery, making acceleration effortless for merging onto highways or passing slower vehicles. While it may not be a high-performance powerhouse, it's more than sufficient for most drivers' needs.
Handling: The S60's handling leans more towards comfort and stability. It offers composed and predictable handling, but it's not the kind of car you'd take to the track. The steering is light and precise, which adds to the overall ease of driving the S60.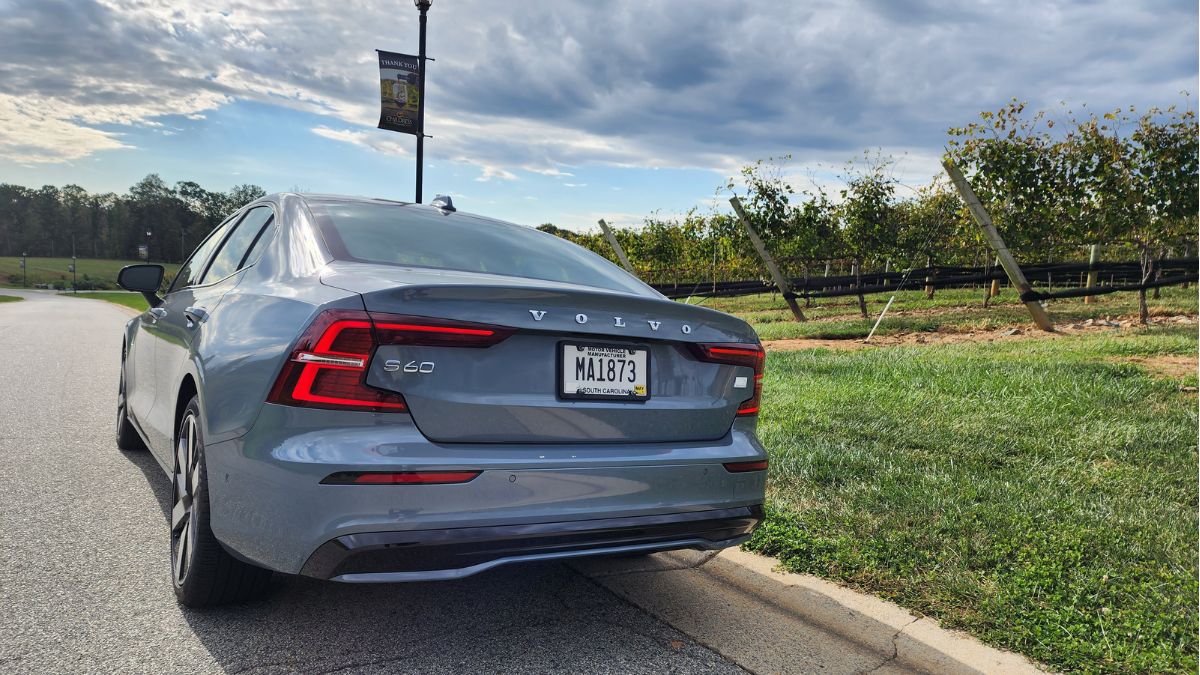 Refined Interior: Inside the cabin, the S60's interior quality shines. The comfortable seats and high-quality materials make the driving experience all the more pleasant. The generous legroom and headroom for both front and rear passengers ensure a relaxed journey for everyone.
Overall, the 2024 Volvo S60 stands out as a comfortable and stylish sedan that caters to those who prioritize a relaxed and refined driving experience. It may not be a performance-focused driver's car, but it offers a serene and comfortable ride, combined with Volvo's signature attention to detail and high-quality materials
Do you like Volvo? Please, let us know your thoughts about the S60 and this review, in the comments section below.
Armen Hareyan is the founder and the Editor in Chief of Torque News. He founded TorqueNews.com in 2010, which since then has been publishing expert news and analysis about the automotive industry. He can be reached at Torque News Twitter, Facebok, Linkedin and Youtube. He has more than a decade of expertise in the automotive industry with special interest in Tesla and electric vehicles.
Reference: Motortrend,