Lexus has a well-earned reputation for offering reliable, comfortable, and economical premium vehicles. The ES is its top-selling car in America, and for good reason. It fills the broadest range of needs, and it is a great car by almost any measure.
Lexus recently discontinued its midsize, rear-drive-based GS sedan. The GS was a vehicle capable of very sporty driving activities. We have drifted the GS sideways on a racetrack and pounded down straightaways at triple-digit speeds. The ES was never designed to do those things. However, it has other advantages that in daily driving surpass what the GS offered.
We will overview the ES AWD F Sport in the context of its name, but also its real mission. As you will see, this is a car that is well-timed for today's ever-shrinking sedan market.
2022 Lexus ES AWD F Sport - What Is It?
The Lexus ES AWD F Sport is a sedan with seating for five adults. It bridges the gap between great mainstream cars like Toyota's Camry and luxury cars like those offered by Genesis, Mercedes-Benz, and BMW.
2022 Lexus ES AWD F Sport - What Does It Cost? What's Its Value?
The ES line starts at about $44K and can cost near $60K in its top trims. We tested the 2022 Lexus ES 250 AWD F Sport with the least-powerful base engine. Its price including Delivery, Processing, and Handling, but not including dealer markups was $53,210.
Lexus offers a six-year warranty and covers the first two maintenance intervals that happen in year one. This puts Lexus mid-pack in terms of coverage. Genesis, by contrast, offers a ten-year warranty and covers maintenance for three years. Jaguar offers five years of warranty and includes all maintenance over five years.
The ES has a long reputation for reliability. Consumer Reports has rated the ES for twenty years. Of those, fourteen were perfect 5/5 reliability ratings. The 2022 Lexus ES also earns the Consumer Reports "Recommended" stamp.
2022 Lexus ES AWD F Sport - What Powers It? How's Its Fuel Economy?
Our ES 250 AWD F Sport was powered by a 2.5-liter four-cylinder (non-turbo) engine. It develops just 184 lb-ft of torque at a very high 4,000 RPMs. The engine is paired with an eight-speed automatic transmission, and as the name suggests, has all-wheel drive.
The EPA estimates that drivers will get around 28 MPG using regular fuel. In our testing on mostly highways in temperate weather, we saw an indicated 36 MPG average. Here is an interesting fact; Over 15 years of ownership, the ES 300H hybrid will save its owner about $13,000 in fuel costs compared to the ES 250 AWD F Sport. And the Hybrid has more power.
2022 Lexus ES AWD F Sport - How Does It Drive?
The idea behind the F Sport badge is that the ES will handle more nimbly than other ES trims. We found the handling and ride comfort to be good in all regards. The ES doesn't feel like a high-performance sports sedan, but it is more precise in its steering and turning than a mainstream sedan might be. AWD makes good sense in New England winters, and it also doesn't hurt when trying to put power to the ground in wet conditions.
The 2.5-liter gas engine is what we would call adequate. It's not inspiring, satisfying, delightful, happy to play, or any of the many terms we use to describe an engine we love. It does the job asked of it, but it's not going to thrill you when you push it. For most buyers, this is a good engine. The mileage justifies its existence. However, if we were going to commute in traffic or drive in the city, we would opt for the Hybrid for sure. We've driven it many times, and we always say, "just right."
On the highway, the ES is quiet and smooth. It is easy to drive long distances without fatigue.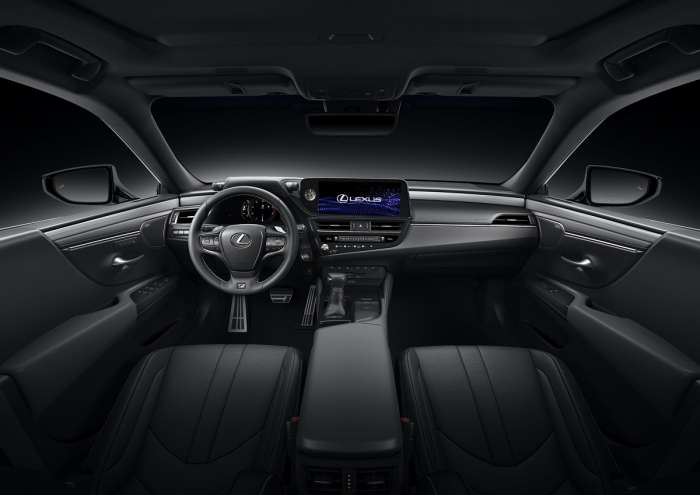 2022 Lexus ES AWD F Sport - Interior, Infotainment, Features
Inside, the ES has comfortable heated and cooled seats that are right-sized for Americans. The rear seat area is generous and plenty big for two adults on a long ride, three if you are staying local. The seats are trimmed in NuLuxe, an animal-free material we find equal or superior to genuine leather in terms of look and feel.
The infotainment system is a B-. You need a cord to operate Android Auto or Apple CarPlay. There is a track-pad to control the infotainment screen, but thankfully it is also touch-sensitive. Yes, there is a volume knob! The center screen is large, and the head-up display has the info you need when driving. We found the Mark Levinson Audio Package to offer great sound clarity.
We liked that there is a spare tire under the cargo floor. Nice to see one automaker still understands why that matters.
2022 Lexus ES AWD F Sport - Safety
The Lexus ES earns the industry's highest possible safety rating, the IIHS Top Safety Pick + designation.
2022 Lexus ES AWD F Sport - What's Missing?
Nothing was missing from our well-equipped test vehicle. That is a very rare occurrence. Lexus gives you what you expect in a luxury vehicle and somehow does it at a price that is lower than expected.
2022 Lexus ES AWD F Sport - Conclusion
The 2022 Lexus ES 250 AWD F Sport is a very interesting car. Its name implies it is sporty, and we are not sure we can go along with that. However, it's a fantastic sedan for those who prioritize value, reliability, comfort, and ease of use. The ES is also "right-sized." It's not too small like the IS is, and it's not too big like the LS is. Inside, the front-drive platform means it has more usable space than a rear-drive car does. Lexus also doesn't steal your volume knob or spare tire. The driver aids work and never annoy you. We give the Lexus ES two thumbs up.
ES 250 F Sport exterior image by John Goreham. ES Interior image courtesy of Lexus.
John Goreham is a long-time New England Motor Press Association member and recovering engineer. John's interest in EVs goes back to 1990, when he designed the thermal control system for an EV battery as part of an academic team. After earning his mechanical engineering degree, John completed a marketing program at Northeastern University and worked with automotive component manufacturers, in the semiconductor industry, and in biotech. In addition to Torque News, John's work has appeared in print in dozens of American news outlets and he provides reviews to many vehicle shopping sites. You can follow John on TikTok @ToknCars, on Twitter, and view his credentials at Linkedin
Re-Publication. If you wish to re-use this content, please contact Torque News for terms and conditions.